"Stay Human."
Now what does that mean to me? I believe that the act of staying human is to believe in yourself, trust yourself, stay true to yourself, and not be something you're not. To my hero, Michael Franti, this is one of his favorite expressions. To him, the meaning of that expression changes daily as his world and the world around him evolves. He says that, "Sometimes the toughest thing to do is to just laugh, cry, scream, dance, shake, moan, sigh, make love, breathe, fart, follow your dreams or whatever. Sometimes the hardest thing to do is just to stay human."
"We can bomb the world to pieces, but we can't bomb it into peace." Michael Franti is a musician that my mom and her boyfriend found about a year ago and his music has stuck with my family ever since. My mother's boyfriend found him while listening to a sound byte on Democracy Now! Michael Franti's musical talents and original combination of hip hop, soul, funk, rock, reggae, jazz, and rap took to our ears right away. The more we listened, the more we liked the sound of the music, the feel of the beat, and the passion behind it all. He spoke of peace, love, injustice, human rights, the death penalty, and so much more.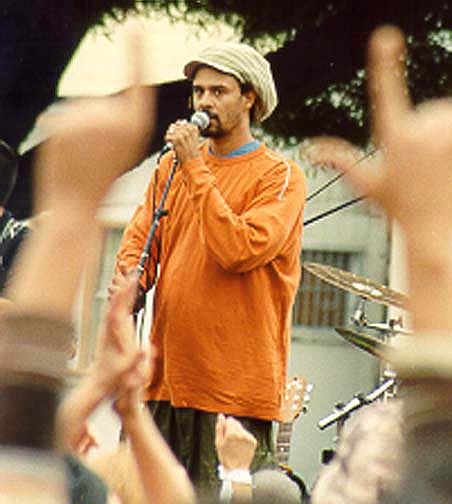 "Six foot six above sea level, I grab the mic so I can take you to anotha mental level." Born on April 21, 1968 in Oakland, California to a white mother and black father, Michael was given up at birth, and adopted into a white family, because his mom felt that the baby had no chance of acceptance as she had a very racist family. It was difficult for Michael to be the adopted son in a white family and he always felt left out. In addition, his adopted father was an alcoholic. Michael started looking for his birth parents at age 20 and two years later, at 22, he finally found them.
"Every single soul is a poem." In a sound byte from Democracy Now!, they asked him who his role model was. Michael Franti thinks that "role model" is a funny word and he doesn't really look towards one person. He tries to study everything that he comes in contact with to make him a better person. If he had to pick one hero it would be his Grandma because in every single situation that she has been in she has never lost her sense of humor and it lightens every situation. She has managed to always keep her sense of humor alive through the good and the bad.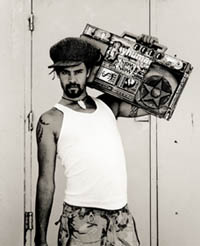 "It ain't about who ya love, it's all about do ya love." His political lyrics contain a more global view of all people. In earlier recordings they were very racial and had a strong undertone about blacks, black oppression, and what blacks had to go through. Music is his way of sending out his message. A friend of Michael Franti, Perry Farrell, said, "There have been great unifying forces in the world, War and the other is music." Michael Franti responded to that quote by saying, "And today we are in a war against war...music is our power."
Michael Franti is a musician and a political activist. He can bring many into one stadium and preach his beliefs, and at the same time the electrified crowd remains uplifted and enjoys itself. The audience is still conscious of what he is saying. He is getting his message out. "Music has the power to bring people together like no other art form."
"No life's worth more than any other, no sister worth less than any brother." Michael Franti said it's wrong for the government to be granted the power to kill it's own citizens. He said that "It's not that you kill to get on death row, it's who you kill." Basically, he is saying that war is justified homicide, but yet Americans are not allowed to kill other Americans. Michael Franti values all life and believes that no death is justified. This point is best captured in his song 'Bomb the World' which states that "all bombing is terrorism."
"Power to the peaceful!" Michael Franti and other artists left on a peace mission to Iraq, Israel, and Palestine on Tuesday, June 2nd, 2004, returning June 15th. Even through all the hard, dangerous times in that part of the world, he still went. His main intention for going on the trip was to see, first hand, the effects of the war on all those involved -- from Iraqi civillians to men and women in the military. He had spoken to people in uniform about their experiences in Iraq and felt that he needed to go there himself. Michael Franti also wants to see what is to come of the many painful years of healing of Iraq. He feels that learning both sides of the crisis might better serve as a peaceful voice because he feels the media is one-sided and controlled by the government. He hopes that those who partook in the journey will have become more effective communicators for those voices going unheard upon their return.
"Red beans and rice, I could eat a plate twice." Besides being an activist, he is also a cool, down to earth, funny, mellow guy. He is just like one of us, and he chose to make a difference. People always ask him what can one person do to make a difference in the world today. He responds to them by saying, "I don't know what one person can do except connect with other people, and in doing that each of us has roles. Mine is a songwriter and a storyteller. I'm somebody who is trying to keep the spirit of other people up, despite all the chaos and fear around us." So, what are you going to do?
Please take just a little bit of your time and check out Michael Franti and his band Spearhead's web site at: http://www.spearheadvibrations.com/ . Feel free to get caught up in his whirlpool of love. As Michael Franti would say, "Stay Human. Peace."
Page created on 4/6/2013 12:32:17 PM
Last edited 1/6/2017 7:17:41 PM
Related Links
Michael Franti
- official website, containing news, trips, tours, and more.
Extra Info
Michael Franti started to fast one day a week to gain a better understanding of how less privileged people feel. He also was going to do a three day shoe fast and he hasn't worn shoes since. There are nerves at the bottom of your feet and he believes that every step you take you should be aware and stimulated.