Gustave Eiffel
by Lul from France
Gustave Eiffel


Gustave EIFFEL
Gustave Eiffel was born on December 15, 1832 in Dijon, France. His father, Alexandre Eiffel was a military man and his mother, Catherine Moineuse was a businesswoman. Alexandre and Catherine had three children and Gustave was the eldest.
Gustave had a passion for scientific subjects, particularly for chemistry. In 1852, he tried to enter Polytechnique, but he failed the oral examination. He did his studies in the ''Ecole centrale de Paris''.
He did an enormous project when he was 26: the Bridge of Bordeaux. This bridge is 500 meters in length and he was the director of the building site.
He married Marie Gaudelet in 1862 and they had 3 daughters (Claire, Laure and Valentine) and 2 sons (Edouard and Albert) together.
Moreover, after having set up his own business, he did lots of constructions worldwide like viaducts of Rouzat on the Sioule and of Neuvial, the Budapest railway station, the viaduct Maria Pia on the Douro in Portugal (where Gustave Eiffel put into practice a new construction technique, the Viana's bridge (736m)... He worked for the World's Fair of Paris too.
What had made him famous was the Garabit's Viaduct because this viaduct is very elevated : 122m and it has parabolic shape.
He did lots of things between 1881 and 1884 : he built the Szeged's bridge in Hungary, and the Statue of Liberty's skeleton. At the same time, he found a new technique to do sectional bridges able to be assembled by 12 men in a few days.
In 1884, with his 2 partners, they imagined a tower, a tower of 300m hight, a tower which would serve as monumental door for the World's Fair of 1889. The construction began in 1887 and Gustave Eiffel managed to finish it for the World's Fair.
But, Gustave Eiffel had the misfortune to continue the works of the Panama Canal begun by Ferdinand de Lesseps who had siphoned off money to achieve his project. Gustave Eiffel was involved in this case and doomed to prison for 2 years and fined 20 000francs. An investigation showed all the same that he didn't participate in the embezzlements and he was acquitted.
Finally he launched into scientific experiments, mainly in aerodynamics and ballistics to save his tower from the destruction which was scheduled for 1909: equipments were installed on the top of the Eiffel Tower as a terminal for the first radio transatlantic and a transmitter for radio and television. These instruments allowed the Eiffel Tower to not be destroyed because Gustave Eiffel showed that it was useful as well for the weather report as for the TV or the radio.
He died in 1923, he was 91.
This man didn't save anyone, didn't stick up for someone or " for noble causes ", but I think that he deserves all the same to be a model because he marked the History with his monuments, in all the countries of the world : who doesn't know the Eiffel Tower or the Statue of the Liberty?
He knew how to show imagination and invention and he didn't drop everything after his lawsuit whereas his reputation had fallen. He managed to protect his tower from destruction too. He continued to make what he likes throughout his life , and defending his monuments, and I think that each of us should do as him, to do what we like in spite of the difficulties.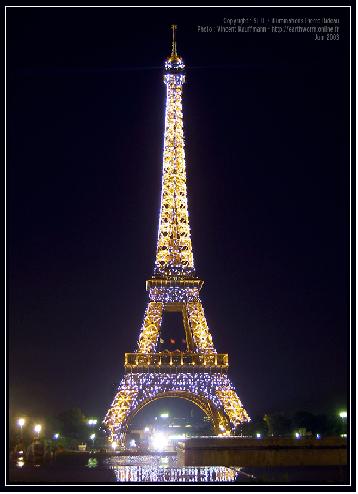 Gustave EIFFEL