by
Michaela from Essex Junction
I chose Gillian Compo (my mom) as my volunteer hero for multiple reasons. When I was trying to think about someone who has made an impact on my life, I could not think of anyone. Then, a few days later at dinner my mom was telling my brother about her trips as a volunteer around the world, and I realized that my hero had been literally been sitting across from me this whole time.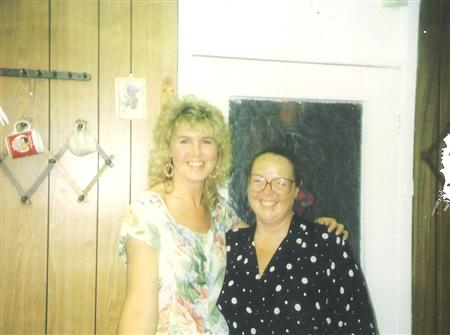 Growing up in Scotland my mom had three brothers and a sister. As a family they would visit orphanages, and while my mom and her siblings were playing with the orphans, my grandparents would clean and cook, helping the volunteers at the orphanage. Both of my grandparents made a great impact on my mom and how she chose to live her life. But, my mom specifically talks about her mom. My Gran was a nursing assistant at their local hospital; that was her job. But she did more than that. After she was done working, my Gran would rub the sore feet of her patients and have long talks with them to comfort them. She was a big influence on my mom's choice to go into the medical field. When she was young, my mother's parents always taught her to help others the best that she could, and I am so glad that my mom has taught me these same lessons. They encouraged and supported her as she went on her journey of volunteering around the world.
My mom did not travel all the way to South Korea on vacation. She headed overseas in order to help others as a nurse. Although, when she set out for Korea, she was not planning on volunteering. She was actually looking for a job as a nurse, yet because of the restrictions on her Visa, she had no success. But her misfortune of not finding a job at the hospital took a turn for the better when she discovered the Red Cross.
The Red Cross is a worldwide organization with programs benefiting people around the globe. For more than 130 years the Red Cross has been assisting people in over seventy countries. They have programs that send emergency personnel to places with natural disasters, programs that give children vaccines against illnesses such as measles and rubella, and they have programs that collect blood for patients in hospitals everywhere.
When my mom was asking around at the hospital about a job, someone told her about the Red Cross and its various programs. She joined the Red Cross as a volunteer in 1991. During her time volunteering, Gillian worked as a nurse helping the young people of South Korea. In South Korea the local medical centers aren't nearly as good as the ones we have here in America, so volunteers are needed to give vaccines and other medical treatments. That's the work that my mom did. She worked along side the doctors at a clinic in South Korea helping sick patients. Another big part of the work my mom did in South Korea was comforting the patients. She was always there to hold their hand or give words of encouragement during the patient's operations.
My favorite story that my mom has ever told me is about when she helped teach the young people in South Korea. She was asked to help teach the young Koreans to speak English. In her time there she was successful in teaching them most of the English that they needed to learn. But, being that my mom is Scottish, her students ended up speaking English, but with a Scottish accent. I can just imagine a bunch of Korean kids running around talking like my mom.
As much as my mom enjoyed her time helping in the hospital, it was not all happy. She was over 5,000 miles away from home. The only person she knew in Korea was my dad. It's scary traveling halfway across the world into a country that you have never been to before. But that did not stop my mom, she was eager to see the world.
Today, my mom continues her volunteer work through our local church, and through her job at the Howard Center. Her job at the Howard Center as a nurse is to administer medications to the patients who come to their facility, but like my Gran, she does more than that. My mom's patients are often drug or alcohol addicts who have no place to go, but she makes them feel welcome. She sits with them and listens to them share their problems and stories. She prays with them and shows them that she really does care about them.
My mom is my hero in so many ways, this is only the beginning of how she has impacted the world through volunteering.
Page created on 5/23/2014 12:00:00 AM
Last edited 5/23/2014 12:00:00 AM