To me, a hero is someone who has done something admirable in his life and someone whom you can always look up to. That is why George Washington is my hero. He accomplished many different things during his lifetime. George Washington won our country's freedom from Britain, so the whole United States of America is here because of him. All of the freedoms and liberties we have today are because of his achievements. To me, freedom is the greatest gift a person can give to someone. That is why George Washington is my hero.
Before we learn about George Washington's accomplishments, we must first learn about his early life. He was born on February 22, 1732 to Augustine and Mary Washington in Westmoreland County, Virginia. George had two brothers named Lawrence and Augustine. When George was a child, his family moved to Ferry Farm on the Rappahannok River. While living there, George studied in a one-room schoolhouse for a couple of years, studying spelling and handwriting mostly.
George had often lived in the shadow of his older brother Lawrence. Lawrence had studied in England and married a wealthy woman from England named Anne Fairfax. Lawrence also served in the army and the Virginia House of Burgesses. Then when George was 16, Lord Fairfax of England sent George on an expedition to survey the Shenandoah Valley. During this trip, George encountered Indians and European settlers. When George finally came home, he had endured sleeping in haystacks, bathing in creeks, and hunting for food, such as wild turkeys, in the woods. This expedition was important to George because it proved he could be an excellent surveyor and explorer and it landed him the job as the Official Surveyor of Culpepper County in Virginia.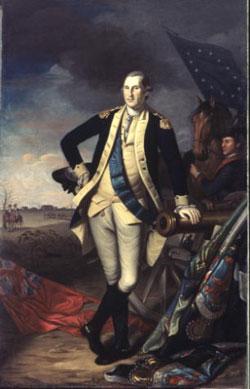 George Washington began his career as an explorer at a fairly young age. George had been serving in the militia and as a partner to the powerful Ohio Company. That is when, in the summer of 1753, French soldiers and groups of Indians marched south from Lake Erie, killing British settlers along the way as they claimed land for France. Governor Robert Dinwiddie would not tolerate this and immediately ordered for someone to take a message to the French occupied Fort Le Boeuf. George Washington, then a young 6-foot tall major, volunteered for the extremely dangerous job. Washington chose this as an excellent chance to prove himself as a brave frontiersman.
As Washington and his rag-tag party of guides and interpreters set out in the fall, winter came early. The rain turned to heavy snow and he often passed by heavily armed French forts and woods in which hostile Indians lived. After about a month, George delivered the message to the commandant and waited anxiously for his reply. When he replied that he wasn't leaving, George traveled another month and a half back home. George nearly died as he fell off his raft while crossing the Allegheny River, and his body plunged into the icy, dark waters. When he returned home after a two and a half month's journey, the tales of his adventure thrilled people and the threat of war with the French became ever closer.
In 1754, George Washington accomplished one of the most heroic deeds ever. He participated in the first battle of the French and Indian War. French soldiers had captured a British Fortress in the Ohio River Valley. George and his force of around 300 men built a small makeshift fort and nicknamed it Fort Necessity. Washington had chosen to build on low, soggy land, which provided a few tactical advantages. George Washington's ability to utilize his surroundings and use them to accomplish his goals is one of the many traits I admire about him. Unfortunately, on July 3, French forces attacked and seized the fort, but Washington and his men were freed the next day. Even though George had lost the battle, he would not let himself lose the war. The French and Indian War, however, would last until 1763.
During his life, George Washington had overcome various obstacles. One of the hardest decisions he had to make was whether to join the patriot cause or keep his ties with Britain intact. As his fellow Americans rebelled against the high taxes imposed by Britain, George sat quietly at Mount Vernon tending to his plantation's affairs. He knew many powerful and prestigious men from Britain and was torn between his friends and his country. He resented the violent tactics and political injustice Britain used to keep their colonies in check. Even though George appreciated the generosity Britain towards him, he knew it would be best to help his fledgling country. This is just one of the many obstacles George Washington encountered over time.
One of George Washington's greatest achievements of his life was when he was appointed Commander in Chief of the newly formed Continental Army on May 10, 1775. Washington denied the salary that came with this job, feeling that he owed this to his country. He stated that the colonies had to fight as one unit to succeed. He convinced his troops to fight for their country, not just their state. Washington expertly commanded his troops as British soldiers poured into the country. His ability to gain respect and control his troops made Washington an expert leader, both for his troops and his country.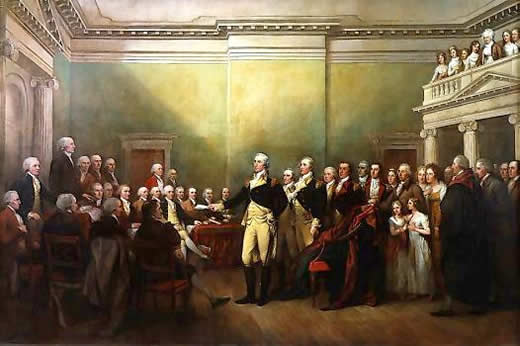 On October 9, 1781, the Revolutionary War finally ended. Washington immediately resigned as Commander in Chief and returned home. After several years, Washington was asked to meet with the Continental Congress to change the Articles of Confederation. That meeting ended in the ratification of the Constitution, which brought more power to the Federal Government. Then on April 4, 1784, George Washington was elected the first President of the United States. As he arrived in New York City, many people cheered him on and celebrations began everywhere. Washington used his presidency to raise taxes, quell various rebellions, and build up our country's military strength. These were just some of Washington's many other accomplishments in life.
As you know, George Washington was the first President of the United States, and probably the greatest. He created various departments in the government such as the defense department. He and Alexander Hamilton created a national bank and began to distribute soldier's pay. Also, he designated Washington, D.C. as the nation's capitol. He ran for office again and was unanimously elected president. Washington used taxes on products such as foreign goods and whiskey to help lower the national debt. When these tactics caused a rebellion to spark, Washington sent federal troops to quell it. Washington's natural persuasiveness convinced Britain and France to give up all the land that they still held in America. Washington also improved trade routes and gave the federal government more power, such as ratifying treaties and raising taxes. Then, in February of 1797, Washington's term as president ended. Since then, we have never had a president who has improved our country as much as George Washington did.
Page created on 1/5/2009 12:00:00 AM
Last edited 4/22/2019 9:03:33 PM