Giuseppe Fortunati
by
David from The MY HERO Project
"We have a dream like The MY HERO Project and the Art Miles Mural Project, for a better future with peace and creativity." - Giuseppe Fortunati
Giuseppe Fortunati is a computer teacher from Italy. He lives in a magical village that sits at Italy's very center and shares its name with C. S. Lewis's classic "Tales of Narnia" series, books that Fortunati recommends to all.
Since his humble beginnings in 1984, when computers were still a rarity in his home country, Giuseppe has taught thousands of people, from students to teachers to doctors and at universities.
In 1986, he began experimenting with the use of television in a teaching environment. Together with his daughter, Mariangela, he created a series of TV programs, starting with "My Name is Computer" and culminating in a 12-part series called "Computer and Society." It's a powerful medium for the Italian teacher, who points out, "I think that tales and images can say more than many words."
It was in 1997, when Giuseppe began working with non-profit organizations, that he joined the Association Egrocreanet Telematic Network. This led to his discovery of Thinkquest where he linked more than 3000 Italian students with partner students from all over the world. Not long after (2002), Giuseppe started the Narnia Project, "For connecting peoples all around the world with a magical land named Narnia - a place that you can discover through the magic wardrobe of the internet."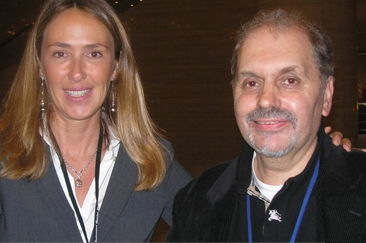 His growing interest in project-based educational online resources led Mr. Fortunati to the International Education and Resource Network (iEARN.org) where he would become the Italian representative. It's a move that led to the creation of a new network of international friends. "From 2004 (I was introduced to) the Art Miles Mural Project and came to work with Joanne and other international friends." One of these new friends he would meet at the Youth Summit for the Environment in Kobe 2008. Atsuko Shiwaku is the head of Japan Art Miles. Together, the two teachers committed themselves and their classrooms to a mural exchange. The idea is a simple one: Japan would paint half of a full-sized mural (12 feet X 5 feet) and send it to Italy to finish the other half. Both teachers were extremely pleased. Giuseppe explains, "Students can learn many intercultural things (in a mural exchange.)" Not only do the students learn about each other's homelands, they learn about the cultural makeup of each other, their respective dreams and goals. Beyond this they learn valuable communication skills. Giuseppe adds, "They (students) learn more English language and internet tools like videoconferencing, bbs, blogging and other tools."
Over the years, Giuseppe has remained committed to cultural exchange and learning via the internet. He sees it as a forum that levels the playing field for the impoverished of the world. "It allows people to share not only information," he says, "but also a new kind of lifestyle." More than that, Giuseppe sees the internet as a path to a better life. He believes that modern societies will improve as they shift their priorities from war and celebrity to the kind of understanding and tolerance that can be achieved by using the internet.
Whether it is promoted through cultural exchange with faraway countries or resonating on the strings of his guitar in the peaceful beauty of Italy's Umbria region, peace is on the mind and in the work of my hero - Giuseppe Fortunati - a teacher from the very heart of Italy.
Page created on 8/31/2009 3:46:06 PM
Last edited 1/6/2017 8:45:23 PM
The beliefs, viewpoints and opinions expressed in this hero submission on the website are those of the author and do not necessarily reflect the beliefs, viewpoints and opinions of The MY HERO Project and its staff.