Gaia Moore
by
Mary from Bowie
Who is Gaia Moore? A fearless seventeen year old whose mother was murdered by her Uncle, Loki or Oliver, and whose father is a part of the FBI and is barely in her life. So Gaia starts school in New York City and there she meets her best friend, Ed. Ed is an ex. skater, now he is in a wheel chair. Gaia is not the typical teenage girl, she doesn't try to fit in and she doesn't try to stand out, she is just who she is. Not adding to it or taking from it. She makes enemies of the FOH, Gaia's vocabulary for Friend's of Heather...Heather is probably the most popular girl at school and she doesn't like Gaia's carefree attitude and that she's beautiful without trying. So Heather holds a grudge against her. And this will probably explain the whole problem with Sam.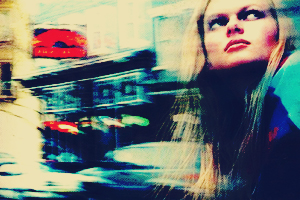 Sam is Heather's college boyfriend, who is really cute. Gaia meets him at a checkerboard table at the park and wins against him. He is instantly captivated by this beauty with brains and becomes completely enthralled with her. And she also. But when Gaia finds out that is Heather's boyfriend she is confused about what to do. But they come together anyway.
Back to Gaia's history, Gaia's dad is the only family Gaia THINKS she has left. Tom Moore, the man who has hidden from Gaia and hasn't bothered to come find her until now. Before then Gaia has been living with Tom's friend George and his wife Ellie, they have been her guardians and have been taking care of her. So when Gaia comes across her father of course she holds bitterness towards him. But then she meets her other family member, an uncle, her father's twin, Oliver or evilly known as Loki, the man who is about to destroy Gaia's life.
Ed begins to develop a crush towards Gaia and is instantly jealous of Sam, but hides this fact from Gaia. Gaia is too busy to be worrying about things like that, she's out at night fighting the thieves and rapists of New York, and everytime after a battle she faints.
Gaia believes that one day she can live with fear and continuous mistakes such as trusting Loki to help her, and taking the fear gene into ther blood which almost kills her. But at the end Gaia is who she is, Gaia the Fearless Girl.
Page created on 11/12/2006 12:00:00 AM
Last edited 11/12/2006 12:00:00 AM
The beliefs, viewpoints and opinions expressed in this hero submission on the website are those of the author and do not necessarily reflect the beliefs, viewpoints and opinions of The MY HERO Project and its staff.