The award-winning Broadway playwright, director, and producer spent six years carefully preparing exhibits for the new National Center for Civil and Human Rights.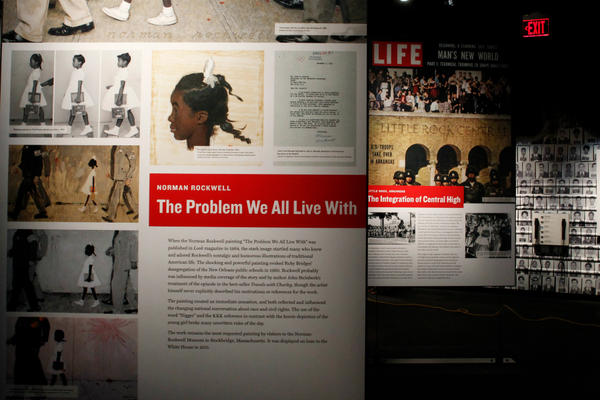 Tami Chappell/Reuters
ATLANTA - "This is a lovely find," says George Wolfe as he stands in one of the galleries at the National Center for Civil and Human Rights, an $80 million museum that opened this summer in Atlanta.

Mr. Wolfe is a top Broadway playwright, director, and producer, as well as a member of President Obama's Committee on the Arts and the Humanities. As chief creative officer of the new museum, he has melded the sophisticated lighting, scenery, sound, and video of a major theatrical production with the haunting, uplifting story of the civil rights movement.

Wolfe spent six years designing and bringing to life the wrenching process of securing equal rights for African-Americans through protests, marches, and court battles. He pauses at a kiosk where a short film explains his "lovely find": In late 1964, Dr. Martin Luther King Jr., born in Atlanta and living there when he won the Nobel Peace Prize that year at age 35, received tributes and praise when he traveled to Oslo to make his acceptance speech.

The city of Atlanta, though, struggled with recognizing King. A number of white businessmen declined to buy tickets to a downtown banquet planned for January 1965 to honor the civil rights leader. Coca-Cola executives J. Paul Austin and Robert Woodruff, along with Mayor Ivan Allen Jr. and several others, met with the city's business elite to discuss the damage that would result from a tepid turnout for King's Nobel homecoming.

"It is embarrassing for Coca-Cola to be located in a city that refuses to honor its Nobel Prize winner," Austin told the group. "The Coca-Cola Company does not need Atlanta. You all need to decide whether Atlanta needs the Coca-Cola Company."

On a screen, black-and-white footage rolls showing King addressing a biracial crowd of 1,500 at a downtown Atlanta hotel in 1965. The narrator informs visitors that within two hours of Austin's ultimatum, the banquet became a sellout, suddenly the hottest ticket in town.

Coca-Cola figures into the museum itself, too: It donated the land where the 43,000-square-foot facility was built, near two major tourist attractions – the World of Coca-Cola and the Georgia Aquarium.

Wolfe smiles and shakes his head while pondering the 1965 King dinner in Atlanta that almost wasn't. "It's fascinating," he says before moving on to another exhibit, where he checks the lighting and the volume on the headsets, making sure everything is the way he envisioned.

Wolfe grew up in Kentucky before moving to New York in 1979. In March of 1964, 9-year-old Wolfe saw King speak at the Capitol building in Frankfort, Ky. Despite spending his childhood in the segregated South, Wolfe recalls feeling safe and exceptional because of his "protected childhood" attending the academically strong Rosenwald School (backed by the late Sears executive and philanthropist Julius Rosenwald).

In a country where being African-American and gay still come with ample challenges, the future Tony Award winner never bothered to let prejudice slow him down.
"I never felt threatened and endangered at all" as a child, Wolfe says. He was frustrated, though, by at least one aspect of segregation. "I couldn't go to the [whites-only] Capitol Theatre to see '101 Dalmatians,' which I was obsessed with at the time," he says.

Wolfe grew up to become one of the most accomplished talents on Broadway, producing, writing, and directing dramas and musicals that played to packed houses and winning Tony and other awards. "Jelly's Last Jam," "Angels in America," and "Bring in 'da Noise, Bring in 'da Funk" rank among his best-known works.

The three-level museum includes a rotating display of King's personal papers on the ground floor and, on the top level, a wide-ranging swipe-and-scan high-tech depiction of contemporary human rights issues from gay rights and income inequality to working conditions and religious and ethnic strife. Wolfe's own contribution, "Rolls Down Like Water: The American Civil Rights Movement," fills the second floor. It links the life of King with the global human rights concerns of today.

Wolfe was asked to consider taking on the museum project by a committee that included then-Mayor Shirley Franklin. (The new museum is not related to the National Civil Rights Museum in Memphis, Tenn., located at the site where King was assassinated, which opened in 1991.) Doug Shipman, chief executive officer of the civil rights museum in Atlanta, recalls Wolfe telling him, "I don't quite understand what I'm doing here." Mr. Shipman then asked Wolfe what he would be doing if he hadn't gotten into theater. "He said, 'I'd be a history teacher.' I said, 'That's what we're asking you to do: Be a history teacher.' "

Wolfe called on some of New York's top creative talent, from architects to graphic designers. He also recruited actor friends such as Phylicia Rashad to narrate exhibits. Ms. Rashad's voice-over ranks among Wolfe's favorites: It's a recitation of the etiquette rules of the period at Spelman, a historically black women's college in Atlanta. Rashad, in her commanding voice, warns of a ban on wearing pants outdoors and implores the women at Spelman College to always wear gloves and bring purses when they go downtown.

"I'll just say yes to anything [he wants]," says actress Maura Tierney, a former cast member of the hit TV series "ER" who worked with Wolfe last year on "Lucky Guy," a play by the late Nora Ephron, and who recorded narration for the museum. "When I heard George talk about the museum, it sounded really exciting. He has such a unique approach to everything he does."

Ms. Tierney and others who have worked with Wolfe say he has a knack for getting the best out of his collaborators. As a director and producer, he prods actors and crew to try new things. To reduce fear and insecurity, Wolfe often couches forays into the unknown as no big deal, offering a license to fail that can clear away mental blocks on the way to a breakthrough.

Everyone who talks about Wolfe shares the observation that he scrutinizes everything, with no detail too small for inspection.

"Working with George ain't easy, but it's so rewarding," says Ruben Santiago-Hudson, an actor and playwright who also recorded narration for the museum and whose play, "Lackawanna Blues," was produced by Wolfe. "On the work side, his courage makes him a tremendous leader. You're willing to follow him into that fiery pit."

Wolfe's unflinching sense of artistry can be found throughout the civil rights museum, including life-size videos of the Birmingham, Ala., police and dogs that surround visitors with the sounds of fire hoses, screams, and barking.

At a "lunch counter" visitors sit on several stools and don headphones. They hear the rules for participating in a sit-in, including no fast movements and an adherence to nonviolent tactics. Then the exhibit provides a sample of the pressure put on demonstrators: The chairs shake and voices in the headphones hurl loud, relentless taunts.

Wolfe has included lesser-known civil rights heroes, too, such as Ruby Bridges, the 6-year-old who integrated a New Orleans school in 1960 and inspired writer John Steinbeck and artist Norman Rockwell to document her courageous journey.

Elsewhere, 1960s "freedom riders" can be heard reflecting in recorded interviews as their exuberance is tempered by the violence they encountered in Alabama, Mississippi, and other Southern states.

More than anything, Wolfe says, he now enjoys seeing people making their way through the exhibits, exploring and listening, using their hands, eyes, and ears to gain understanding. "It's been fun and exciting and challenging," he says, standing on a second-floor balcony and looking down on the packed reception area below in the main entryway. "My job is done here.... I feel a sense of pride."

- For more visit www.civilandhumanrights.org.
Page created on 10/8/2014 12:00:00 AM
Last edited 1/5/2017 4:27:37 PM
Extra Info
How to take action
Universal Giving helps people give to and volunteer for top-performing charitable organizations around the world. All the projects are vetted by Universal Giving; 100 percent of each donation goes directly to the listed cause.
Below are groups selected by Universal Giving that help children around the world learn about the arts and culture:
• Supporting Kids in Peru is a nonprofit effort that educates children in need in Peru. Take action: Volunteer for a theater project for children.
• The South African Education and Environment Project helps youths in South Africa's townships. Take action: Support art lessons at impoverished schools in Cape Town.
• Children of Uganda supports orphans and vulnerable children so they can lead successful, productive lives. Take action: Help plan the Tour of Light, which shares Ugandan culture and benefits people in need.