They spun their interest in an old wool mill into an unconventional business that revived a French village.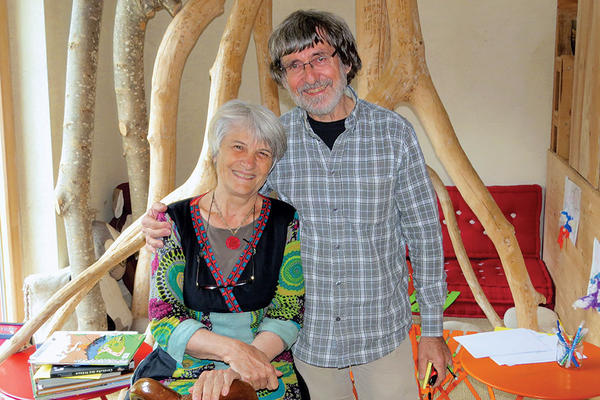 JERRY LANSON
SAINT-PIERREVILLE, FRANCE - Gerard Barras scribbles as he talks. On yellow sticky notes, he draws an organizational chart outlining the tasks the 47 workers at his wool cooperative, Ardelaine, carry out in the mountainous countryside two hours south of Lyon, France.

He jots numbers – 70 tons of wool last year, sheared from 50,000 sheep, raised by 260 regional breeders paid higher than open-market prices in exchange for their promise to use high-quality feed and no chemicals on the sheep's wool.

He sketches the mill, writing the numerals 1, 2, and 3 to demonstrate each employee's multiple roles.

"It's complex," Mr. Barras says.

On a given day a worker might give visitors a tour or work in the boutique or take on a production task at the mill, which produces organic wool-stuffed mattresses, pillows, hats, scarves, and clothing.

Gerard's constant sketching makes sense. Before he became the first employee and eventually president of this cooperative, he studied architecture. Harder to fathom, a half century after cheaper global products crushed the once-thriving wool industry here, is how Ardelaine – which reopened its doors in 1982 – has not merely survived but prospered.

It is a story of passion and grit, an oft-told tale of how Gerard; his wife, Beatrice; and three friends were so deeply drawn four decades ago to the patrimoine, or heritage, of the wool mills here that one by one they abandoned other career paths and committed themselves to bringing the mill back to life. They shared, too, a commitment to an egalitarian means of shared ownership.

To some, they once were hippie kids, the dreamers at the bottom of Saint-Pierreville's hill. Yet perseverance and hard work have turned a paltry initial investment of less than $1,000 into a business that has thrived, reinvigorating life for the sometimes skeptical villagers above.

"Ardelaine to me is a model of development in the service of territory and the people who live there," Jean-Francois Draperi, director of the center for social economy at France's National Conservatory of Arts and Trades, said in an e-mail.

Mr. Draperi, who has known the Barrases for more than 20 years, attributed the cooperative's success to a mix of Gerard's vision and nimbleness in adapting to change and the respect he, Beatrice, and the other founders have paid for decades to both their fellow employees and to the region and its traditions.

Ardelaine, Draperi added, is unique in its "attention to the development of people rather than the pursuit of profit."

That's evident in its corporate structure: It's one of just two cooperatives in France, Draperi wrote, in which all employees draw the same salary regardless of their role (cooperative members invest a minimum of roughly $1,100 to share in profits and major decisions).

It is also evident in the confidence of employees. Ardelaine has opened a bookstore, restaurant, and museum, and built a pricing structure that charges somewhat less for products sold on-site – all reasons some 20,000 visitors flock here each year over narrow roads.

Pierre Combette, who runs Saint-Pierreville's tourist office, credits Ardelaine for bringing newfound energy and new business to the village. "Without Ardelaine there wouldn't be a day-care center here," he says. "Because of the interest in [the mill] ... Saint-Pierreville is alive again."

Adds Fanny Allaigre, who runs the village's tobacco shop, "Ardelaine has helped the town, its commerce, its schools. It has brought people here."

A passion for archaeology and spinning wool into yarn drew Gerard and Beatrice to the town in 1970. They met an older woman, owner of the valley's last woolen mill, then defunct. Two years later, they began work to reopen the mill: It would take 10 years.

Gerard likes to share a picture that illustrates the founders' spirit. It shows 80 young adults, working in concert to move a one-ton rock with ropes. "We were an individualistic generation, but we saw the possibilities of collective intelligence," Gerard says.

Even today, it is the collective that takes precedence over the individual, though employees, in their comments, show a certain reverence for the initial five cofounders. They included a mechanic, an elementary school teacher, an accounting student, and a speech therapist. Setting to work fixing roofs and machines, they not only reopened the mill but gradually turned it into a center of regional education and history.

Today Ardelaine and the village's retirement home are the two largest employers in Saint-Pierreville (pop. 560). Ardelaine sponsors monthly concerts and is listed among the region's top tourist sites, the tourist office's Mr. Combette says.

Yet Gerard and Beatrice would no sooner claim credit for resuscitating the village than Gerard would accept being called "the boss." Such pride would be considered boastfulness here.

It is that ethos that inspires Elisabeth Rossiter, a third-year employee, to tell Gerard it's time to guide a visiting group. ("I'm in charge of the guides," she says simply, "and he's one of them.") It's behind the égalité of the cooperative's salary structure.

"We all need to eat, to sleep, to stay warm in winter," Beatrice says. "With equality of salaries, we don't measure ourselves by money. And that removes a phenomenal quantity of tension among people."

Still, the Barrases do hold a special role. Gerard shepherded this visitor around over two days. Beatrice has written a book on the Ardelaine experience, titled, in English, "Sheep Rebels: The History of Ardelaine." The two of them alone live on-site.

Gerard, says Ms. Rossiter, "is so bright that some employees steer clear of him because they can't remember what they asked by the time he answers." He often answers questions with a question.

He's also the tinkerer, the boy with his toys. In Ardelaine's museum he loves to demonstrate how hydraulic water power drove the heyday of the industry in the mid-18th century.

Beatrice, the self-confessed idealist, is quieter, but a force. As director of communication, she has drawn substantial media attention to the mill: It has been the subject of recent documentaries on at least three national channels.

Ardelaine has grown gradually since Gerard became its first employee in 1982.It had 12 employees in 1990 and 25 in 2001. Its farm-to-table restaurant, bookstore, and line of locally canned goods were added just three years ago. It has only recently achieved annual net sales of roughly $3 million a year.

Growth nonetheless has brought growing pains. The decision to add the restaurant, for example, was contentious among cooperative members. Still, it's clear that here "empowerment" is no empty buzzword.

"It's different here and we take pride in it," one mattressmaker says in the video shown to visitors.

Predictably perhaps, Gerard doesn't appear until the end of the video. "What's the purpose of Ardelaine?" he asks. "I would say it's the territory and the community."

But loving the region, warns Gerard, is different from pining for its past.

"Anyone against modernity is an imbecile," he says bluntly. But he adds, "A better present has to understand the past."

To preserve both, Ardelaine must survive in a global environment in which competitors can underprice its products. The cooperative must rely on the cachet of selling organic, high-quality, and regional products.

The future, Gerard acknowledges, always holds challenges and always demands adjustments. But, Draperi said, Ardelaine has shown itself to be up to the task before.

"It opens doors," he says, "where others see only walls."
Page created on 8/4/2014 3:32:31 PM
Last edited 1/5/2017 4:27:59 PM
Extra Info
How to take action
Universal Giving helps people give to and volunteer for top-performing charitable organizations around the world. All the projects are vetted by Universal Giving; 100 percent of each donation goes directly to the listed cause.
Below are groups selected by Universal Giving that help socially conscious businesses or community projects that aim to lift people out of poverty:
•Develop Africa facilitates meaningful and sustainable development. Take action: Help expand a small business in Africa.
•Global Citizens Network promotes cross-cultural understanding through immersion experiences. Take action: Volunteer in a First Nations community in Canada.
•Benetech provides innovative technology solutions in education, human rights, and the environment. Take action: Help a social enterprise business expand.