Rushing to the scene of emergencies and disasters, Passarelli and her Soup Ladies nourish the helpers.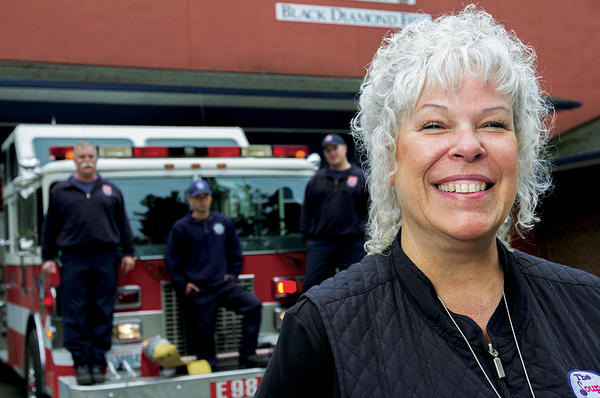 Melanie Conner/Special to The Christian Science Monitor
BLACK DIAMOND, WASH.

She's never pulled a child out of a burning home or found a hiker lost for days in the woods. But there's a good chance that Ginger Passarelli – a high-energy grandmother with a perpetual smile – has fed someone who has.
Ms. Passarelli is a modern good Samaritan with a soup ladle. Whenever there's an emergency, whether it's a house fire, a missing hiker, or a search for a criminal on the run, you can bet that Passarelli is there, feeding the firefighters, policemen, or search-and-rescue crews.

She's on constant standby.

"I never know when my phone is going to ring," Passarelli says. "I'm always packed, ready to go."

For rescue crews and other emergency responders in the Seattle area, Passarelli is the solution to a hungry stomach. When crews are out on call for several days, Passarelli and her band of Soup Ladies come to the rescue, serving hot meals to emergency response teams in Washington State's King and Pierce counties.

"She's an incredible person," says Tim Perciful, public information officer for Mountain View Fire and Rescue in King County. "She loves to help. And she helps us tremendously."

Eight years ago, Passarelli was sitting next to her husband in church when she received a life-changing invitation. The pastor asked for volunteers to fly to New Orleans to help victims of hurricane Katrina.

"I just looked at my husband," Passarelli says. "I didn't have to say a word. And he said, 'Yes. You can go.' So, I went."

And she hasn't stopped going. When she returned from that trip, she contacted the local fire department, asking if she could bring food. Over the years, her help has expanded into a two-county service.

It was during Passarelli's New Orleans trip that she got an insight into the struggles of rescue crews. She was dropped off on a beach in a restricted area where responders were searching for bodies. All the rescue crews had to eat were "the things they could stuff in their pockets for the day," Passarelli says.

"When I got back home, I called my fire chief in Black Diamond and asked, 'Is it true you guys get stuck out there at a scene, and there's no one to take care of you?' " Passarelli says. "He said, 'Yeah.' "

So, Passarelli did what she's always done. She volunteered to help.

The calls for food started to come.

"I'd get calls saying these guys have been on a fire for six hours, and they haven't had any food. Can you come?" Passarelli says.

And she'd be out the door.

Passarelli figures she averages 50 to 60 emergency calls a year. Most of them are within driving distance from her home in Black Diamond, Wash., a small rural town about 40 miles southeast of Seattle.

But Passarelli also goes to the scenes of national disasters. Besides hurricane Katrina, she and several of her friends flew to New York in 2012 to help feed the emergency responders and victims of hurricane Sandy. Last spring, she flew to Oklahoma to feed people who had lost everything when tornadoes hit.

"Ginger has a real passion for this," says Paul Ellis, a chaplain who has worked with Passarelli at regional and national disasters. "She works from morning to late at night without complaint. She's got a real servant's heart."

Passarelli and her Soup Ladies were there after Josh Powell blew up his home near Tacoma, Wash., killing himself and his two sons. She was there when survivalist Peter Keller holed up for three days in a bunker after killing his wife and daughter near North Bend, Wash. Passarelli served 600 meals in three days during that standoff.

And she was there when a hiker was lost in the mountains of the Cascade Range for several days, serving hot meals out of a mobile kitchen trailer she purchased several years ago.

"We can be out the door with food for 100 people or more in an hour," Passarelli says.

In five days in Oklahoma, Passarelli and her Soup Ladies, a crew of three on that trip, put out 13,000 meals.

"Churches would come in the kitchen, line up a big line, and take soup and sandwiches into the field and feed people," Passarelli says.

Passarelli's Soup Ladies were there when four police officers were killed in a coffee shop in Lakewood, Wash., in 2009. Before the gunman was caught, police ate in a security area by the Lakewood Police Department. Passarelli was there for five days, serving hot meals like bacon-wrapped meatloaf with mashed potatoes and gravy.

When 2-year-old Sky Metalwala was kidnapped in the Bellevue, Wash., area two years ago, Passarelli's pager went off Sunday morning while she was in church. A deputy was calling to ask her to bring food.

Within two hours, she was on the road, pulling her mobile kitchen trailer with enough food to feed 100 detectives, FBI agents, and investigators. The search went on for two weeks, and Passarelli and her Soup Ladies ended up fixing 1,200 meals.

"You never have to worry about her sitting down and just twiddling her thumbs," Mr. Ellis says. "She's always looking for something to do. When you ask her to do something, you know it will get done."

Passarelli knows she can't stop disasters. But she can feed the people who help at a disaster.

"I do feel like we are making a difference one meal at a time," Passarelli says.

To the firefighters, police, and search-and-rescue volunteers, she's known as "Mama." Even the customers at the Italian restaurant she opened seven years ago in her hometown call her "Mama."

"Everyone is her friend," Ellis says.

Her phone is now like a fire alarm, ringing anytime of the day. After returning from helping Katrina victims, Passarelli called Mr. Perciful and asked him if the Mountain View fire department needed help with food. Prior to Passarelli volunteering, fire crews would usually grab something to eat at a fast-food restaurant.

"By the time we got the food to the firefighters on the scene, it would be cold hamburgers and cold fries," Perciful says. "Ginger always brings delicious hot food."

As a volunteer, she doesn't charge for her time or for the food. She receives donations from churches and individuals. Passarelli has refused Perciful's offers to reimburse her.

"She doesn't want any money," Perciful says. "She wants to do it for us."

Several years ago, Passarelli was called when a Volkswagen Beetle skidded into the Green River. She was there for nearly six days as rescue crews worked to pull the wedged car from the roaring river.

The car, and the body of a 2-year-old boy, were pulled out. "The little guy was the same age as my oldest granddaughter," Passarelli says. For days, Passarelli, troubled by the event, found it hard to stop crying.

"I was a mess," she says. "I was sobbing. I was ... snapping at people."

Eventually, she talked with a chaplain. And she began to think beyond herself to her Soup Ladies and the tragedies they see. That motivated her to become a chaplain herself so she could counsel her crews after they have served at a tragic scene. She now has 30 women on her list that she can text or call.

"They're exposed to so much," Passarelli says. "It can be overwhelming."

Back in 1998 Passarelli had begun bringing soup to her church for an afternoon meal in the hope of building a tighter community. In a short time, the dinner turnout grew from 50 to 400.

That experience of cooking for large groups opened the door to her feeding large emergency response teams. When she's told to fix food for 50, she says, she cooks enough for 100 before she heads out to a call.

"I always double it," Passarelli says. "They just don't know how to count."
Page created on 10/2/2013 5:13:13 PM
Last edited 1/5/2017 4:28:50 PM
Extra Info
Helping in disasters
UniversalGiving helps people give to and volunteer for top-performing charitable organizations worldwide. Projects are vetted by Universal Giving; 100 percent of each donation goes directly to the listed cause.
Below are three groups selected by UniversalGiving that help in disasters:
•Operation USA helps communities alleviate the effects of disasters by providing privately funded relief and reconstruction. Project: Donate to help Oklahoma tornado disaster victims.
•Team Rubicon sends small, mobile teams of specially skilled first responders to natural disasters. Project: Outfit a US military veteran volunteer to serve after a natural disaster.
•Asia America Initiative builds peace and promotes development in poor, conflict-plagued communities. Project: Bring joy to a refugee child with a stuffed toy (see box in lower half of page).