Giorgio Perlasca
by
Matt from Atlanta
I first read about this man in Parade magazine in 1990 and was awed, amazed and moved. During the dark days of Hungary's occupation by Nazi Germany in World War II, with help from more famous Holocaust rescuers such as Raoul Wallenberg, Signor Perlasca staged an incredible and audacious deception that saved literally thousands of Jews from the Nazis' gas chambers and ovens...and brought him face to face with the most notorious butcher of Hitler's SS, Adolf Eichmann. His efforts earned him a place in the "righteous among the nations," those Gentiles who risked their own lives and freedom to save Jews from persecution and are honored forever in Jewish tradition.
Budapest, Hungary... November 1944 - Giorgio Perlasca worked for an Italian importing firm in Budapest, Hungary. When Mussolini fell in July 1943, all Italians in Hungary were requested to return home. Perlasca refused to go to a German-ruled Italian puppet state. As Perlasca said, "I was neither a fascist nor an anti-fascist, but I was anti-Nazi." Perlasca was interned; however, on October 13, 1944, he was able to talk his way out of the hotel where he was being held. He made his way to Angel Sanz-Briz, the Spanish envoy in Budapest, and applied for a job. Sanz-Briz, along with other members of the diplomatic community, had been issuing protective passes to Budapest Jews since the spring of 1944. Sanz-Briz put Perlasca in charge of the "safe houses" sheltering Jews from deportation and from the Arrow Cross militia.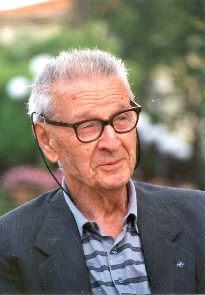 On November 30, 1944, Perlasca learned that Sanz-Briz had gone, leaving him a note saying that he could obtain a visa to Switzerland through the Spanish embassy in Vienna. Although Perlasca did not have an official letter appointing him the charge d'affaires of Spain, he made himself the charge d'affaires and continued to issue protective passes. He changed his first name from the Italian "Giorgio" to the Spanish "Jorge." Perlasca later said, "At first, I didn't know what to do, but then I began to feel like a fish in water. I continued giving out protective passes and looked after the Jews in the 'safe houses' flying the Spanish flag. As the proverb says, 'Opportunity makes the thief.'"
Between November 1944 and January 1945, Perlasca worked with Raoul Wallenberg from Sweden; Friedrich Born, from the International Red Cross; and Angelo Rotta, from the Vatican; in issuing protective passes. It is estimated that Giorgio Perlasca saved approximately 3,500 Hungarian Jews. On April 5, 1945, Dr. Hugo Dukesz, one of the Jews saved by Giorgio Perlasca, wrote, "On this occasion we want to express the affection and gratitude of the several thousand Jews who survived, thanks to your protection. There are not enough words to praise the tenderness with which you fed us and with which you cared for the old and the sick among us. You encouraged us when we were close to despair, and your name will never be omitted from our prayers. May the Almighty grant you your reward."
Giorgio Perlasca returned to Padua, Italy, and died in August 1992. Most of this text comes from the Web site of the Jewish Foundation for the Righteous. Further information is also available on Sr. Perlasca's page in the Human Spirit Web site.
Page created on 4/4/2013 2:11:31 PM
Last edited 1/6/2017 6:00:07 PM
The beliefs, viewpoints and opinions expressed in this hero submission on the website are those of the author and do not necessarily reflect the beliefs, viewpoints and opinions of The MY HERO Project and its staff.
Related Links