Ronald Reagan
by
Rudolph Giuliani
Ronald Reagan exemplified a principle that I think defines a great leader. He knew what he believed. Ronald Reagan developed his core beliefs over years of experience leading the Screen Actors Guild and traveling the country giving talks on behalf of General Electric Company. He was clear in communicating those beliefs and he stuck to the same principles whether they were popular or unpopular.
Ronald Reagan was deeply loyal to his core set of values. I followed his career from the 1960s on, and throughout, he held the same views on the need to restrain the size of government, the same views on the value of the private sector, the same views on tax reductions as a way of stimulating the economy, the same views on the need for a strong national defense, and the same views on the dangers of communism. When Ronald Reagan was elected president in 1980, he was able to enact dramatic changes because he had campaigned honestly about who he was and what he believed. He got elected for who he was, not for who he pretended to be. When he then did exactly what he promised, even those who disagreed with his beliefs knew where he stood and appreciated his character.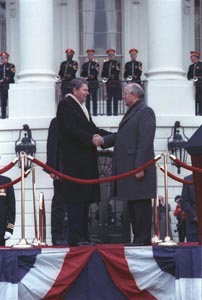 For example, Reagan believed that communism was an evil that had to be combated and confronted. In large part because of the relentless pressure that Reagan brought to bear, the Soviet Union lost its iron grip much faster. Hundreds of millions of people live in a safer, freer world because of Ronald Reagan's refusal to accept the notion that communism had to be tolerated and appeased.
In addition to developing a set of beliefs, Ronald Reagan exemplified many other characteristics of a leader. He was loyal to his employees, which gave them the confidence to undertake bold initiatives. He was a legendary communicator: he let people know not just what he planned to do, but why he planned to do it. He was also funny and warm, and exuded confidence. I got to see some of these qualities first hand, because I had the privilege of serving as Associate Attorney General for Ronald Reagan from 1981 to 1983. I was also privileged to be appointed by him as United States Attorney for the Southern District of New York. Ronald Reagan is my hero for all of these reasons and more, and he deserves to be a hero to all who love freedom.
Page created on 8/11/2014 7:08:35 PM
Last edited 8/11/2014 7:08:35 PM
The beliefs, viewpoints and opinions expressed in this hero submission on the website are those of the author and do not necessarily reflect the beliefs, viewpoints and opinions of The MY HERO Project and its staff.
Extra Info
EXTRA INFO TEMPLATE
Copyright 2005 by The MY HERO Project

MY HERO thanks Rudy Giuliani for contributing this essay to My Hero: Extraordinary People on the Heroes Who Inspire Them.

Thanks to Free Press for reprint rights of the above material.