Why do cats purr?
How can we turn garbage into energy?
Can robots change their mind?
If everyone has a question, Google's question is, "What's your question?" And in 2011, the technology giant struck out to find the answer by launching the first ever global online science competition for students aged 13 - 18.
From over 10,000 students hailing from 91 countries, 2011's finalists came down to 9 boys and 6 girls. The winners were three girls - my heroes, Lauren, Naomi and Shree. What makes them heroes? Each of them reached for something special, something that tested their determination and talent... something that could improve the lives of others.
Lauren Hodge was the winner of the 13 - 14 age group. Her research studied the effects of various marinades to carcinogens and other cancer-causing compounds that are created when grilling meat.
The idea came to her while reading about a lawsuit in her doctor's office - a suit that involved fully disclosing dangerous ingredients - like carcinogens - in food. One night, after observing the grilled chicken her mother was making for dinner, Lauren noticed that the edges of the chicken had turned white where it had been marinated. Lauren explained, "Later in biology class I learned that this was due to a process called 'denaturing' which is where the proteins will change shape and lose their ability to chemically function." It got her to thinking about how different marinades might affect the amount of carcinogens in grilled meat.
She combined two ideas and came up with her hypothesis: "Could carcinogens be decreased due to a marinade? And could it be due to differences in PH?" All of this is pretty heady stuff for a 14 year-old, but the real challenge came when Lauren began to put together her experiment. "My idea was born and I had the project set up and a hypothesis, so what was my next step?" As it turns out the equipment she'd need wasn't available at her school. "I thought this (finding a lab and mentor to sponsor her) would be easy, but I emailed about 200 different people within a five hour radius of where I lived and I got one positive response that said they could work with me."
She prepared grilled chicken, using a variety of marinades and analyzed the amounts of carcinogens in each. She found that lemon juice reduced the number of carcinogens by nearly 98%. Saltwater and brown sugar marinades decreased carcinogens by about 60% where soy sauce seemed to increase the development of carcinogens. She also found that the amount of carcinogens rapidly increases with cooking time, so the best way to grill chicken is to use a lemon marinade without overcooking. Thanks, Lauren. I'll remember that the next time I barbecue.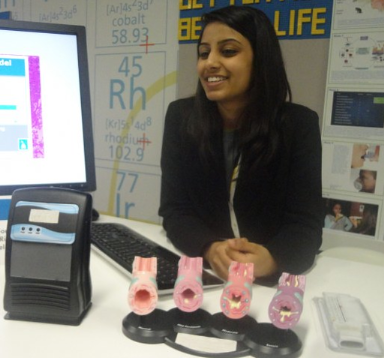 In the 15 - 16 age group, winner Naomi Shah studied the way that human lungs react to air quality, especially those with asthma.  She was taken aback when she learned that someone dies of complications associated with asthma every 20 seconds.  What's more, she learned that people spend more than 90% of their lives indoors and that asthma's related health costs exceed those of HIV and tuberculosis combined.  But what really hit home - literally - for Naomi was watching as her father and her brother suffered from chronic allergies year-round.  "It confused me," Naomi confesses.  And it was this confusion that launched the question that framed her award-winning project:  "Why did these allergy symptoms persists well past the pollen season?" 
With this question in mind, Naomi started researching and found that indoor air pollutants were to blame.  With this in mind, she began investigating the underlying relationship between four types of indoor air pollutants and the lung health of asthmatic patients.   Those pollutants are Particulate Matter, Total Volatile Organic Compounds, Carbon Monoxide and Carbon Dioxide.  At first she'd hoped to find which one of these were most responsible for poor lung health but came to realize the need for a more in-depth exploration of all four.  Naomi ended up creating her own mathematical model to quantify the effect of these environmental pollutants on lung health - something that previously did not exist.  Through her research, she found that Volatile Organic Compounds exist in almost all indoor environments but are not defined as an air pollutant by the U.S. Clean Air Act.  She found that volatile organic compounds had, as she puts it, "a very large negative impact on the lung-health of asthmatic patients, and thus, should be regulated." 
Though her mathematical models and interactive computer software are intimidatingly complex, her solutions stress a common-sense, everyday approach.  "I want everyone . to re-imagine a world where instead of prescribing steroids, inhalers and medication, the doctor turns to (the patient) and says, 'Why don't you go home and clean out your air filters,  clean out the air ducts in your home, in your workplace, in your school. Stop the use of incense and candles and, if you're remodeling your house, take out all the carpeting and put in hard-wood flooring. because these solutions are natural, these solutions are sustainable and these solutions are long-term investments."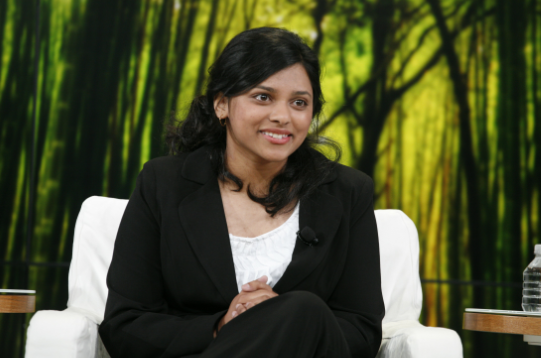 Grand Prize winner 17 year-old Shree Bose from Fort Worth won for her project researching ways to better treat women with ovarian cancer who develop a resistance to the drug cisplatin. A veteran of a number of science fair projects, Shree's earlier science fair projects include studying the effects of color on children's desire to eat vegetables (an experiment that involved blue spinach) and another that featured a remote control garbage can.   But this one was personal.  As Shree talked about it at the TEDxWomen conference last year, her smiling exuberance was made solemn as she recounted her story,  "Then came the summer after my freshman year when my Grandfather died due to cancer.  And I remember watching my family go through that and thinking that I never wanted another family to feel that kind of loss.  So, armed with all the wisdom of freshman year biology, I decided I wanted to do cancer research at 15.  Good plan." 
As it turns out, it was just that kind of boldness that led to her breakthrough.  Shree decided to look into ovarian cancer, the 5th leading cause of cancer in woman and among the deadliest.  She learned that many women whose cancer relapsed after successfully undergoing chemotherapy, would find upon resuming treatment, that they'd become resistant to the drug.  With her science project, she showed that by using a protein blocker, these same patients could have success with a chemotherapy they'd otherwise be resistant to.  "And that's huge  for chemotherapy effectiveness - possibly for many different types of cancer." What's more, Shree's identifying the role this particular protein plays in chemotherapy resistance has interesting possibilities as researchers learn more about it. 
Like most achievers, Shree confessed that her award-winning journey to become the first ever Grand Prize winner of the Google Science Fair was about more than research and results.  "It was about finding my passion and it was about making my own opportunities when I didn't even know what I was doing.  It was about inspiration and determination and never giving up on my interests in science and learning and growing."
Inspiration.  Determination.  Never giving up.  These are three challenges that await all who apply to take part in the Google Science Fair - and they are traits shared by my heroes:  Lauren Hodge, Naomi Shah and Shree Bose.
Page created on 1/26/2012 7:59:33 PM
Last edited 1/26/2012 7:59:33 PM
Related Links
Google Science Fair 2012
- For rules, due-dates and ideas for The Google Science Fair 2012
Science Buddies
- Science Fair Project Ideas, Answers & Tools.
How to Smile
- For a large collection of hands-on activities that are searchable by material costs, age range, subject matter, and prep time.
The MY HERO Project
- For the heroic story of Gina Gallant, science fair winner and inventor.
Extra Info
All entries for the 2012 Google Science Fair must be submitted by April 1st, 2012. Get up and running by visiting http://www.google.com/intl/en/events/sciencefair/index.html registering today.