Grace Croft Montgomery Kelly
by
Pam from Spokane
My hero is Grace Croft Montgomery Kelly. Many people may not know of Grace, but she exhibited courage and Godly faith. Grace was widowed at age 49 with four young boys to raise. She found herself in poverty and had to accept welfare to support the family and return to college. But Grace never lost hope or her faith in God. She overcame poverty and went on to be a Woman of Achievement. In her golden years she traveled the world, and when she died she gave each of her eight children a sizable inheritance.
Grace Croft was born June 2, 1904 in Fairfield, Nebraska. She was the ninth child of twelve. Education was important to Grace's father because he was unable to attend school until he was 21 years old. He provided Grace the opportunity to graduate from high school and attend York College. At this time, to be an elementary teacher in Nebraska, you were only required to have a one year certification. Grace started her first teaching job at age 18 and taught at a small country school with eight grades and two teachers.
During her second year of teaching, Grace met Alfred Montgomery; they were married on June 11, 1924. They lived most of their married life on farms in Nebraska and Washington State. Grace and Alfred had eight children. During their married life Grace and her family experienced many hardships: blizzards that lasted for days, a house fire, cattle diseases, sickness and drought.
On February 6, 1954, Alfred died of stomach and intestinal cancer. This left Grace four boys to raise ranging from ages 11 to 17. To support the family, Grace started cooking at a dude ranch. She started work at 6:30 in the morning and worked until 7:30 in the evening with two hours off in the afternoon when she could do shopping for the home and farm. All of the laundry and house cleaning had to be done after 7:30 pm. That summer the youngest child lost 7 pounds. Alfred's mom told Grace that her children not only lost their father, but they also lost their mother because of the long work hours. Another thing happened that summer: the "superintendent of the school sent a man from the Welfare Department to talk to me [Grace]. He felt they had better help me go back to school instead of such hard work and long hours." (Kelly p 2) Grace had three years of college remaining for her Bachelor's Degree. She worked hard carrying 16 to 20 credits every quarter, graduating in two years. Grace took a teaching job and continued her education, obtaining her Master's Degree and a Vocational Degree in Home and Family.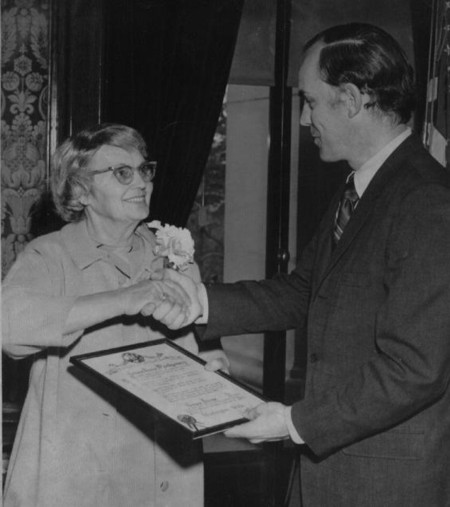 After her children were raised, Grace took in a foster boy and helped him complete high school, encouraging him to follow his dreams. He went on to attend Bible College and become a minister.
In 1971 Grace was named Washington State Mother of the Year, because of her courage to overcome obstacles, provide motherly support to family and community members, leadership in youth activities, community service, and involvement in her home church, to name a few.
Because of the influence and courage demonstrated by my grandmother Grace Kelly, I felt that I could return to college in my forties and complete my Bachelor's Degree and continue on to obtain a Master's. Grace is a hero because she was able to overcome poverty and emotional devastation to be an example to others.
Page created on 9/1/2011 12:00:00 AM
Last edited 1/5/2017 10:51:16 PM
The beliefs, viewpoints and opinions expressed in this hero submission on the website are those of the author and do not necessarily reflect the beliefs, viewpoints and opinions of The MY HERO Project and its staff.