The Greensboro Four
by
Maranda from Spokane
Have you ever thought to yourself that you couldn't possibly change the world? That it takes large numbers of people to really make a difference? This is a story about four brave young men who stood up for what they believed to be fair and right. They stood up for themselves and demanded respect. The most inspiring thing is that they did it silently. They did it without preaching, judging or fighting. Ezell A. Blair Jr., Franklin E. McCain, Joseph A. McNeil and David Richmond, students from North Carolina A&T, did it by walking into F.W. Woolworths and sitting down at the lunch counter and asking to be served.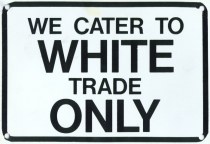 On a cold evening, the last day of January 1960, Ezell Blair Jr. was home from college with an interesting request for his parents: he wanted to know if he could cause some trouble. "I'd like to know," he said, "because tomorrow we're going to do something that will shake up this town." He and his fellow students were moved to do something after the horrific murder of Emmett Till. And so started a protest that would do more for the Civil Rights Movement, seemingly overnight, than had been done over the previous two years.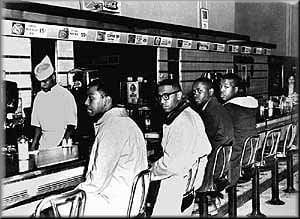 On February 1st, 1960, these four men, referred to as the "Greensboro Four," put on their Sunday clothes and walked into town together. They strode purposefully into the Woolworths and purchased some items, making sure to keep their receipts to prove that they were paying customers. Then they proceeded to the "white only" lunch counter and sat down. The white workers and owner refused to serve them and the police were called, but because there was no violence or even any harsh words spoken, they could not do anything. The four stayed at the counter and the owner was forced to close early. The four men came back the next day and the television and newspapers caught wind of what was going on and came to the store.
By the fifth of November, there were 300 protesters at Woolworths, including girls and white students in support of the original four. Unfortunately, there were also whites who threatened and bothered the demonstrators. Because of the intense media coverage, the sit-in prompted the start of similar protests by young people in forty cities across the U.S. By November 6th, there were one thousand protesters. Woolworths chose to close due to a bomb threat. By the end of 1960, there were similar protests in more than 1,000 U.S. cities. And on July 26, 1960, F.W. Woolworths integrated its lunch counter.
This story inspires me to DO SOMETHING! These four young men just wanted to stand up for themselves, and they wanted to do it their own way. A way free of violence. They brought about change that changed the world. This is why they are my heroes.
Page created on 4/2/2013 12:57:37 PM
Last edited 1/6/2017 4:29:42 PM
The beliefs, viewpoints and opinions expressed in this hero submission on the website are those of the author and do not necessarily reflect the beliefs, viewpoints and opinions of The MY HERO Project and its staff.