Hortense Miller
by
Dante from Laguna Beach
Many gardeners and plant observers would compare the garden of Hortense Miller to the palace grounds of Versailles. With over 1500 specimens of plants including exotic Puya stalks from Chile, and a wild mix of coastal rub. The garden has been tended to every day for five decades and continues to get better. The two and a half acre property receives visitors from all over by many gardeners and horticulturists who make the pilgrimage to see the spectacular creation she has grown from the ragged slopes of Boat Canyon.
Miller was born on September 9, 1908, in her parents' two-bedroom house in St. Louis. At the young age of eleven she decided to become a vegetarian. Miller graduated from Harris Teachers College and also studied drawing at the Art Institute of Chicago. She became a substitute teacher in Webster Groves and made six dollars a day. She would often take her students to study plants, sinkholes, and other bits of nature.
In 1942 Miller married her husband Oscar, a wealthy lawyer whom she met on a paddle-wheel boat cruise on the Mississippi River. The couple traveled to many places such as Europe, Russia, England, India, Iran, and Mexico. When Oscar retired in 1950, they moved from Chicago to Laguna Beach so that she could have a year round garden. The couple bought a pitched steep property in Boat Canyon. Her husband Oscar died in 1959.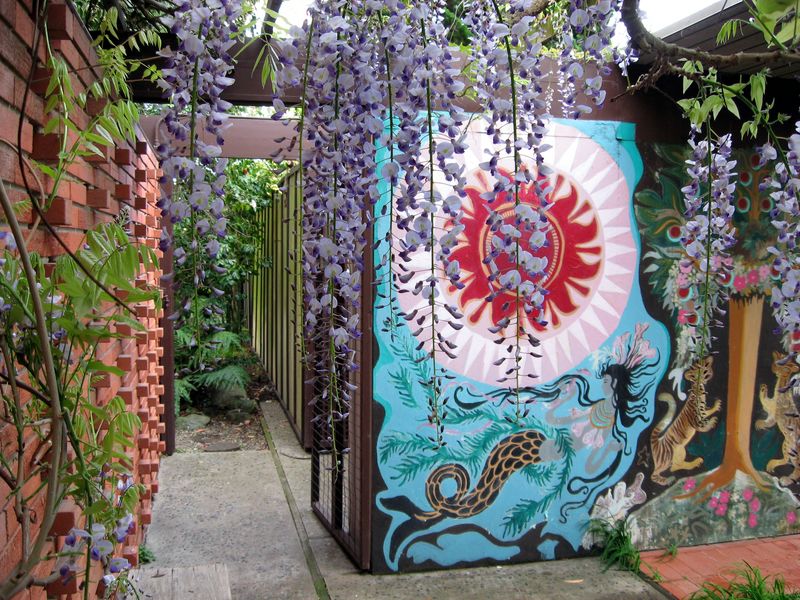 In 1976 she donated her garden to the city. Miller once said, "I just buy something and walk around and look for a place to stick it, and if it doesn't do, I put something else in," she said. "I like anything that takes care of itself and just grows. I don't have to coddle them and beg them and watch them and compliment them and urge them to grow." The garden is not the only thing that is impressive on her property. Her house is a classic 1950's modern design that is truly a site to see. She also wrote a book about her garden and her garden it in many newspapers and books. At the age of 99 Miller died of natural causes.
The garden of Hortense Miller still holds free tours of the beautiful property and is home to nearly 1500 plants and many animals. The garden is an example of people living together in harmony and will still be tended to everyday as Miller would have.
Page created on 2/16/2013 1:09:03 PM
Last edited 1/5/2017 4:34:28 PM
The beliefs, viewpoints and opinions expressed in this hero submission on the website are those of the author and do not necessarily reflect the beliefs, viewpoints and opinions of The MY HERO Project and its staff.
Extra Info
The Hortense Miller Garden
Guided Tours:
Hours: Tuesday through Saturday, 9:45 to Noon, by reservation.
Duration: Approximately two hours.
Cost: FREE (donations are appreciated).
Reservations: (949) 497-0716
Related Books