"Too many died. War isn't worth one life!"
For a short time, Henry John "Harry" Patch (17 June, 1898 – 25 July, 2009) was the oldest living man in Europe and also the last surviving soldier fighting in the trenches of the First World War. Patch was, together with Claude Choules and Florence Green, one of the last three European veterans of the merciless First World War. Also, Harry Patch was one of the last five survivors worldwide.
Harry Patch was born in Combe Down, which is a village suburb of Bath, England. He lived with his stonemason father William, his mother Elizabeth and his two older brothers George and William in a house known as "Fonthill". He left school in 1913, to work as an apprentice plumber, until October 1916. Then he was conscripted as an assistant gunner into the Duke of Cornwall's Light Infantry. Patch arrived in France in 1917 where he had to fight German soldiers at the battle of Passchendale (also known as battle of Ypres). Harry Patch fought for three seemingly endless months, until the 22nd of September, 1917, when a shell exploded very close to him, killed three of his comrades and injured him seriously. Harry Patch was removed from the front line and posted back to England.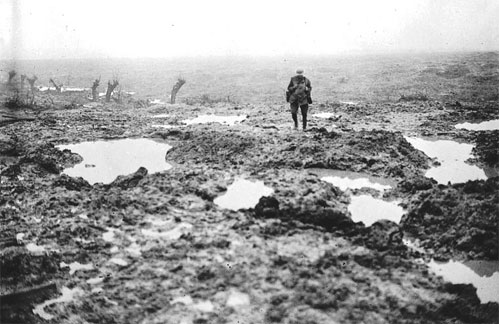 After the First World War, Harry Patch returned back to work as a plumber, during which time he spent four years working on the Wills Memorial Building in Bristol, before becoming manager of the plumbing company's branch in Bristol. When Britain's men were recruited for the Second World War, Harry was too old to fight, so he retrained as a part-time fireman in Bath, where he dealt with the Baedecker raids. As the Second World War came to an end, Patch returned to the plumbing business and carried on until his retirement at the age of 65.
In 1918, Harry Patch married Ada Billington and had a long-lasting marriage until she died in 1976. Together they had two sons, both of whom predeceased Harry: Dennis, who died in 1984, and Roy, who died in 2002. After Ada Billington died, Patch had two more marriages with Jean and Doris, who also died before him. So you might think Harry Patch died lonely, but actually the whole world grieved over his death.
I didn't choose Harry Patch because he got 111 years old, nor because he was one of the oldest men in the world. When Harry was born, the media consisted of paper-boys delivering the daily papers. Now our whole lives consist of internet, touchscreens, and computers where you can get all the information you need. So Harry Patch went through a lot of changes in his long life. But even though all this is very astounding, the thing that really makes him a hero is his attitude to life.
On television in 2003 Harry Patch reflected on a face to face confrontation with a German soldier during the First World War. Confronted with his own death sentence, he thought of God's Commandment, "thou shalt not kill" and could not bring himself to kill the soldier. Harry shot the German in his arm, so he would drop his rifle, but the injured soldier still made a run for Patch's Lewis Gun. Henry then shot in the German's knee and ankle. On the show Henry Patch said: "I had about five seconds to make the decision. I brought him down, but I couldn't kill him."
Harry Patch was very brave, because he stuck to his moral principles. This is why I respect him highly. Harry Patch fought in the First World War, he witnessed the most atrocious scenes of human suffering and cruelty and still could not kill another person, even though the other soldier tried to kill him.
Harry Patch was a brave, but very modest person who did not speak much about his wartime experiences. Only in 2004, in a TV programme about himself, he made some statements which summed up his opinions impressively: "Too many died. War isn't worth one life!" and referring to a German veteran he met at the age of 106, "He is all for a united Europe and peace – and so am I!"
A very clear and simple message really, from a man who has seen more than a century of the most complex and ever-changing world history.
Page created on 2/4/2010 12:00:00 AM
Last edited 1/6/2017 10:07:56 PM
Bibliography
McVeigh , Tracy. "Harry Patch, Britain's last surviving soldier of the Great War, dies at 111." [Online] Available http://www.guardian.co.uk/world/2009/jul/26/world-war-one-veteran-harry-patch-dies-aged-111.
VanEmden, Richard. The Last Fighting Tommy: The Life of Harry Patch, the Oldest Surviving Veteran of the Trenches. Bloomsbury Publishing PLC, 2007.
author's name, not given. "Obituary." [Online] Available http://news.bbc.co.uk/2/hi/uk_news/6954937.stm.