The beloved Starbucks is home to the birth of America's outburst of coffee shops. Starbucks was started specifically for selling bags of coffee beans. In 1981 one man would change the legacy of Starbucks and make it much bigger than it was. That man is Mr. Howard Schultz. Mr. Schultz was a man who had envisioned and dreamed of becoming an entrepreneur. Those dreams drifted away as he ended up working at a small coffee shop in Seattle called Starbucks.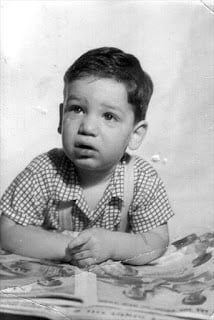 Coffee guru Howard Schultz was born on July 19, 1953, in Brooklyn, New York, to a truck driver and a homemaker. Howard lived in the town of Canarsie, Brooklyn. Howard Schultz is gifted with his athletic ability and played sports throughout his childhood. Howard managed to get a scholarship to Northern Michigan University in 1970. After graduating from the university with a Bachelor of Science degree in communication in 1975, Schultz found work as an appliance salesman for Hammarplast, a company that sold European coffee makers in the United States. He dedicated his work to the memory of his father. His father died of lung cancer before Howard Schultz became a millionaire. Howard is a dedicated man with a kind heart. He carried goals and had visions to make a great business which is why Howard Schultz is a hero.
Howard Schultz is considered a hero for his determination and will to fight for what he believed. Schultz invested his time and ideas and made his ideas come to life even when people were opposed his ideas. Mr. Schultz is a determined man. When Howard discovered his dream he devoted his time and resources to help that dream come true. An example is when Howard was applying for a job at Starbucks. Starbucks had no plans to hire Howard. No one else seemed to be in favor of this plan either. Howard's mother didn't agree. "My mother was especially concerned. 'You're doing well, you have a future,' she argued. 'Don't give it up for a small company nobody's ever heard of.'" The market didn't agree either. "A market study would have indicated it was a bad time to go into the coffee business. Howard Schultz decided he wanted to work for Starbucks as he saw the love of coffee from the owners, and practically begged the owners to hire him, yet after being turned down Howard still had the courage to tell them to rethink their decision. The next day Mr. Howard Schultz got the job. Howard is a man who does not give up easily; when he finds something he loves or has a great idea. he almost always decides to follow in what he believes and is determined to complete what he decided to do.

Another example would be when Mr.Schultz welcomed and supported gays and gay marriage, which led to a decrease in sales and their stocks. After a shareholder complained that Starbucks had lost sales due its support for gay marriage, Howard responded with "We employ over 200,000 people in this company, and we want to embrace diversity. Of all kinds." The CEO then added, "You can sell your shares in Starbucks and buy shares in another company. Thank you very much." Schultz knows what he wants and embraces his opinions, differing from other people who say nothing, for the betterment of their company. To other people this could mean the world to them, that someone of high class would stand up for what was right despite their business. To Howard it doesn't matter what race, gender or age you are. As soon as you apply, you are a part of the Starbucks family and they will welcome you with open arms. Howard doesn't care about the sales or the stocks, he cares about the people who work for the company. That is why Mr.Schultz invests in health insurance for his workers and provides higher salaries for them.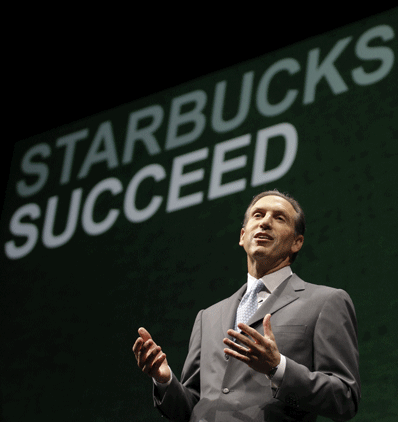 Howard Schultz followed his own path and, because of this, he is now a successful businessman with an underdog story. His decisions led him to where he is today. While Schultz was standing up for his ideas for selling coffee drinks, he describes: "I wasn't just an underdog during that year; I was an under-underdog. It was the roughest period of my life. I felt as if I were being kicked and beaten every time I scratched on another door. At the time, I was thirty-two years old and had been in Seattle for only three years." Howard is a leader because of his desire to continue. He found his passion and went his own path, which led him to his success. Despite Howard Schultz being the underdog he desired his success within the Starbucks family, yet his ideas were neglected. He decided to follow his dreams and succeeded. Another example of Mr.Schultz's leadership is in an interview with him where he claimed "People think I'm the founder of Starbucks. I was an employee when Starbucks only had four stores. I was sent to Italy on a trip for Starbucks and came back with this feeling that the business Starbucks was in was the wrong business. What I wanted to bring back was the daily ritual and the sense of community and the idea that we could build this third place between home and work in America. It was an epiphany. I was out of my mind. I walked in and saw this symphony of activity, and the romance and the theater of coffee. And coffee being at the center of conversation, creating a sense of community. That is what spoke to me."

Howard Schultz found his passion, he found something that spoke to him, and followed it. Schultz loved the idea of making Starbucks into a second home and wanted it to be a welcoming place. Mr.Schultz was on a mission to do that. After the company left, Howard's idea was buried into the ground but Howard Schultz dug it up, left the company and started his own. Two years later Mr.Schultz bought Starbucks. Sometimes you need to follow your own path and follow your dreams. Howard's story is an illustration of what you are capable of doing if you are determined, bold, and confident.
"If you dream small dreams, you may succeed in building something small. For many people, that is enough. But if you want to achieve widespread impact and lasting value, be bold."-Howard Schultz This quote shows how he had ideas that became big and how he was bold and determined. He grew to believe he could be his own leader, and now he is the CEO of Starbucks, a place where he was but a worker that the CEOs at the time didn't know. Howard Schultz is a leader who was determined to go his own way. He fought for what he believed in and succeeded in his dreams. Howard Schultz is clearly an inspiration to me because of his story and his belief in himself to continue despite people disregarding his ideas. Howard is an inspiration by his dedication and persistence and how he kept trying. Schultz was determined, he had a great idea and he always believed in himself. To conclude, Howard Schultz is an inspirational symbol, a symbol of leadership and determination to all. He may be just another success story, but Howard was a underdog in a big fight. Howard believed in himself - that he could make a difference and accomplish his dream. The moral is to fight, fight for your goals that you wish to achieve, and eventually you will win.
Works cited
"Howard Schultz." Contemporary Authors Online, Gale, 2015. Biography in Context,
link.galegroup.com/apps/doc/H1000205348/BIC1?u=powa9245&xid=47e3721f. Accessed 3 May
2017.
Kampel, Stewart. "Howard Schultz." Encyclopaedia Judaica, edited by Michael Berenbaum and Fred
Skolnik, 2nd ed., Macmillan Reference
USA, 2007. Biography in Context, 1. Accessed 4 May 2017.
"Howard Schultz." Business Leader Profiles for Students, edited by Sheila Dow and Jaime E.
Noce, vol. 1, Gale, 1999. Biography in Context,
link.galegroup.com/apps/doc/K1604000189/BIC1?u=powa9245&xid=03f1402d. Accessed 4 May
2017.
"Howard Schultz." Biography.com, A&E Networks Television, 3 Dec. 2014,
www.biography.com/people/howard-schultz-21166227. Accessed 5 May 2017.
Denning, Steve. "A Leadership Lesson From Howard Schultz." Forbes, Forbes Magazine, 18 Nov. 2016,
www.forbes.com/sites/stevedenning/2016/11/06/a-leadership-lesson-from-howard
schultz/#5bc159277122. Accessed 7 May 2017.
Page created on 5/28/2017 12:00:00 AM
Last edited 5/28/2017 12:00:00 AM