Helen Suzman
by
Wyatt, Ryan, and Emily of North Eugene High School
"A great patriot and a fearless fighter against apartheid."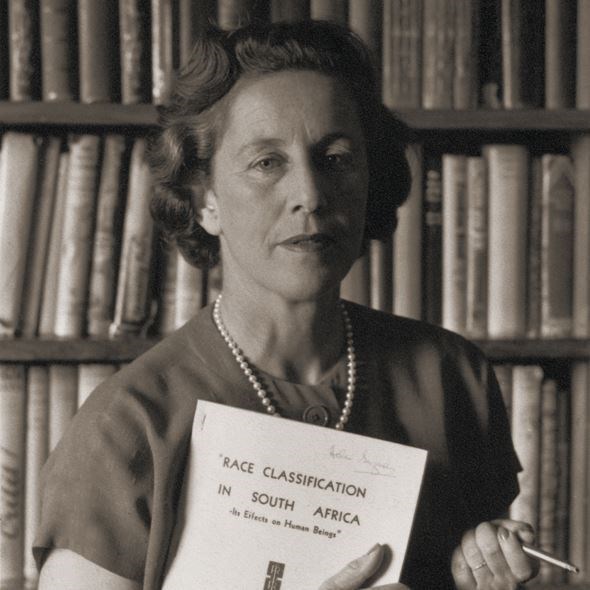 Helen SuzmanBarnard Center for Research on Women [Public domain]Helen Suzman was a native South African and was born as Helen Gavronsky in 1917 to Jewish immigrants. She studied at Witwatersrand University as an economist and statistician. At the age of 19, she married Dr. Moses Suzman. She was one of few women to stand up against apartheid. She was also one of the prominent figures in the Anti-Apartheid Movement. She was a member of Parliament for 36 years and the first female South African MP (Minister of Parliament). She used her position to gain access to areas forbidden to the general public.
Having access to these areas, she was able to highlight the evils of the system every step of the way. She did this to show people who didn't know what was happening behind the scenes. She was a part of the SAJBD, a Jewish group in South Africa during apartheid. She felt that the Jewish people should do more to help end apartheid, but SAJBD believed political non-involvement would be best for them. To speak against apartheid was not allowed because their group had a good relationship with the South African government. When in Parliament, Helen received hate mail for being a Jew and for not supporting apartheid.
From within Parliament, Helen fought against apartheid. Though Helen was receiving hate mail and phone calls, she continued to live freely in a house without a fence, not afraid of anyone. She was not a representative of the Jewish people because she said, "For me, for Jews to support the people who were in favor of race discrimination was the ultimate in treachery of the values that Jews should hold." She felt that any Jew who supported a government which is doing the exact same thing that Russia did to Jews to black Africans was a traitor. Many people would call her a hero.
MLA: N.d., . "n.d.." Answers.com. 2010 Answers Corporation, n.d. Web. 14 Feb. 2010. <http://www.answers.com/topic/helen-suzman>.
Braude, Claudia. "Helen Suzman: Jew to the world, not always at home." The Jewish Daily Forward. Forward Association, 8 Jan. 2009. Web. 18 Feb. 2010. < http://www.forward.com/articles/14904/>.
Page created on 8/6/2010 12:00:00 AM
Last edited 10/28/2019 10:30:46 PM
The beliefs, viewpoints and opinions expressed in this hero submission on the website are those of the author and do not necessarily reflect the beliefs, viewpoints and opinions of The MY HERO Project and its staff.