On January 12, 2010, a fierce 7.0 earthquake struck Haiti, leveling hospitals, buildings, and shantytown dwellings. The earthquake was the worst to strike the region in more than 200 years, and has left one of the poorest and most disaster-prone nations in shambles. The death toll is estimated at 200,000, and relief organizations are desperately working to provide the people of Haiti with food, water, and much needed medical supplies.
As people around the world watched the aftermath of the earthquake, many immediately asked how they could aid the relief organizations working in Haiti. In a statement by a spokesman for the Center for International Disaster Information (CIDI) in Washington, donations are a more "economical and efficient way of making a contribution" than volunteering. This leaves plenty of hands-on opportunities to assist in the Haiti earthquake relief, especially for young people:
-Social media is playing a large role in spreading awareness and soliciting donations for the Haiti relief. Haitian families are also using social media to obtain information about their relatives and follow news on the relief. With social media networks growing in popularity by the day, young people can make a difference simply by posting a message online to spread awareness. Even if you don't know any Haitian families, you can make a difference by posting a message on your Facebook, MySpace, etc. about the Haitian relief, and asking your friends to pass along the message.

-For those who spend a lot of time on social networking, the International Medical Corp is looking for volunteers. Those interested will help monitor the website, which they continuously update to show what donations they need, and who and where volunteers are needed on the ground in Haiti.

-Kids Against Hunger, a non-profit organization dedicated to feeding starving children around the world, is working to help ease the situation in Haiti. At several Kids Against Hunger locations, children have been gathering to organize and pack bagged meals to send to Haiti. Each bag contains a mix of dehydrated food that can make up to six meals.

-The Haiti Relief Fund is collecting donations to send to Haiti. You can help by holding a goods drive in collaboration with the Haiti Relief Fund. Visit their website and download a flier to start a goods drive.

-You can make a monetary donation of $10 to the Red Cross by texting "HAITI" to 90999. To read more about this and other Red Cross relief efforts in Haiti, please visit: http://newsroom.redcross.org/2010/01/12/disaster-alert-earthquake-in-haiti/

-The Solar Oven Project is a non-profit organization working to send solar ovens around the world, so that families can cook and purify water without using precious natural resources. The Solar Oven Project has partnered with the Friends of Haiti Organization to send solar ovens to aid the hundreds of thousand of homeless Haitians. Donations of any amount will be greatly appreciated. Checks should be made payable to the: Friends of Haiti Organization PO Box 222
Holland, OH 43528
(Please note the donation is for the Sun Oven project.)

-For relatives who are looking to find their Haitian family, the Red Cross has set up a Family Links database. The website allows Haitian families to post online their names and the names of the relatives they are trying to contact, in an effort to restore contact between separated family members.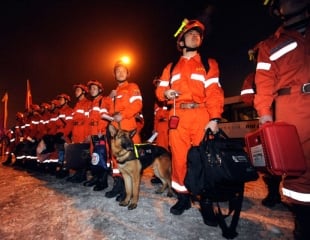 There are many different ways to provide aid during a disaster besides traveling to the affected area. In this digital age, the internet is playing an increasingly large role in soliciting aid in a timely and effective manner. That's kind of a different way to volunteer that does make a big impact," says the International Medical Corp.
Page created on 1/18/2010 8:13:25 PM
Last edited 1/6/2017 6:00:23 PM