Mariel (Mia) Hamm
by
Nia from Fredericksburg, Virginia
Olympics Hero from USA
As one of the greatest soccer players of all time, she has achieved a lot, with countless awards and titles. Her soccer accomplishments might have put her in the spotlight, but they are not why she is still in the spotlight today. She is a Hero, an example to young girls everywhere on how to push through pain and heartache and still come out on top. This Hero is Mia Hamm.
Born on March 17, 1972 in Selma, Alabama, Mariel Margaret Hamm was one of six children born to an air force pilot and his wife. She had two adopted brothers and many sisters. She was introduced to soccer by one of her brothers at only five years old. By fifteen, she became the youngest woman to play for the US National Soccer Team.
Mia attended college at the University of North Carolina and graduated with a degree in Political Science. While at UNC she led her soccer team to four consecutive NCAA championship games. She also became the NCAA tournament's MVP offensive player.
In 1997, Mia's brother, Garrett, died of Aplastic Anemia, which is bone marrow disease. As upsetting and devastating as this was to her, she got through it. This is one reason why she is a hero. She was able to persevere through the sadness of losing her brother. In 1999, two years after his death she created the Mia Foundation. This foundation was created to help other bone marrow transplant patients. She is a hero for this because she is changing the lives of other people who have the disease. She raises money for them to help their families. So far $500,000 in grants has been raised to help those families. Along with the Mia Foundation, she supports the Garrett Game. It is an indoor soccer exhibition that brings together famous women soccer players in order to raise money for the Garrett J. Hamm Memorial Fund.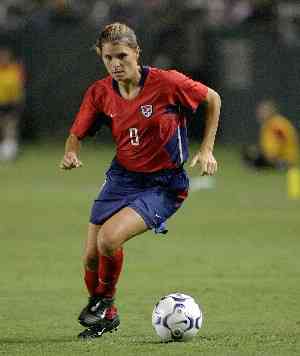 Mia is a hero because she wants to help other people and doesn't focus on what she can do for herself. She focuses on what can be done for others. Not only did she found the Mia Foundation but also the Women's United Soccer Association. This is a program that benefits young women in sports.
Mia has made such a breakthrough in soccer that will be helpful to girls all around the country. Her numerous awards include being the National Player of the Year three times and the Athlete of the Year from 1994-1998. She was the ACC Player of the Year three times and the ACC tournament MVP. She led her professional soccer team to the 1999 World Cup Championships and two Olympic gold medals in 1996 and 2004. She was named one of FIFA's 100 best living players and was just put into the 2007 soccer hall of fame. In 1998 she became the all-time world leader in international goals scored with 108. She retired after her team won the gold medal at the 2004 Olympics. Mia has many more achievements that I could talk about all day, but in the end, those awards are not what make her my hero.
Mia is my hero not only because she is an excellent soccer player but because she went to college and proved that she didn't only have to rely on her soccer skills to support her. She showed herself to be a leader for her team and is still a leader for young women all over. She has a passion for everything she does. She doesn't play soccer for the fame and a publicity she gets; she plays because she loves the game. Mia is my hero because she has gone through some hard times, with the death of her brother and the divorce from her first husband, but she still came out on top. She pushed through her pain and anger, something that only someone strong mentally and physically can handle. She achieved so much and still continues to strive for bigger and better; she doesn't just settle with OK, she is a hard worker in all that she does. Mia is my hero because she marches to the sound of her own drum. Have you ever heard of Mia taking steroids? Have you ever heard that she drinks? No. She has not fallen victim to the habits of other athletes. She is a strong female athlete that I look up to, someone I feel I should strive to be more like. She is my hero not because our names rhyme or we both love soccer. It's the things inside that count to me, not the outside. This is why Mia Hamm is my hero.
Page created on 8/7/2008 10:19:19 AM
Last edited 1/6/2017 11:55:45 PM
The beliefs, viewpoints and opinions expressed in this hero submission on the website are those of the author and do not necessarily reflect the beliefs, viewpoints and opinions of The MY HERO Project and its staff.