Hattie Elizabeth Alexander
by
Caroline from Fredericksburg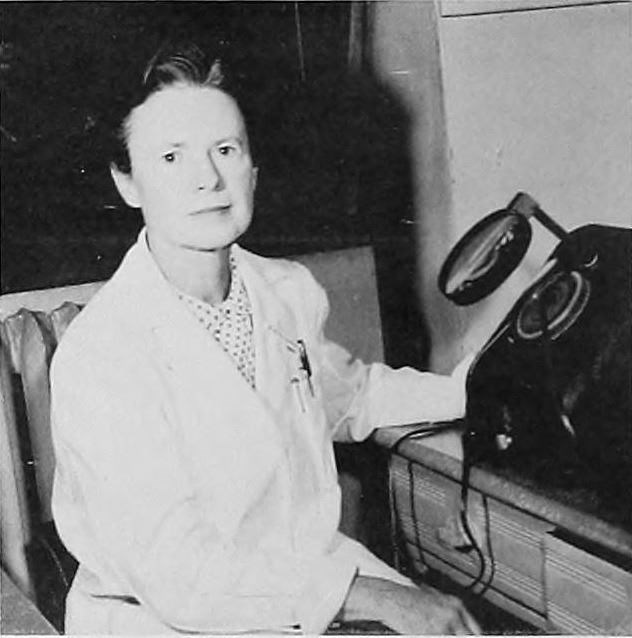 Hattie Elizabeth AlexanderUnknown photographer / Public domainWhen I hear the word "hero," I instantly think of the three H's: someone who is honorable, hardworking, and happy. When I think more about this word, I picture someone who has accomplished good things for people and tries to do the right thing. Hattie Elizabeth Alexander is one person whom I find to be very heroic.
Hattie was born in Baltimore, Maryland on April 5, 1901. During her time at Goucher College, she earned her bachelor's degree in bacteriology and physiology. These were just the first steps towards what she was ultimately remembered for. After college Hattie attended Johns Hopkins School of Medicine and received her medical degree. Fascinated with science, she continued her studies with an internship position in pediatrics at the Harriet Lane Home in Baltimore.
After her education, she pursued her career, and after much hard work and time, she drastically reduced the number of infants dying from influenzal meningitis. Meningitis is the swelling of the inside layer around the brain and spinal cord. Hattie was very dedicated to her work and helped at as many locations as she was able to. Spending substantial time in the laboratory, Hattie successfully developed an antiserum against Haemophilus Influenzae Serotype B, which decreased the death rate to 20 percent. At the same time, she also was a teacher and a practicing physician working with Columbia University.
On the surface, Hattie seemed proper and serious, even stern at times, but inside she seemed to be a completely different person -- a caring lady who was interested in other peoples' lives. When she was teaching at Columbia University, other faculty members would talk to her about students who were failing their classes, and somehow Hattie could always find convincing reasons as to why they should not be expelled. Later, Hattie became an instructor in Pediatrics at New York City's Babies Hospital. After many honors, she became the first woman president of the American Pediatric Society in 1965. This was her last major achievement, for soon after, Hattie died of metastatic mammary cancer on June 24, 1968. She was 67 years old.
Even though Hattie Alexander may not have had a famous face, she did famous things, things worth honoring. She saved thousands of babies' lives each year through her hard work and dedication in microbiology and pediatrics. Giving up her time to help others, and working at many different locations, Hattie really was a true hero.
When most people think of heroes, they think of strong, muscular people who save lives. These types of people are usually thought of as men. I believe that you don't have to be physically strong to be a hero, but you must be emotionally strong. You have to have something inside you that can pull you through hard times. Hattie is my hero because she was a hard worker who put all of her effort into helping others, and, most importantly, she had a good outlook on life. Her positive attitude and strength helped her accomplish great things for others. She gave them her strength by developing medicines against their diseases, and by doing so, made them stronger. This is what makes Hattie Elizabeth Alexander my hero.
Page created on 7/19/2005 11:32:14 AM
Last edited 4/5/2020 8:34:14 AM
The beliefs, viewpoints and opinions expressed in this hero submission on the website are those of the author and do not necessarily reflect the beliefs, viewpoints and opinions of The MY HERO Project and its staff.