Hector Daniel Alonso
by
Annie Merkley
How can you become a hero for your community? It can be as easy as taking a hobby you love and sharing it with those around you. Héctor Daniel Alonso took his appreciation of kayaking and introduced Centro de Actividades Náuticas y Ecológicas to the small island community of Isla Martín García. Through this act of sharing and opening of CANE, it changed the dynamic of life for the children of this isolated locale and offered an opportunity to develop a nautical culture that was lacking prior.

In many ways this quaint oasis feels frozen in time, a hundred years or so seem to melt away stepping off the catamaran. From the riverfront town of Tigre north of Buenos Aires, Argentina, the boat ride is around an hour. However, this island's environment is a world away from Buenos Aires' raucous city streets. This gorgeous wildlife refuge boasts birds and butterflies galore that flit about a tree-lined park at the heart of the island's tiny town center. Sun glitters gold off the rippling brown water of the vast Río de la Plata. The rustle of leaves and hum of insects fill the air with the delta's symphony. It's not hard to understand why Alonso, originally from mainland Argentina desired to spend more time in this relaxed island nature reserve.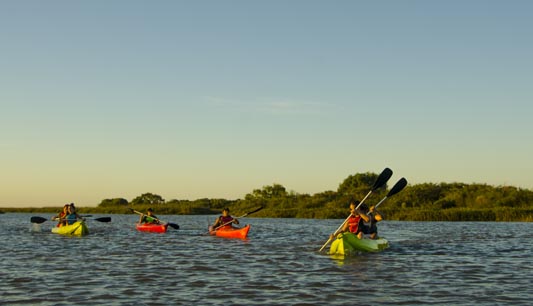 Alonso sits cross-legged outside of CANE explaining that 10 years ago his decision to start a kayak rental shop and become an instructor was very personal. It was a passion, an idea to live and spend more time in nature. Alonso also saw an open window to present adolescents with a positive activity in their lives. Martín García's population of 123 consists of couple of dozen children who had no organized after school recreational activities. By getting involved with kayaking it put them in direct contact with the river that surrounds them and opened up a whole new world.
The payment Alonso receives from renting kayaks to tourists grants him the ability to offer free lessons and use of equipment to the local children. They have now been involved with international long-distance kayaking competitions where the secluded students have met individuals from other parts of the globe. Alonso and the students have grown together and the project has become a kind of cultural exchange. Alonso hires high school students to work at CANE and therefore creates jobs on an island with sparse work possibilities. He is also resourcing materials from abandoned buildings to construct a bridge enabling better access for kayakers to enter the river.
In a country unrenowned for watersports, Alonso single-handedly put Martín García on the map. It is now a well-known destination for kayaking. "Es como baseball en Cuba," (It's like baseball in Cuba) he says and laughs comparing the popularity and found identity tied up in the islanders' love of their sports.

With an infectious smile and sense of pride and gratitude, Alonso states that sometime life touches you and says, "Are you sure this is the way?" He says you have to listen when a passion grabs you and shows you a way to help others, to help change the lives of children.
Page created on 5/2/2015 6:58:29 PM
Last edited 1/5/2017 4:33:21 PM
The beliefs, viewpoints and opinions expressed in this hero submission on the website are those of the author and do not necessarily reflect the beliefs, viewpoints and opinions of The MY HERO Project and its staff.

Related Links