Audrey Hepburn and Selena Gomez
by
Stefanie from Sheridan Tech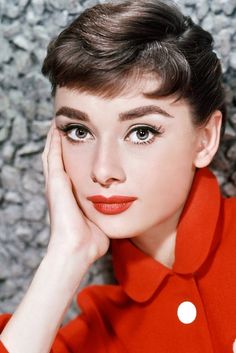 Audrey Hepburn was a talented young girl. Her original name is Edda Kathleen van Heemstra Hepburn-Ruston, Audrey was born on May 4, 1929, Brussels, Belgium. Even though born in Belgium she had a British citizenship and attended school in England. In 1939, during WW II her mother moved them to Netherlands, thinking that it was safer in a neutral country than England. Throughout WW II Audrey endured many hardships, but she still was able to attend school and go for ballet lessons. After the war she continued to study ballet in Amsterdam and in London. During her early 20's she studied acting and worked as a model and dancer. Married Mel Ferrer in 1954 and divorced Ferrer in 1968, and married an Italian psychiatrist, after Audrey remarried she focused on her family and less on her career. In 1988 she found a new career as a special goodwill ambassador for United Nations Children's Fund (UNICEF). She devoted herself to her humanitarian work, visiting famine - stricken villages in Latin America, Africa, and Asia. Audrey Hepburn died in Tolochenaz, Switzerland, on January 20, 1993, from Cancer. And in memory of Audrey Hepburn her sons opened the Audrey Hepburn Children's Fund to continue what she started when she was the ambassador of UNICEF.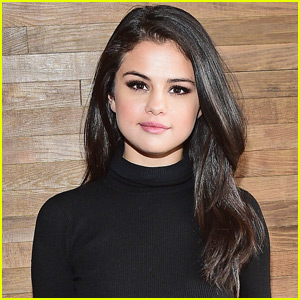 Selena Gomez from a young age was a smart and talented girl. Selena was born on July 22, 1992, Grand Prairie, Texas, U.S. She was influenced by her mother to start acting, so Selena tried out for a role on the PBS children's television series Barney & Friends and as a result, appeared regularly on the program in 2002-04, she also audition for the Disney sitcom Wizards of Waverly Place, which she got and acted as Alex. After that she acted in many tween-oriented videos and TV movies. She also ventured into music as the front woman of Selena Gomez and the Scene, an electronic - influenced pop band that produced several dance hits. As Gomez transitioned into adulthood, her philanthropic work progressed, and she accomplished much through UNICEF, which in 2009 appointed her has the goodwill ambassador. She is also consider as the youngest ambassador. Selena was an active advocate for the world's most vulnerable children by participating in numerous campaigns, events, and initiatives on behalf of the U.S. Fund for UNICEF.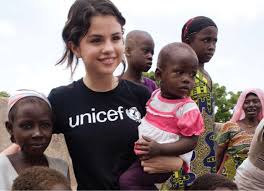 The reason I choose Audrey and Selena has my hero is because both woman are very inspirational and admirable people. Audrey even with her large celebrity status, she was always humble, polite and a little reserved, but she used her status for the right things/reasons and the right time, she never misused what her status did for her. Audrey passionately spoke about the conditions and the suffering children, she met on her trips to famine countries, she spoke for the people that could not speak for themselves. As she herself said, "I feel so strongly that's where it all starts, with kindness. What a different world this could be if everyone lived by that." As Selena's career and celebrity status grew, she started to become a idol that all girls from different ages looked up too. With this type of power she influenced girls to do what they believe in and never give up on that dream. When Selena became the ambassador at the age of 18, this was her opportunity to spread her ideas that can make difference to the less unfortunate in famine stricken countries, but also show girls of all ages that it doesn't matter if you are a celebrity or just an ordinary person, anyone can make difference if they believe in themselves. Just like Audrey Hepburn.
These two wonderful woman have influenced me so much that I try everyday to make a little difference in my community, even if it's just volunteering at the community center or helping my neighbors, I'm still making a difference in my own way, just as Audrey and Selena made a difference by being the ambassadors for UNICEF. These two inspirational woman are MY HEROES !!
Page created on 3/28/2016 6:37:17 PM
Last edited 3/28/2016 6:37:17 PM
The beliefs, viewpoints and opinions expressed in this hero submission on the website are those of the author and do not necessarily reflect the beliefs, viewpoints and opinions of The MY HERO Project and its staff.