The vet whispered, "I hate birthing dead puppies." The puppy lay lifeless in the palm of his hand. True to his oath he administered CPR and amazingly heard a whimper and then slight breathing. The assistant and vet worked frantically to revive the pup whose chances were very low after twelve long hours lodged behind two dead puppies. Fate smiled on them that day. The team dubbed him Hero, a name worthy of a survivor. This was the first life Hero touched giving the vet yet another reason to always hope for the best in all situations no matter how grim they look.
Hero's first owner, a woman in her 70's, loved him dearly. He gave her a reason to live, but ultimately her body was taken by cancer. He was her constant companion offering the only thing he could "a coat to cry on" never leaving her side until her last breath. He was her personal Hero, and the second life Hero touched and helped. However, Hero could not help himself and was among the millions of homeless dogs searching for a family.
Large, black older dogs, especially a Rottweiler, are very difficult to place. Many are euthanized, never finding forever homes. Hero came to visit us, lay down in the middle of the living room and staked his claim. His big, deep, dark, brown eyes won our hearts instantly. He has that affect on everyone. Even those who fear dogs are won over by the eyes that reflect his heart and inner spirit.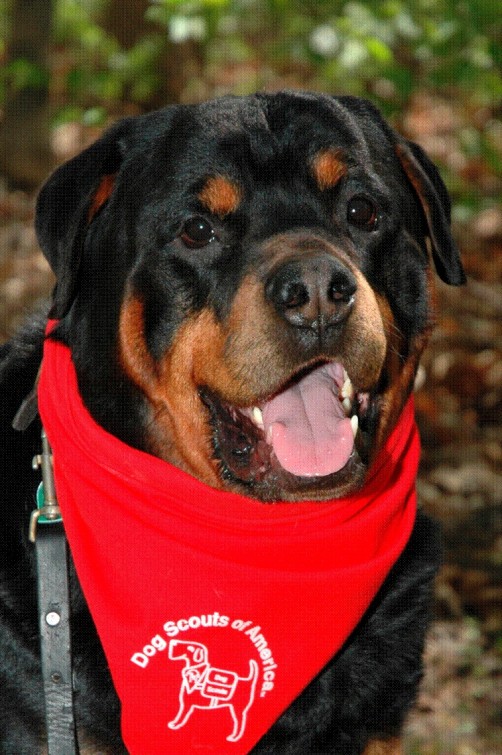 Hero, the pup
Hero suffered from extreme separation anxiety. Kennel life had exacerbated his anxiety, leaving him frightened, and wrought with distress. There was no luster to his coat, he was covered with scabs and itched incessantly. He would pace, whine and cry constantly. We had our work cut out for us.
The more jobs I gave Hero, the more he blossomed. He excelled in Obedience, Rally, CGC, ATT, and the evaluation of three therapy dog groups. Not only did Hero blossom, I also became more confident in my ability to work with and train dogs. I have since become more involved in helping others with many rescue dogs and recently spent time working with the dogs that were confiscated from a large dog fighting ring.
I have always been a quiet, behind the scenes kind of person but thanks to Hero I have become a spokesperson for abused, homeless, and abandoned dogs, anti-BSL legislation, responsible dog ownership, began teaching obedience classes, and also became an instructor for The Delta Society International, a volunteer organization that registers animal assistance therapy pet partner teams. I have spoken to groups as small as five, and as large as five-hundred. Being a spokesperson for the benefits of therapy work with animals has become central in my life. All due to Hero, his wonderful spirit, and kind gentle soul. The third life Hero has touched and changed is mine.
Hero never tires of touching lives, helping the elderly, and bringing a smile to someone's face. The oldest member of his fan club is a 93 year-old woman who makes me promise to see her first when we arrive, and last before we leave. She calls Hero "her dog." When he was recently in the paper, she was as proud as any dog owner could be. She clipped the article and showed it to everyone. The staff will mention that they do not see her smile any other time than when Hero is with her, or when she is talking about him. Hero visits several different facilities on a regular basis, including the Missouri Veterans home where the men call him their American Hero. Does Hero touch and change lives? Just ask any of the residents.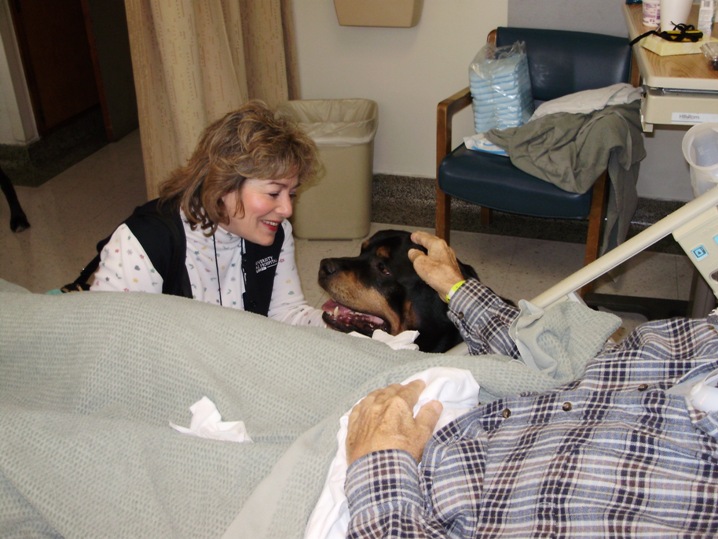 Hero and I receive calls from all over the state. We were invited to the Hall of Fame in St. Louis Missouri as the summer camp dog teaching team. The children had a chance to learn about the different jobs dogs perform, pet safety, bite prevention, anti-bully, respect and kindness. Hero wore four harnesses, three vests (Delta, Dog Scouts, and Crisis) and provided a demonstration on the use of each, let the children bathe, groom, brush his teeth, file his nails, and we cannot forget the tummy rub.
We received a call from Care Alternatives Hospice regarding a patient that was non-responsive to anyone. She just stared out the window deep in depression. No amount of interaction, massage, music, reading or any other therapy had reached her. The day we walked in, I knelt down next to her and Hero, and said, "Hello Hazel." No response. I again said, "Hello Hazel, Hero came to see you, can you see him smiling at you? Oh my, Hero, Hazel, Heddie, our names all start with "H." She turned her gaze from the window, looked at Hero, and began to smile, and little by little she began to tell us all about her family, dogs, and other life stories." We had made a breakthrough. The therapist was writing all along, and was so excited, she called everyone she knew who had been involved with Helen. Hero offered her the only thing he could "A Coat To Cry On." Hero and his loving smile had touched her heart.
Hero visits summer campers where he works with severely mentally, and behaviorally challenged children, cerebral palsy, down syndrome, cancer and hospice. Most recently there was one little boy who had severe behavior issues. The counselors were having difficulty controlling. Hero walked into the room and laid down on his side with his legs straight out. He just stayed there like a statue on the floor looking at the little boy. The little boy made eye contact with Hero and it was like an instant magnetic connection. He walked over and laid down placed his body horizontally across Hero's massive body. The only thing you could see of Hero were his head and legs extended out underneath the little boy. He was like a big hairy mattress for the little boy. The little boy stayed in that position matching his breathing with Hero's. The synergy between them was remarkable. No one wanted to move and break the beautiful synergy. The counselors were amazed and kept saying how did he do that? There is no explanation for how he gets these results, he over and over again people witness the small miracles that take place as Hero offers "A coat to cry on."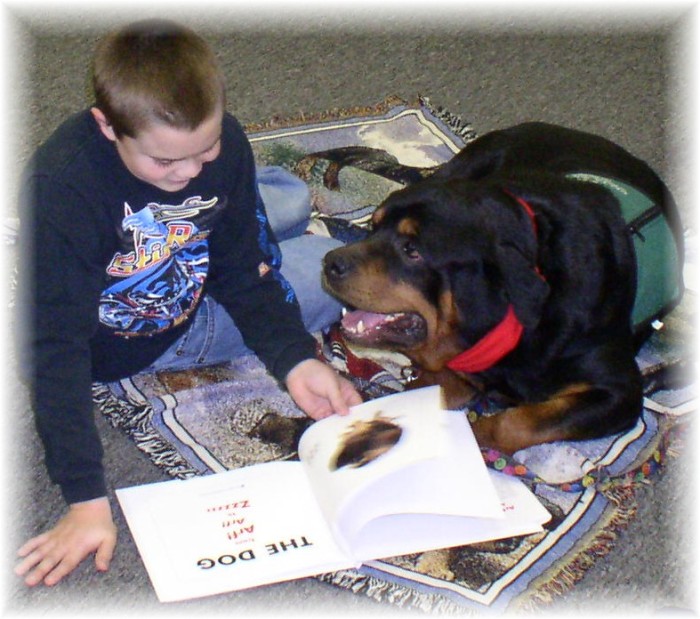 There is one activity we provide that encourages teamwork, listening and leadership skills for these children. Hero wears his carting harness, and we attach several leashes to it. One child is selected as team leader holding the lead leash and gives the commands. Each team member must be quiet and follow directions and work as a team following the leader. Everything the leader tells Hero to do, each team member must do. Each child wants to be the leader. The best team member that follows the leader's directions in handling Hero is chosen as the next leader. All the while, Hero patiently follows the signals of the leader, and allows grace to the children holding the other leashes. Of course, he is really following my hand signals, and my leash is attached in such a manner that the children don't notice, and truly think they are teaching Hero the commands. It is pure magic to see them work together peacefully. The children learn leadership, team building, listening and cooperation skills in this simple team project that Hero and I designed.
During one camp session, a little girl in a wheelchair began yelling and moaning loudly, while flailing her arms. The children said, "she's calling Hero." We went to her. She tried to reach and open her hand with great difficulty. She was determined to pet Hero. Even with all the commotion and noise, Hero sat quietly by her side waiting for her hand to touch his head. For over 30 minutes he sat patiently, until she calmed down, and kept his head in position for her hand to touch. She slowly relaxed and opened her hand, and with Hero's help was able to pet him. Every one had tears in their eyes. "A Coat To Cry On" in action once again.
Hero and I started the Reading Program at the Mid-Continent Public Library System, and the Kansas City Public Library System visiting each branch where children read to him. He works in the Liberty Public schools libraries with At-Risk students helping them gain confidence and reading skills with a high level of success. Hero has been the safety education dog at events where over 1,000 children and their families receive responsible ownership information, and bite prevention information.
We attend Humane Day at the State Capitol of Missouri pulling a cart through the halls filled with information regarding legislation and delivers packets personally to each legislator's office. Hero is a welcome visitor and has become a goodwill ambassador for not only the Rottweiler, but any breed in question, more importantly he has also helped legislators learn what a therapy dog does and the role they play in helping people. Being a spokes person and goodwill ambassador for the breed and the importance of therapy work has totally transformed my life. Hero has given me the confidence to go anywhere and speak to anyone regarding health, safety and education with regards to responsible ownership of dogs, including legislators. Due to Hero I have overcome my crippling fear of speaking in public settings.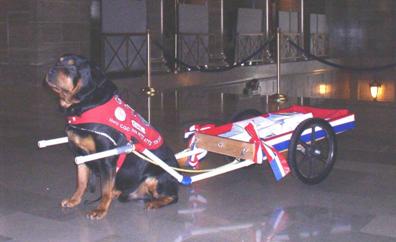 Last year at the summer camp for cancer survivors, the children were playing a dress up game. It was a race. The pile of clothes was on one end and the four teams were lined up at the other end. They would race down to the clothes, put them on, take them off, and race back to the start. One team needed another member and invited Hero to be on their team. This is Hero with the clothes on just before he raced back to the finish line. His team did not win, but everyone was rolling on the floor laughing. They were laughing so hard, they were crying. A very good memory.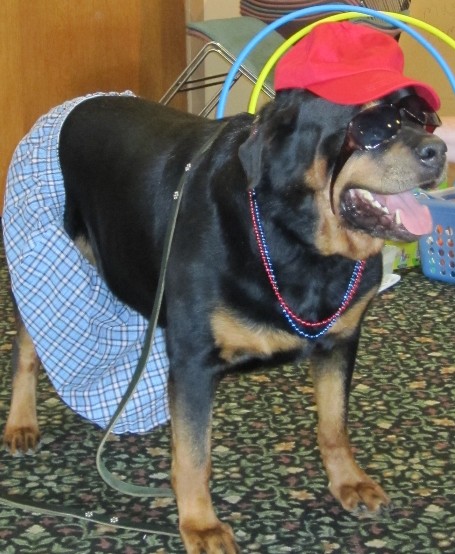 Hero Yo Mama!
Hero touches lives from the ages of three to ninety-three. Last, but not least, Hero has become an Animal Assisted Crisis Dog. I will close with a quote from a woman whom he touched during a recent emergency crisis situation.
Dear Heddie and Hero:
"I met you and my new best friend Hero several days ago in Iowa. In spite of seeing tragedy across the US as a Red Cross volunteer, I have not been moved to tears like I was being in the presence of Hero."
"I immediately called my friends/family and shared with them the "audience with a king of canines." His kind and calming spirit was truly overwhelming and inspiring." "I had his business card laminated and carry it with me every where I go. Truly, he changed my life by pushing me beyond my personal fears and boundaries. Thank you so much for changing my life. I want to be Hero's fan club president LOL....Susan Taylor, American Red Cross"
Message from Heddie, Hero's owner/handler. Above you have read just a few stories of the lives Hero has touched. This is a brief synopsis as a sample. Should you desire to know more about Hero, such as how he has been nicknamed "Doc" and offered a "coat to cry on" and how he figured out how to train a therapy dog who was having a hard time, I would love to share more. How Hero has helped me overcome a crippling fear is nothing short of amazing. How he helps others overcome their own personal obstacles is nothing short of miraculous. I have had many dogs, and many rescues. This is the only dog I have owned that seems to instinctively know what each person needs. I have seen him in a classroom with over a dozen children, and he will read each child's body language and adjust his interactions accordingly. He specializes in working with autistic children. It just seems that the more chances Hero has to serve others, the more he amazes us. This last story from Susan Taylor was incredible. I have others like it, where people say he helped them heal from their fears. I hope you find Hero (and me) worthy to include. If you need more information about his service as a Crisis Response Dog, please let me know. He has offered a "coat to cry on" in so many ways and changed my life in doing so.
Heddie's Bio: Heddie and Hero reside in Liberty, Missouri. Since Hero came into her life Heddie has spoken to thousands of people regarding the importance of responsible pet ownership, spay neuter, anti-bully, and positive motivational reinforcement training. She has become an instructor/evaluator for an international organization, The Delta Society, and regularly speaks to classrooms, both at the elementary level and university level. She and Hero have developed programs across the state. She is a Hug A Tree and Dog Gone Safe presenter always with Hero as her demo dog. Heddie has become a Certified Humane Educator and is on the team of Wayside Waifs, a local shelter, which provides resources for many homeless animals and Best Friend Education Ambassador. She has also become a crisis intervention CERT member and helps with emergency situations working with emergency personnel with her other Rottweiler, Halo, a certified search dog.
UPDATE: Each summer Hero works as a therapy dog at camps for children with cancer. This year he will bring a spirit of hope and survival. This Spring, Hero was accepted to the University of Missouri clinical study for dogs with Lymphosarcoma. His tests indicated Stage IV development. He has had his spleen removed and lymph nodes have been placed in a tissue bank along with blood in a blood bank for further studies on Lymphosarcoma so he can help others survive cancer. Hero currently is doing well with his chemotherapy treatments and is looking forward to visiting the children at the camp again this summer. Here is a photo of Hero undergoing his treatment. Notice the smile on his face. He seems to know folks are trying to help him and is very cooperative. The doctors say he is a model patient and does not even need to be sedated while undergoing treatment. We hope Hero will continue to improve so he can continue visiting and serving as a therapy dog.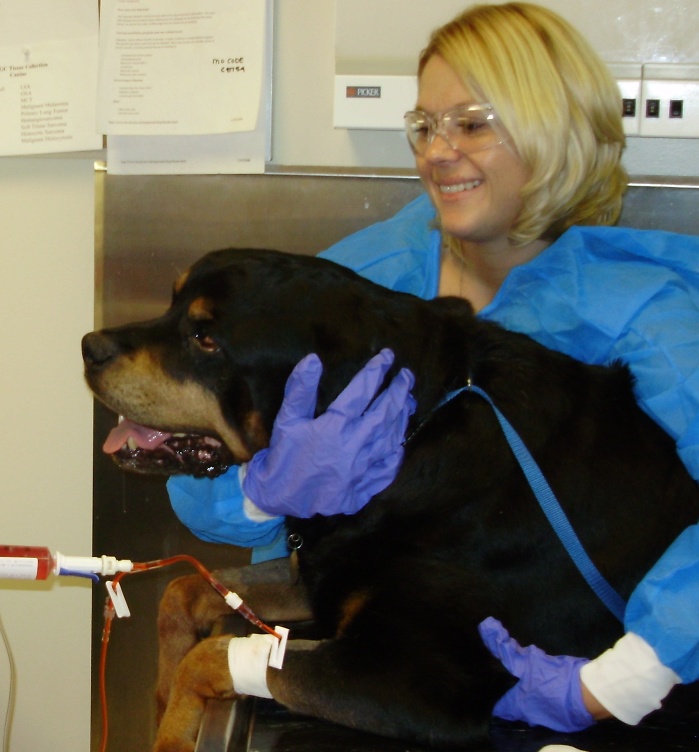 Hero