Helen Keller has been my hero since grade school. By the time I finished middle school, I had read, re-read, and taken to heart her first book, The Story of My Life, written while Helen Keller was still a college student.
Keller was a truly extraordinary woman; in all aspects of her life, she did exactly what she wanted to do. When she lost her sight and hearing before the age of two, she was isolated from the sighted and hearing world. With sheer determination and the help of her teacher Annie Sullivan, she defied the expectations of others, reached out into that world and thrived, turning her world of silence and darkness into one of the brightest spots in history. She traveled all over the world, visiting 35 countries on five continents, and spoke several languages -- quite an accomplishment for someone who spent the first decade of her life mute!
I had no disability when I first discovered her works in grade school, but for me Helen Keller was inspiring because she saw every day of her life as an adventure. Her life might have been confined and narrow, but she chose instead to venture as far as possible into the world, setting an example for all of us to follow. As she herself wrote, "Security is mostly a superstition. It does not exist in nature, nor do the children of men as a whole experience it. Avoiding danger is no safer in the long run than outright exposure. . . To keep our faces toward change and behave like free spirits in the presence of fate is strength undefeatable." That willingness of hers to step into the unknown has carried me through my own life.
Helen Keller's example took on even more significance for me after I broke my back in a motorcycle accident during college. Keller was a leading advocate for those of us with disabilities everywhere; through her personal accomplishments, she taught the world how to see people with disabilities as fellow travelers on equal paths. She came to see her disability as a natural part of her life, and moved on quickly from there. In so doing, she taught me that disabilities aren't insurmountable barriers. They add twists and turns on the road of life, but the road nonetheless stretches out before you if you're game.
Helen Keller not only showed me how it is possible to beat extreme odds, but I learned from her how people with disabilities have used their own experiences and personal adventures to help others. She ignored barriers and fought for the underdog, with a full understanding that the fears and prejudices that imprison people with significant disabilities are much the same as those that cramp social progress and that keep much of the world in dire poverty. And when I had my own chance to help out, I think I took it in part because of her.
In 1980, I was traveling in Nicaragua when I met four young men sharing a single wheelchair. I felt a sudden rush of admiration as I watched their excitement in setting out one at a time--alone--to explore the far corners of Managua. In their explorations the four riders had broken the chair many times, and in repairing it they had made it much stronger. It was perfectly adapted for the bumps and ditches of the country's roads, stronger than any of the ones I had seen in the U.S. The rough terrain had already taken a toll on my high-tech wheelchair and it was beginning to give me some problems. Right away, they pinpointed the problems. I was impressed; they knew more about wheelchair design than wheelchair designers in the U.S., and they weren't letting the terrain or their lack of access to expensive equipment hold them back.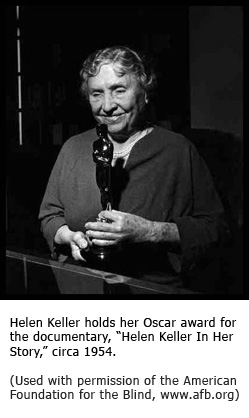 At that moment, I knew I could help more people gain mobility and overcome the roadblocks that the landscape and cultural attitudes put in the way. I had been working on rebuilding my own chairs to fit my needs; now I had found a group capable of designing something that would actually be beneficial to a lot of people. We could work together, deign new and better chairs, and pass on the advances in technology to others in developing countries. Now, I get to travel throughout the world, working with wheelchair riders who are inventing and building their own.
Helen Keller is with me on those travels, in my activism, and in my life. It is because of her that I was able to leap into the unknown, and to grab the opportunity to use my own disability to learn from and to help others. As she once wrote, "Life is either a daring adventure, or it is nothing at all."
Page created on 8/11/2014 6:27:40 PM
Last edited 8/11/2014 6:27:40 PM