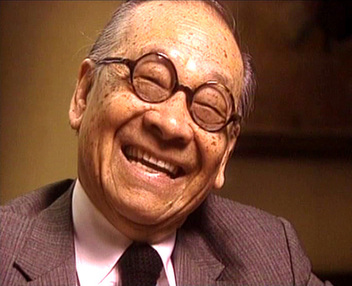 The first time I got interested in architecture was about a year ago, when my father and I went to a book store. The two of us found a model architecture kit while looking for books. I was really into crafts at a young age, so I decided to give this model a try. Even then, I was always interested in the design of buildings. The unique and intricate designs will forever captivate me. I came across a book called I. M. Pei: Complete Works, written by Philip Jodidio. I skimmed through the pages, learning snippets of information from Pei's life and accomplishments. This year, when I began researching people with inspiring careers, I remembered this book. I took the time to research important architects and, sure enough, Ieoh Ming Pei was on the list. Pei is a role model to me because he takes creativity and ingenuity to a new level. He is very successful in his career. I would love to have a career in architecture exactly like Pei. His job is something that greatly appeals to me because I want to design structures and bring them into the world. I would love to travel with my profession and be known for my contributions to society, just like I. M. Pei.
Architects are constantly designing structures for clients that meet their requirements and have to follow building codes. They must have skill in mathematics and also be organized. According to the Occupational Outlook Handbook, architects also supervise or occasionally watch builders on the site of construction to make sure all of the plans are being completed properly. Planning is important to the success of the career. In order to begin this career, there are certain needs that an aspiring architect must meet. People need to receive a Bachelor's degree in architecture, and some even reach for a Master's degree. All state registration boards require an internship of at least three years of experience. As stated by a webpage called, Pei Cobb Freed & Partners, Herman Foster wrote this quote, "As an architect you design for the present with an awareness of the past for a future which is essentially unknown." The meaning behind this quote has to do with an appreciation for what has already been done, and an eagerness to create something interesting in the future. Every architect learns from designs that have already been created, and makes an effort to assemble something new and original. There are many classes that are important to becoming an architect such as math, design and drafting, and technology. This profession requires skills such as creativity, analytical skills, communication skills and more. The OOH (Occupational Outlook Handbook) also states that as of May 2012, the average salary of an architect is around $73,000. This career's salary has a great variation. Someone can earn from $44,000 to $119,000. Similar occupations include civil engineers, landscape architects, industrial design, and construction management. Unpaid, college architecture internships have become more common for aspiring architects and are an important step to become a professional.
As a young boy, Pei was very quiet and disciplined because of where he grew up. He paid attention in school which aided to his success later in his life. He was also very close with his mother because his father was often working. His father sold medicinal herbs, earning money for his family. At a young age, Pei was taught to give and help the less fortunate, leading him to the contributions he has made today. He was born in China on April 26th in 1917, and moved to the United States at 17 to pursue an education at the University of Pennsylvania. He transferred to MIT, Massachusetts Institute of Technology, in 1940 and Harvard in 1946, graduating with a Bachelor's degree. He went to these schools to investigate the architecture opportunities not provided by the University of Pennsylvania. During his time in school, Pei studied under a mentor named Walter Gropius. Gropius taught Pei many basics and gave him a foundation into the world of architecture. In an article called the Encyclopedia of World Biography, it was stated that Pei started his architectural career by working for a company called Webb and Knapp. A writer for biography.com wrote that Ieoh Ming Pei said, "Life is architecture, and architecture is the mirror of life." This quote is important because it demonstrates Pei's perspective about the meaning of architecture. Architecture is necessary to life. It is the future of development and society. Eventually, Pei created his own company titled, I.M. Pei & Associates. These days, Pei continues to be a very influential architect at the age of 97.
Pei contributes to society in many different ways. He creates structures that people are able to admire and use. His work has inspired many young artists that want to be architects. His hard work makes others strive to be like him. He has worked with many people and clients to provide to their wants and needs. He helps other people achieve their goals and plan out what they want him to create. Biography.com contained an article, written by one of their journalists, explaining that Pei has designed and overseen the construction of many structures such as the Louvre Pyramid in Paris and the John F. Kennedy Library in Boston. He has received many awards for his excellent work. Two examples of these achievements are the Pritzker Prize, which he won in 1983 along with the AIA (American Institute of Architects) Gold Medal. According to Tom Prideaux of People's magazine, William Walton explained the following about Pei, "He leads them, subtly and marvelously, to a high level of judgment, explaining why they don't want what they just said they wanted." This quote from Pei's friend describes how much he works to help his clients come up with the best building solutions. He truly does his best to guide people towards the right decisions. Pei always knows good ideas from bad ones, and works to make the best of every situation he is put into.

As a high school freshman, I know that I have a lot of time to make a pathway to a future career as an architect. For now, I want to focus on keeping good grades along with a high GPA. I want to take classes that will help me achieve my goal of becoming a successful architect. I need to continue to work hard in math because I know that the subject is important to my career interest. I will be taking AP Statistics in the next few years, as well as Honors Pre-Calculus and Calculus. I want to take some form of arts, although I am unsure of what exactly to enroll in at the moment. For college, I would really love to attend Stanford University. It is a very prestigious school, but I have the ambition to obtain that goal. Stanford is a very beautiful school that has plenty of opportunities. My personal career hero has inspired me to never give up on my goal. At one point in his life, Pei wanted to stop studying architecture to study engineering. With some coaxing from peers and mentors, plus perseverance, he continued his work with architecture. His hard work led to success. I hope that one day, all the work I have done in my life will lead up to a successful career. I want to create things that will be remembered and important to society. My personal career hero, I. M. Pei, is an incredible role model for anyone who wishes to become an architect.
Page created on 6/8/2015 12:00:00 AM
Last edited 4/15/2020 1:28:36 AM