MY HERO At The 2014 Imagination Celebration
Contact: Rose Kleinow FOR IMMEDIATE RELEASE
[email protected]
949.376.5964

MY HERO AT THE 2014 IMAGINATION CELEBRATION

The MY HERO Project conducted a Gallery Outreach workshop entitled Imagination in Collaboration with Technology, sponsored in part by the Laguna Beach Festival of Arts Foundation, at the Imagination Celebration Family Festival at the Laguna Art Museum on Saturday, April 12, 2014.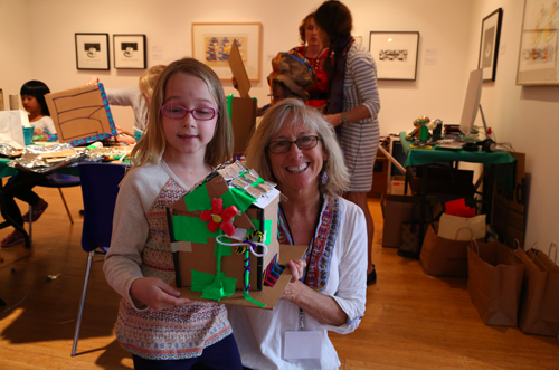 Boys and girls of all ages and their families created fantastical and innovative models from cardboard, duct tape, aluminum foil and cellophane that would contribute to a more planet friendly life and a better environment in the 21st century. Many of the inventions, powered by alternative energy sources, were unique and included a solar powered hot air balloon, a popcorn powered car, a solar powered gum ball machine, gardens created with solar paths and dual transforming electricity towers. Several miniature solar paneled homes and reflecting pools were also contributed by the young imaginative future engineers and architects.

The MY HERO art tables were busy all afternoon, with children from the ages of three through eleven all hard at work on their futuristic creations. One of the most enjoyable aspects of the family festival was the degree to which parents were drawn into creating at the MY HERO art station. Moms, dads, aunts and grandparents were involved in their children's projects or in making their own next generation inventions. Even the MY HERO staff got in the act by sitting down to imagine their own unique and innovative vehicles and structures.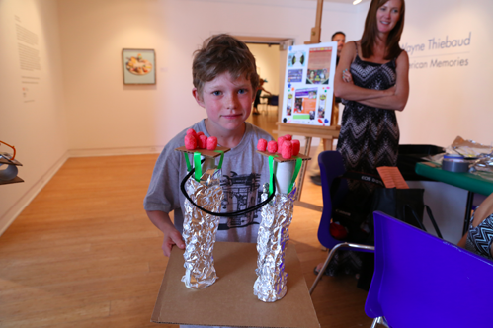 "Our table was slammed all day with children intent on designing a unique invention to make life better in the 21st century. The lesson is-just provide kids with cardboard, scissors, duct tape and aluminum foil, and they become visionary architects and inventors! MY HERO was gratified by the support of the museum and funding from the Laguna Beach Festival of Arts Foundation in making our booth so fun and so busy," said Victoria Murphy, Arts Education Director and Curator of the MY HERO Gallery.

MY HERO will be participating next at the KELPFEST on Main Beach in Laguna Beach on April 26th, 2014. Attendees will be making Recycled Shorebirds in honor of the birds that inhabit our Pacific coastline. Stop by and create your own artful shorebird!
MY HERO is a non-profit 501(c)3 organization dedicated to sharing stories of heroes around the world. For more information on The MY HERO Project, please visit our website at www.myhero.com
Page created on 4/22/2014 12:00:00 AM
Last edited 7/10/2017 4:53:51 PM