In 2013 Mark Zuckerberg, founder and CEO of Facebook, announced the launch of internet.org, a global partnership with the goal of making internet access available to the two thirds of people around the world who are not connected. He said, "Everything Facebook has done has been about giving all people around the world the power to connect. There are huge barriers in developing countries to connecting and joining the knowledge economy. Internet.org brings together a global partnership that will work to overcome these challenges, including making internet access available to those who cannot currently afford it."
The founding members of internet.org - Facebook, Ericsson, MediaTek, Nokia, Opera, Qualcomm and Samsung - will develop joint projects, share knowledge, and mobilize industry and governments to bring the world online. According to the press release, "these companies have a long history of working closely with mobile operators and expect them to play leading roles within the initiative, which over time will also include NGO's, academics and experts as well." They go on to say that, "Internet.org is influenced by the successful Open Compute Project, an industry-wide initiative that has lowered the costs of cloud computing by making hardware designs more efficient and innovative."
Some quotes and thoughts about Internet.org:
"Which is why, whenever we talk about the challenge of ending global poverty, we need to talk about the challenge of global connectivity. The time has come to connect the world." Alex Ross on The Case of Connectivity
"They're going to use it to decide what kind of government they want. Get access to health care for the first time ever. Connect with family hundreds of miles away. Getting access to the internet is a really big deal." CNN speaks with Mark Zuckerberg about Internet.org
"The goal of Internet.org is to make internet access available to the two thirds of the world who are not yet connected, and to bring the same opportunities to everyone that the connected third of the world has today." Internet.org press release.
At a recent Mobile World Congress event in Barcelona, Spain, Mark Zuckerberg gave the Keynote Speech and talked about how important it is to connect the two thirds of the world without current online connection. That is where internet.org comes in.
Zuckerberg said: "(Internet access) is really important, because connectivity is not an end in itself. It's what connectivity can bring. There was this Deloitte study that came out the other day that said if you could connect everyone in emerging markets, you could create more than 100 million jobs and bring a lot of people out of poverty."
"More than 80% of people in the world live in a place where there is already 2G or 3G service. The reasons you might not have connectivity is cost, but then also the question of why you would want to spend your money. You have never had access to the Internet so you don't even know why you would want it. In the US we have 911 to get basic services. Similarly we want to create a basic dial tone for the Internet. Basic messaging, basic Web Information, basic social networking."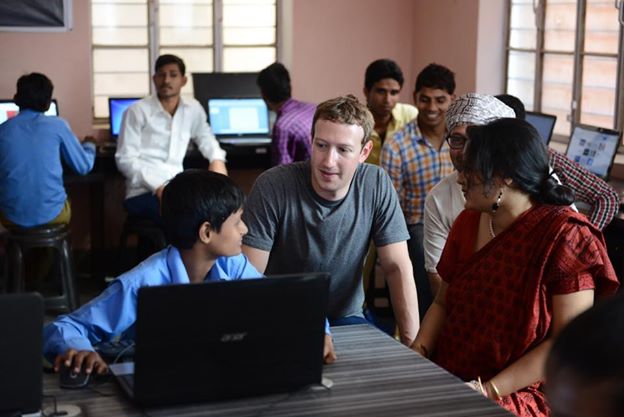 In the promo video for internet.org, Mark Zuckerberg lays out the basic philosophy and goals of this latest venture. He explains that we are going from a resource based economy to a knowledge based economy. Me knowing something doesn't prevent you from also knowing it. The internet is the backbone of the knowledge economy. Their plan is to make basic internet services available to everyone. In order for this to be economically feasible, he says they need to make the internet a hundred times more affordable. Zuckerberg goes on to say, we can do this by reducing the cost to serve that data by 10X and reducing the amount of the date by 10X as well.
In order for that to happen it's necessary to build out existing infrastructure, and provide low cost, open source hardware and phones. Plus to reduce the amount of data, "make apps cache date instead of having to request data each time you look something up and, second, compress the data so they only have to transfer forty percent. He goes on to say that if everyone around the world has access to the tools he had when he was building Facebook, " Then everyone is going to be able to benefit from the innovation and ideas and hard work of billions of people around the world.
Page created on 3/21/2015 2:51:29 PM
Last edited 1/5/2017 4:54:26 PM
Related Links
Internet.org
- Internet.org is a global partnership between technology leaders, nonprofits, local communities and experts who are working together to bring the internet to the two thirds of the world's population that doesn't have it.
Follow Founder Mark Zuckerberg
The Connectivity Lab at Internet.org
- The Connectivity Lab at Facebook is developing ways to make affordable internet access possible in communities around the world. The team is exploring a variety of technologies, including high-altitude long-endurance planes, satellites and lasers.
Introducing the Internet.org app
- Over 85% of the world's population lives in areas with existing cellular coverage, yet only about 30% of the total population accesses the internet. Affordability and awareness are significant barriers to internet adoption for many and today we are introducing the Internet.org app to make the internet accessible to more people by providing a set of free basic services. With this app, people can browse a set of useful health, employment and local information services without data charges. By providing free basic services via the app, we hope to bring more people online and help them discover valuable services they might not have otherwise.
Innovation Lab
- Facebook and fellow Internet.org member Ericsson announced the Internet.org Innovation Lab, an Ericsson-Facebook collaboration that will give developers the ability to test their apps in real world environments at Facebook's Menlo Park headquarters. Born from a recent Facebook/Ericsson-hosted Internet.org efficiency hackathon, the Internet.org Innovation Lab will simulate network conditions typically found in growth markets, giving developers an environment to test and optimize their applications for new customers across different regions.