Ivan Babak
by
Lilia from Spokane
"100 friends are better than $100."
My dad is my hero. There is no man like my dad. He has shown strength, support, kindness and love to the world around him. If it was not for my dad, my community would have been different, how different I do not know. My dad is my hero because he is a man of strength, has a good work ethic, and the sky is the limit for him.
My dad has been through much turmoil in his life; however, that did not leave a negative mark on him. First, he had to make the choice of moving his family to a different country. He did not know if the United States would be a better home than Ukraine; he took the risk because he wanted his family to be free and have the comforts that they deserve. Second, one of his daughters got diagnosed with a kidney tumor after moving to the United States. Not knowing the English language, my dad did all that he could to find the best doctors for his daughter. My dad had many sleepless nights because he was determined to have his little girl be happy and healthy again. Third, seven years ago my mom was diagnosed with a brain tumor that eventually took her sight. My dad did not give up hope; rather, he stood by his family's side filled with strength and hope that one day my mom would get her vision back. He did all that he could to make each day a good day. He became the mother and the father for our family because my mom was limited in the things she was capable of doing. My dad has been through many discouraging things in his life yet he still stands tall with strength and hope. He is my family's hero; we would not have made it if it weren't for my dad.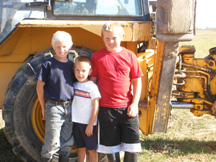 My dad is not only the emotional support for my family he is also the financial support. My dad has to support a family of 11 children. I do not remember my dad ever complaining about his job. I also do not remember my family being hungry, not clothed, or without shelter. He always made sure that we were comfortable. My dad works 8-9 hour days at his job. Then, when he comes home and works on projects until the sun goes down, not once does he say anything negative about it. He always wears a smile on his tired face. My family has all that we have because my dad made it possible. He never gives up, his family is his life and his tired but proud face proves it.
My dad has not only taken care of the needs of our family but has also stretched out his hands to others. Our family was the first Ukrainian family to move to the Central Washington area. My dad worked hard to establish relationships with neighbors and farmers and learned some English words. Many months later, other Ukrainian and Russian families began to move into the area. They spoke very little or no English and they did not know how the housing, food, and clothing system worked. My dad was familiar with their lost and confused feelings, so he stretched his kind and loving hands out. My dad would drive around for hours looking for cheap and habitable homes and also looked for farmers who would sell their produce in bulk. If he was not successful, he would let the family come and stay in our 2-bedroom home. Many times it got very crowded but my family knew that sharing and caring is what our culture and community were about. My dad helped many families through the years and he always told his children that "100 friends are better than $100." This statement has been proven to be true. Whenever my dad needs help with anything his 100 friends are more than willing to come and help; my dad built a caring and sharing community.
My dad brought many people together through his emotional strength, hard work, and generosity. He is my pillar of strength and faith and I do not think that there are many other men like my dad. Ivan Babak is a man that works until his duties are complete and everyone is comfortable. Finally, my dad is a man that deserves to stand apart from the rest because he has not only given his own family love, shelter, and food, but he has also fed and sheltered many families who lost hope. My dad is my hero because he is the one I look to when everything seems dim. He is the man who carries the spark of love, the greatest commandment of all.
Page created on 11/3/2007 12:00:00 AM
Last edited 1/5/2017 10:49:51 PM
The beliefs, viewpoints and opinions expressed in this hero submission on the website are those of the author and do not necessarily reflect the beliefs, viewpoints and opinions of The MY HERO Project and its staff.