My inspiration, my enthusiasm, my idol, my hero, Johnny Depp. I think a lot of people have known his name. Well, he is one of the most versatile actors of his day and age in Hollywood now. He has played in many movies that were block-busters in Hollywood, then he won a lot of awards. Besides, Depp is also a screenwriter, director, producer, and a musician. So, what makes him become my hero? It is not his awards or his successful job, but his life journey. Of course he is not a type of person that has had a perfect life or does charity for others like Mother Theresa or others, but actually, even in the dark life, there must be a little light that will brighten up that life.
John Christopher Depp II was born in Owensboro, Kentucky, on June 9, 1963. He is the last son of Betty Sue (nee Wells) and John Christoper Depp Sr.. Johnny's mother was a waitress and his father was a city engineer. He has one brother named Danny and two sisters, Christie and Debbie. According to the book Johnny Depp: A Kind of Illusion, The Depp family's origin was with a French Huguenot, Pierre Depp, who settled in Virginia around 1700. Although the book said that, Johnny himself said that he didn't know about the origin of his surname.
Unfortunately, he did not have a happy-go-lucky childhood because he had to live not just in one or two, but more than twenty places. Then, he grew up in Florida with his brother and sisters. The bad thing happened when he was 15 years old. His parents were divorced. This family problem made the last member in the Depp family stressed and depressed. This situation become worse when he started to drinking, smoking, and doing drugs. He even tried to do self-harm by cutting himself with a knife on some different occasions that made him have a series of seven or eight scars on his left forearm. One year after his parents divorced, he dropped out from high school in a hope to become a rock musician. He got his first guitar from his mother when he was 12 years old and then, he started to play it in various garage bands. One of Johnny's garage band, The Kid, enjoyed modest local success.
In the age of twenty he got marry with his own make-up artist, Lori Anne Allison. There's also a time where he had to be a ballpoint-pen salesman to support his and his wife's life. Well, he still continued his dream with The Kid. The band visited Los Angeles in the mid-1980s to be known as a famous rock-and-roll band. However, it happened to be a blessing disguise, when his wife introduced him to actor Nicholas Cage who advised him to be an actor. Therefore, Johnny went to his first audition and apparently, he got a minor role in a horror film, A Nightmare on Elm Street (1984). Since he acted in A Nightmare on Elm Street, he became an actor. Depp's relationship with Lori Anne Allison didn't go well, so two years after their marriage, they divorced.
After Johnny's first film, he took a TV series, 21 Jump Street, because he wanted to work with Frederic Forrest, the original cast, and thought it would only last a year. But who knows? The show is a hit and he locked into a contract. He became really popular. Girls followed him everywhere, screamed, collected his things, and wrote to him. He got the greatest volume of mail in LA, more than 10.000 pieces of mails a month. However, even he was in the top of his career of being really famous and known by everyone, he didn't become big headed. He stayed cool, that's what Johnny did. He said "I don't want to make a career of taking my shirt off. I'd like to shave off all my hair, even my eyebrows, try it that way. I don't fault the TV stars who do teen magazines. They took hold of their situations, took offers that gave them the big money fast, but they were dead in two years. I don't want that." Later, he decided not to take another TV series and stroke the teen-idol image from his life.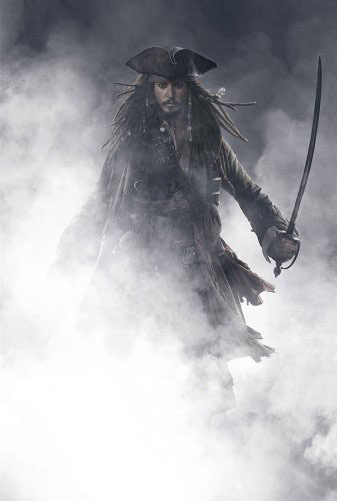 From the first time he got into the acting world (1984-present), he succeeded to play many movies for many different and unique characters. There are plenty of his films which made many masterpieces in the movie world. We can say his role as Edward in Edward Scissorhands marked the beginning of his great duo with director Tim Burton. Johnny relied on his eyes to make Edward's emotion transparent which made this film garner tremendous critical acclaim. These two talented man showed up again in Ed Wood(1994), where Johnny is the outcast hero, he chatters up a storm as the exuberant 1950s cross-dressing director of C-movies. In Sleepy Hollow, he appeared as the constable Ichabod Crane. Then his role as Willy Wonka in Charlie and the Chocolate Factory(2005) made this film have a magnificent taste of Johnny and Burton. The animated Corpse Bride, once again improved the friendship of them. And also the last Sweeney Todd (2007), a musical film, where Johnny played as the demon barber. This duo always comes up with every new fantasy that made people amazed. A film that made me like him was his role in Finding Neverland (2004). For me Sir James Matthew Barrie's kind heart has brought a cheerful message just like Peter Pan does. But from all of his actor jobs of course his role as Captain Jack Sparrow in the acclaimed The Trilogy of Pirates of The Caribbean (2003-2007) has opened several big doors for his popularity. Jack Sparrow has definitely become a big part for him and so a big part in the hearts of his audience.
After his career became successful not only good things happened to him. He also had some bad times in his life. He got into the jail many times. He has had bad relationships, and others. But now he has been in love with Vanessa Paradis, a model and French singer, and they have two children, Daughter Lily-Rose Melody Depp and son John "Jack" Christopher Depp III. He notes that having children has give him a strong place to live on, to work, to everything. Johnny Depp's life is an inspiration for me. Many hard times came to him, bad times made him down, but he has proven that he can go the distance. He dares to take the most challenging acts possible which make him be honored. His talents make me call him "The eccentric actor." Even now he is more famous but still he doesn't become an arrogant person, he is still honorable, he is still a caring person. He's still the same like he was. His life makes me believe that to try something different is not a horrible thing, it is a fun thing if we live in it. He makes me realize that life still has many good things to fight for.
Page created on 3/7/2008 12:00:00 AM
Last edited 3/7/2008 12:00:00 AM