Jim Fowler
by
Anthony from Mission Viejo
"I don't think we're going to save anything if we go around talking about saving plants and animals only; we've got to translate that into what's in it for us."
Jim Fowler was one of the most famous naturalists and zoologists in the world. I became aware of him when I found out he was a host on the Mutual of Omaha's Wild Kingdom show. He was hosting one of my parent's favourite shows. When I saw clips of the once famous television show, I fell in love. I keep watching it and I wish it was on air. He is almost better then Steve Irwin. His love for animals attracts me in many ways and I love how he is travelling the world and educating people to save the world and protect the animal's habitat. I also loved that he had his show and he was able to bring the action of animals (not violence) on air.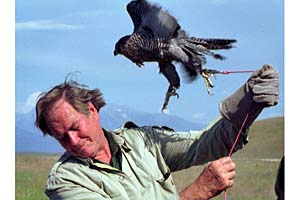 Jim Fowler is a naturalist and zoologist. A zoologist studies animals both in their natural habitat and in laboratories. Zoologists study the origin and development of animal species, the habits and behavior of animals, and the interaction between animals and their environment. They can study between an army of ants to a band of gorillas. In the United States a salary for typical zoologists is $63,441 a year. The Naturalist is responsible for teaching outdoor science and social science education programs to small groups of children. The Naturalist's goals are to encourage students' awareness, and teach students how to protect the natural environment. Jim was also a TV show host of the Mutual of Omaha's Wild Kingdom show. There he brought his animal friends to the stage and taught children about the animals. The salary for this popular show was $75,667. As you can see he was very successful.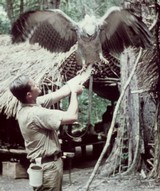 Jim Fowler took an interest in animals at a very young age. He lived in Albany, Georgia, and was raised in the countryside. He spent most of his time at the 4 Mile Creek where he studied the frogs and birds and caught shellfish. This inspired him to train the Harpy Eagle and many exotic birds. He then attended Earlham College in Richmond, Indiana, where he got his zoology degrees. He then went to Peru to study the Harpy some more but then his studies were interrupted by a career of travel and television. His urge to study and work with animals inspired him to be the host of Mutual of Omaha's Wild Kingdom. This show won 4 Emmy awards and an endorsement by the National PTA for family viewing. Then he made many appearances on the Tonight Show with his animal friends.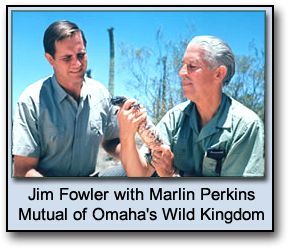 Naturalists are supposed to educate people about our environment. Fowler's mission in life was to educate the world about wildlife species throughout the world and preserving the environments in which the animals live. He travels to Africa to educate everyone about the diversity of animals living there and how they can protect that environment – the naturalist's dream. He had so much dedication to the world and animals, he became "spokesperson for the natural world".
The steps I would have to take to be just like Jim Fowler is to work extra hard in my biology and ecology classes in high school. My high school goal is to join environmental science and maybe join marine ecology for my extra studies. With all of my 8 pets I already have a connection with animals that is very strong. My college goal is just like Jim's, get a zoology degree! I have to get a degree to get a spot in the zoology fields. And my lifetime goals are to go to the Galapagos islands like Charles Darwin and check out and study the diversity of animals living there.
Page created on 4/23/2010 12:00:00 AM
Last edited 8/21/2018 11:08:11 PM
The beliefs, viewpoints and opinions expressed in this hero submission on the website are those of the author and do not necessarily reflect the beliefs, viewpoints and opinions of The MY HERO Project and its staff.
Extra Info
Jim Fowler now is president of the Fowler Center for Wildlife Education in New York and serves as the honorary president of the Explorers Club. He received the prestigious Explorers Club Medal, the club's highest honor. Fowler also sits on the boards of Friends of Conservation, Dian Fossey Gorilla Fund and Global Communications for Conservation (GCC).