by
Molly from Essex Junction
There are all kinds of people, kids and children, with physical, mental, and emotional disorders. Hundreds of people with severe vision impairment, hearing losses or deafness, and disabilities. There are people out in the world who cannot walk or even speak. Julie Horrigan, is founder and currently an advanced instructor with the program CHAMP (Champlain Adaptive Mounting Program) aimed at helping these people. The program gives people with disorders and disabilities the opportunity to ride horses, which may not seem special, but it changes their lives. When people who cannot walk and are in a wheelchair, get on a horse, it mirrors the same motion they would have if they could walk. People who cannot speak end up loving the horses so much they speak to the horses in their "own little language."

Julie Horrigan had spent time riding horses at Good Hope Farm and asked the owner of the farm if she could start this program. She says she has always loved horses growing up. In fact, Julie had always loved animals. Growing up she had three dogs: Snowball, Terry, and "Clonnie Brown" and the occasional cat. Another reason why Julie started CHAMP was because one of her four children ( Jeff, Ben, Scott, and Suzie). Suzanne Campbell, her only daughter, was also interested in horses. Suzanne was an equitation rider, and she had also won NCAA championship all four years in college. Julie went to Beaver College, got an associates degree, and was a medical assistant. Because she loved to teach riding, being a medical assistant and horses in general, she combined the three and asked for permission from the farm owner(s) to start the CHAMP program.
Julie Horrigan had a real love for horses. As a little kid she would ask her parents to buy her a token or two for $.25 to ride the ponies around the little arena at the fair. She would visit her grandparents living in West Virginia who owned a farm, and they had horses for her to ride during the summer. She loved horses from the very beginning.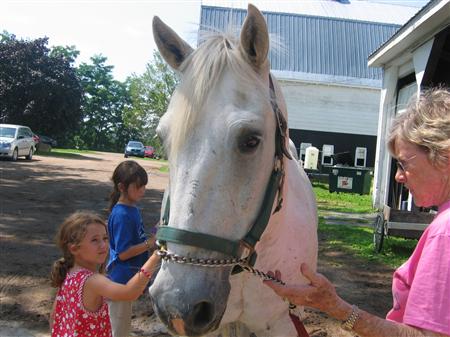 Creating this program gives her something to do and at the same time is continuing her passion for horses, helping other people, and children too. Not only does CHAMP offer riding lessons for therapeutic riders, it offers lessons for able riders (riders who are not disabled or have any medical challenges). Julie has spread her passion of horses to her grandchildren. She has grandchildren from her home state, New Jersey, where she grew up in Hackensack. Some of her grandchildren are from Teaneck NJ. When they come up, she brings them to the Champ Summer Camp. Here they learned and mastered how to groom, ride, and come to love the horses almost as much as she does. She also has other grandchildren from different states who have also come to love horses. Julie has even gotten a few of her grandchildren, who are old enough, to volunteer at the Champ Summer Camp.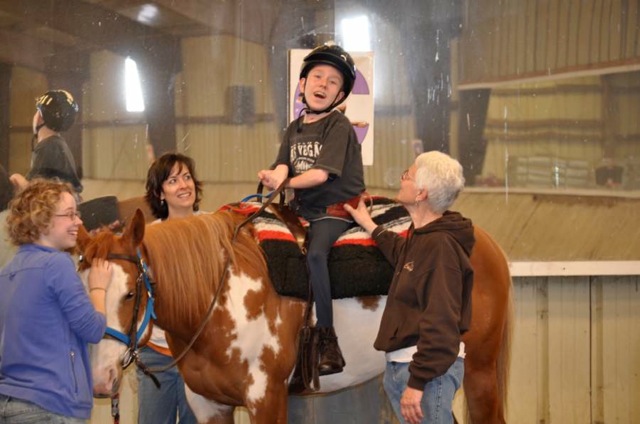 Another program that CHAMP has is the Champ Trail Ride. This a a fundraiser for CHAMP. The riders will donate money to ride all around the town of South Hero. The riders who participate in the Trail Ride are provided with lunch. As you are riding by the apple orchards, and going around ponds, seeing wildlife animals, seeing many scenic views as you ride about 16 miles round trip. Also, CHAMP does a program called 'Horses for Heroes.' Horses for Heroes is where Vermont centers collaborate to serve veterans throughout Vermont, giving Vermont veterans a chance to ride with no payment.
CHAMP was founded by Julie Horrigan in 1987, 27 years ago. At that time somebody else (Yate's Family) had owned it. Today, CHAMP does own the facility and is working to expand it. CHAMP owns horses, but they also have borders that people let them use in the program. CHAMP has both indoor and outdoor arenas to ride. Challenged riders who go there really feel special when they go outside " This is great, no one knows that I use a wheelchair when I am on my horse." CHAMP is a local program located in South Hero. They work with other organizations such as PATH (Premier Accredited therapeutic Riding Center by the Professional Association of Therapeutic Horsemanship International). They also have people come in prom PIA (partners in adventure) AARP and people from King Street.
Julie Horrigan says that being part of the CHAMP program is so rewarding to see riders be happy and experience the love of horses and riding. She mentioned the most rewarding feeling "As an instructor, the satisfaction of teaching our challenged riders to post or "go off lead" is most rewarding."
The mission of CHAMP is to recruit more volunteers to assist riders. It takes three people to have a challenged rider ride. Two to have one on each side of the rider and one to lead the horse. Also, another mission of this program is to raise a lot of money when they fundraise.
When people at CHAMP ride, it changes their life and makes them feel accomplished and special. "I love riding horses because it really feels like I am in control of my world. The people at CHAMP treat me with respect and sometimes I think they see my heart." -Mark (Rider)
Page created on 5/16/2014 12:00:00 AM
Last edited 1/5/2017 5:04:53 PM