John McCrae
by
Alex from Calgary
'We shall not sleep, though poppies grow: In Flanders fields.'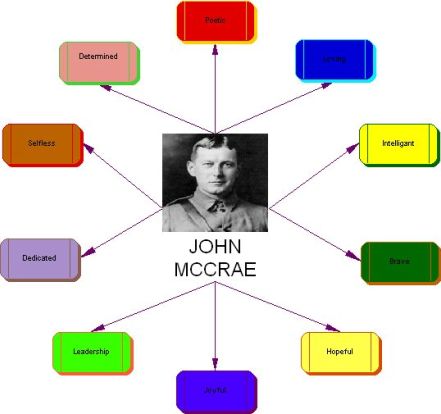 John McCrae was born in Guelph, Ontario, in the year of November 30th 1872. His father, David McCrae, was a lieutenant-colonel in the Canadian army and his mother, Janet Simpson Eckford McCrae, was a devout Presbyterian. He had a sister named Geills and a brother named Tom. In his early years John McCrae was described as a warm and compassionate person towards humans and animals. John McCrae started writing poetry when he first attended the Guelph collegiate institute. He joined the Highfield Cadet Corps at the age of 14 and at the age of 17 he joined the local militia battery commanded by his father. At the age of 16 he graduated from Guelph Collegiate and subsequently accepted a scholarship to go to the University of Toronto. He attended university for three years before he was forced to take a year off while recovering from severe asthma, which would recur throughout the rest of his life. After finishing university he worked at the Ontario agricultural college in Guelph. Early on in his life he fell in love with an 18 year old girl, and was stunned and heart-broken when she died only a short while after he had met her. He expressed his grief using Poetry, even then most of his work revolved around the theme of death.
When the South African war started in October of 1899 McCrae joined the military and was commissioned to lead an artillery battery from his hometown of Guelph. He spent a year in Africa with his unit and then returned with split feelings about the war; he was still convinced that men needed to fight for their country but he was shocked by the poor treatment of the sick and wounded soldiers. John McCrae resigned from the military in 1904 after being promoted to Captain and then Major. After McCrae arrived back in Montreal he worked in many prestigious universities including the Montreal general hospital and the Royal Alexandra Hospital for infectious disease. He also took a trip to England where he studied for several months and became a member of the Royal College of Physicians. He published several articles for different medical journals including the Montreal Medical Journal and the American Journal of Medical Science. He was much in demand as a doctor because of his enthusiasm and sense of responsibility towards his patients. In 1910 he went along as an expedition physician during a Government voyage.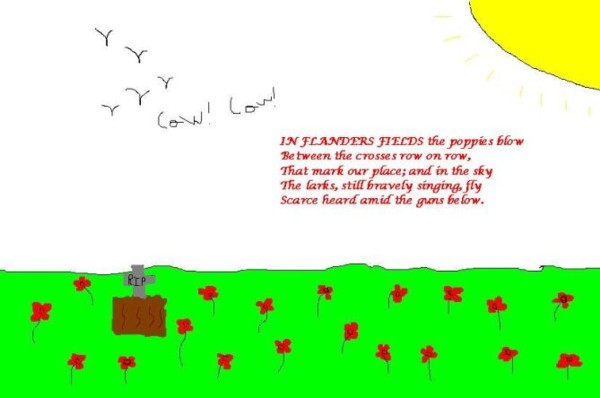 When World War One broke out John McCrae rejoined the military. It was his belief that every bachelor, especially those with military experience, should fight for their country. In April of 1915 John McCrae was in the trenches at Ypres, Belgium, near the area known as Flander's. Every day McCrae had to tend hundreds of wounded or dying soldiers. The day before he wrote his famous poem, in Flanders Field's, his closest friend was killed in the fighting. He was buried in a small makeshift grave with a wooden cross. This death, and the deaths of the other soldiers fighting at Ypres, was what inspired McCrae to create In Flanders Field's as a memorial to his fallen comrades.
After the battle of Ypres McCrae grew disillusioned and bitter. He thought that he should have made more sacrifices. He insisted on sleeping in a soldier's tent instead of an officer's hut. When this caused him to fall ill he literally had to be ordered to move in to a warmer space. During this time McCrae took many rides in the countryside on his horse, Bonfire, and tried to write new poems to deal with his grief. On January 28th, 1918, John McCrae died of Pneumonia and Meningitis. The day he fell ill McCrae learned that he had been appointed consulting physician to the First British Army. He was the first Canadian to be granted this honor. John McCrae was buried with full military honors in a cemetery in Wimereux, not far from Flanders.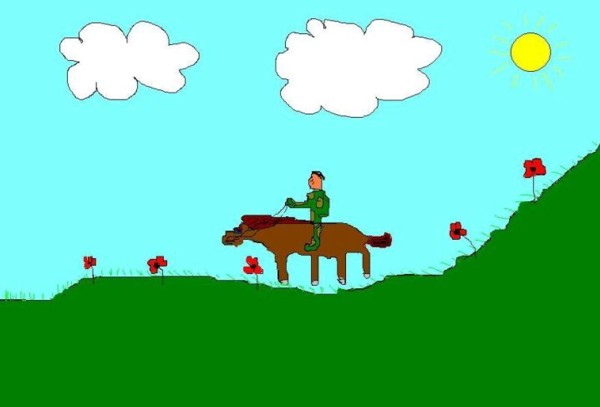 John McCrae's poem, In Flanders Fields, was a stunning success. It became the most popular poem of the First World War and it was translated into dozens of languages. It was used to advertise the sale of the first Victory Loan Bonds. The program was designed to raise 150,000,000 and instead it raised over 400,000,000. Because of the popularity of McCrae's poem the poppy was adopted as the symbol of remembrance for all the casualties of the War and even now his poem is told every remembrance day as a memorial to those who have fallen.

In Flanders Field's the poppies blow,
Between the crosses row on row,
That mark our place; and in the sky
The Larks, still bravely singing, fly
Scarce heard amid the guns below

We are the Dead. Short days ago
We lived, Felt dawn, Saw sunset glow,
Loved and were Loved, and now we lie
In Flanders Field's.

Take up our quarrel with the foe:
To you from failing hands we throw
The torch; be yours to hold it High
If ye break faith with us who die
We shall not sleep, though poppies grow
In Flanders Field's.

Page created on 9/30/2008 12:00:00 AM
Last edited 9/30/2008 12:00:00 AM
The beliefs, viewpoints and opinions expressed in this hero submission on the website are those of the author and do not necessarily reflect the beliefs, viewpoints and opinions of The MY HERO Project and its staff.