Jim Morrison
by
Logan from San Diego
The Electric Shaman, Jim Morrison
"A hero is someone who rebels or seems to rebel against the facts of existence and seems to conquer them. Obviously that can only work at moments. It can't be a lasting thing. That's not saying that people shouldn't keep trying to rebel against the facts of existence. Someday, who knows, we might conquer death, disease and war." (Jim Morrison). The visionary speaking about heroes in this quote is Jim Morrison, a musician and hero himself. Jim Morrison was the lead singer for the decade defining band, The Doors and during his inspirable, but brief twenty-seven year lifespan, lasting through the '40s to the '70s, he set the stage for all of music to come. Morrison's poetic capabilities allowed him to be the frontrunner in the world of inspiring words and the trailblazer for rebellion. Jim Morrison used his popularity for good by exposing the world to a more peaceful culture through his poetic lyrics and revolutionary sound that would have an impact on all of music today.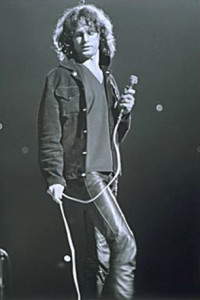 Jim Morrison's motivating, satiable lyrics and out-of-the-box thinking have and will always inspire the people who listen to his melodies. This quote, made by one of Morrison's high school friends, shows his intelligibility: "Largely self-taught, Morrison read poetry and philosophy copiously, particularly the works of Friedrich Nietzsche and William Blake. A fellow student recalled: 'Morrison was a genius--he knew all about the poets, he knew all about poetry and all about books. He knew more than the teacher even, like sometimes someone would ask a question and the teacher wouldn't know the answer, and Morrison would just blurt it out.' Frank Lisciandro, a friend of Morrison, admitted in the Chicago Tribune: 'He was as well read as anybody I've ever met.'" Jim Morrison had a heavily experienced background in poetry and English and he was exceptionally excellent at putting his thoughts into his lyrics. Morrison read so much and loved poetry that everyone who met him was blown away. This quote also portrays the beginning of his capabilities as a marvelous writer and poet. Towards the beginning of Jim's career he met a fellow band member on a Venice beach: "While the two young men had known each other only casually as fellow students, they ran into each other one day by accident, on a Venice beach. As Manzarek later recalled in an interview for a television show transcribed on the American Legends web site, 'Morrison knew I was a musician. I knew he was a poet.... So he sat down on the beach, and he dug his hands into the sand.... And he began to sing ... in this really haunting kind of voice. It was soft--a soft but powerful voice.... I thought--Wow. Those are great lyrics. And he continued the song, and I thought this is one of the best Rock & Roll songs I've ever heard.'" This quote portrays how even his own band mates were surprised at Morrison vocal and lyrical capabilities. Whilst Morrison's friend believed the verses were beautiful, Jim had no idea that most of the world were gonna come to agree with his band member. Just by listening to his music you could tell Morrison was certainly ahead of his time through the thought and expression he put into his lyrics.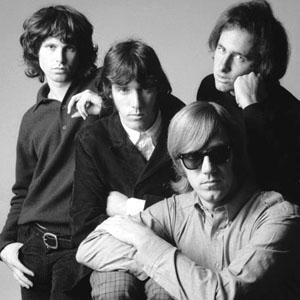 Jim Morrison set the stage for all of music today through his actions on stage and the sound of his songs. Articles about classic rock are published daily and Morrison is certainly not left out in any: "Since his death, Morrison has remained a cult figure among rock and roll fans around the world. His image as a poetic messiah whose uncompromising vision led to an early death is still popular with some." The quote shows how he still is a figure today throughout history in general. Jim's "uncompromising vision" propelled him to become the "poetic messiah" that people often refer to him now. Also how if you know anything about rock and roll you know about the lead singer for the doors, Jim Morrison. The Doors' concerts and sound were considered "wild" by fans and were also incredibly intriguing. "His onstage antics, such as throwing himself into an audience, have become the stock-in-trade of rock singers. Musically, the sound of the Doors has been often imitated; glimmers of the rich sound of Manzarek's keyboarding and the anguished howling of Morrison's singing can be heard in numerous groups and singers such as David Bowie and Alice Cooper." Now after his death he's remembered and seen for not only his futuristic sound but also his personality during concerts. This quote also displays how Morrison wasn't a frontrunner by himself but with the help of band members like the pianist Ray Manzarek. Jim had a deep dark voice but the new hypnotic electronic riffs of the keyboard set the stage for many genres of music today like dubstep, edm and other machine based sounds.
In conclusion Morrison was a thought-provoking mind with a soul for music and poetry. Jim's outlet for his poetic impulses were expressed through his songs. He is an inspiration because he is the very symbol of rebelling against various actions by expressing his thoughts through poetry. Morrison inspired me to become a better student and musician and his intelligent mind made the music and sound that we often hear today.
Page created on 4/16/2015 12:00:00 AM
Last edited 4/16/2015 12:00:00 AM
The beliefs, viewpoints and opinions expressed in this hero submission on the website are those of the author and do not necessarily reflect the beliefs, viewpoints and opinions of The MY HERO Project and its staff.