"We all have dreams. In order to make dreams come into reality, it takes an awful lot of determination, dedication, self-discipline and effort"-Jesse Owens. Jesse Owens was one of the most inspirational and greatest athlete in history. Originally James Cleveland Owens was born in Oakville, Alabama as a tenth child of a poor, African-American family, and shortly moved to Cleveland, Ohio where his journey, and nickname came from. The Buckeye Bullet started by getting several junior high records under track coach Charles Riley. He broke several more high school world records until he qualified for the 1936 Olympics in the heart of Nazi Germany. Jesse Owens raced against Hitler and his German track stars to fight for his country and his African American race. Jesse Owens, in many ways, was a hero. A hero, when it comes to sports, has sensational talent, incredible determination, and courage, all found within Jesse Owens. Jesse Owens is a hero because he didn't just have admirable athletic ability, he had an inspiring determination to be the best, and the courage to race against racism.
Every great sports hero has exceptional raw talent, in Jesse Owens' case, no one had more talent and athletic ability than him. Throughout his career, starting in middle school, Owens broke record after record, especially during high school and college. "At the National Interscholastic meet in Chicago, during his senior year, he set a new high school world record by running the 100 yard dash in 9.4 seconds to tie the accepted world record, and he created a new high school world record in the 220 yard dash by running the distance in 20.7 seconds"(Luminary Group LLC). Jesse Owen's athletic ability set a tone for the world on the true limits of human beings. He inspired others to push their limits and to be the best at whatever they are doing. The most outstanding points in Owen's' career was during his college and Olympic races. "At the Berlin Olympics in early August, Owens dominated the track and field competitions by winning gold medals and breaking world records in the 100-and 200-meter dashes and the 400-meter relay, in addition to winning the gold medal in the broad jump"(James Cleveland Owens). The Olympics is where Owens really made his mark on the world, he showed the world that anything is possible, and that he was a one-of-a-kind athlete that could push the boundaries of what an athlete can do.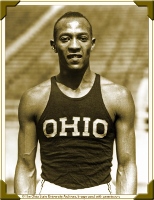 No matter how much talent one has, they will not go anywhere in life without the determination and strive to be the best they can be. Owens undoubtedly had the talent, but he also had the strive and grit to be the best. "In his junior year at Ohio State, Owens competed in 42 events and won them all, including four in the Big Ten Championships, four in the NCAA Championships, two in the AAU Championships and three at the Olympic Trials"(Borden). Owens consistently won races and beat records over and over again which caught his followers awestruck and inspired others to be like him. Owen's journey was inspiring, especially during his high school and college career. "During his high school days, he won all of the major track events, including the Ohio state championship three consecutive years"(Luminary Group LLC). No matter what age he was, no matter what competition he was in, Jesse Owens was constantly winning gold medals and breaking records. Jesse Owens was truly a legend due to his determination to be the best. He inspired future athletes to push themselves and made history with his strive. The combination of his talent and will made Jesse Owens one of the greatest heroes in sports history, but one event defined his history.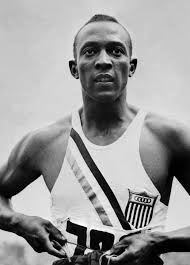 Besides the talent and work ethic, the one moment that truly made him make history as a hero was his courage to race in the Olympics. The 1936 Olympics were set in the heart of Nazi Germany with Hitler trying to prove his racial superiority. "Hailed in the United States in direct repudiation of Hitler's beliefs in Aryan superiority, Owens was one of the nation's first African American sports heroes"(Borden). It was a huge and life-threatening risk to race against Hitler and his belief in German Superiority. He angered Hitler after beating several of German athletes and could've very well been killed. But Owens went anyway, to race for his race. Owen's beat all the German opponents which made a stand for his race and against Hitler's beliefs. Owens, despite being racially disadvantaged in the heart of Nazi Germany, raced and still proved he was the best. "Jesse entered the 1936 Olympics, which were held in Nazi Germany amidst the belief by Hitler that the Games would support his belief that the German "Aryan" people were the dominant race"(Luminary Group LLC). Owens believed that while racing, there was no black or white, only fast and slow. The international crisis didn't faze Owens at all while he beat every German track star Hitler had to offer. Owens showed proved his talent, his determination, and his courage all throughout his career.
Owens, throughout his career, starting in junior high, proved his athletic ability, his self-will, and his courage. Owens won almost all of all races he went into, beat countless world records, and ran against racism all in one career, and that is what made Jesse Owens a hero. Owen's athleticism and grit alone made him a historic athlete, and combined with his courage to fight for his race truly made him an inspiring hero to many. The thing that made Jesse Owens a hero was the multiple ways he became a hero, he wasn't just a regular talented athlete, he had extraordinary will, and he didn't just have will, he had courage. Those three traits made Owens one of the most inspiring, and most heroic athlete in history.
Works Consulted
Baker, William. "Jesse Owens." Encyclopedia of African-American Culture and History. Gale, 2006.Biography in Context. Web. 27 Jan. 2016.
BORDEN, TIMOTHY G. "Jesse Owens." The Scribner Encyclopedia of American Lives, Thematic Series: Sports Figures. Ed. Arnold Markoe and Kenneth T. Jackson. New York: Charles Scribner's Sons, 2002. Biography in Context. Web. 27 Jan. 2016.
Bennett, Lerone, Jr. "Jesse Owens' Olympic triumph over time and Hitlerism." Ebony Apr. 1996: 68+.Biography in Context. Web. 29 Jan. 2016.
"James Cleveland Owens." Dictionary of American Biography. New York: Charles Scribner's Sons, 1995. Biography in Context. Web. 29 Jan. 2016.
Luminary Group LLC. "Introduction." JesseOwens.com. N.p., 2009. Web. 03 Feb. 2016.
Page created on 2/14/2016 12:00:00 AM
Last edited 2/14/2016 12:00:00 AM