Jesse Owens
by
Joe from San Diego
Jesse Owens was an African American athlete who did more than just run and jump. He inspired many people, broke racial boundaries, and became an inspirational figure to everyone. Jesse was famous because of his performance in the 1936 Berlin Olympics. Jesse Owens won 4 gold medals at the 1936 Olympics in 100-meter dash, long jump, 200-meter dash, and 400-meter relay. That's not all that Jesse Owens did at the Olympics. He proved Hitler's theory about the Aryan race wrong and inspired people everywhere. Jesse Owens is a hero because of his bravery and determination.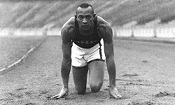 Jesse Owens was an inspiring hero because of his bravery. Jesse Owens did many brave things in his lifetime. During the rise of Hitler, it wasn't only Jews who were being discriminated against. Blacks in Germany lived under legal and social discrimination (Notable Black American Man). Jesse Owens performed in the Olympics knowing he was going to be not only discriminated against by the Americans for his skin color, but he was also going to be discriminated against by the Germans. If Jesse Owens wasn't a deserving hero, it would have been 4 more gold medals for Germany. Jesse Owen's brave deeds didn't stop here.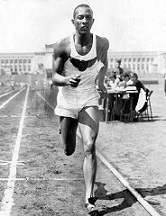 Against an international backdrop of tension and fear, Adolf Hitler ceremoniously attended the games and cheered for German athletes. The emotionally charged scene gave birth to one of the most dramatic of sports myths. Hitler supposedly snubbed Owens, refusing to shake his hand after his victories, and allegedly stormed out of the stadium enraged that Owens's athleticism refuted the Nazi dogma of Aryan superiority. (Dictionary of American Biography) Jesse Owens showed his bravery against one of the most evil people to ever live. Jesse Owens showed Hitler and all of Germany his beliefs were wrong. He kept retelling the story not caring about Hitler and what he thinks. This is why Jesse Owens was a brave hero because of the things he did.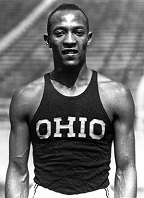 Jesse Owens was also a hero because of his determination. Jesse Owens was a determined athlete since he was in junior high. At Cleveland's Fairmount Junior High School, Owens's athletic talent and ambitions were nourished by a dynamic physical education teacher, Charles Riley, who continued to coach Owens in high school (Dictionary of American Biography). Jesse Owens has been improving something he started in junior high. Jesse Owens had a dream since he was young and ended up fulfilling his dreams later on in life. "Every morning, Just like in Alabama, I got up with the sun, ate my breakfast even before my mother and sisters and brother, and went to school, winter, spring, and fall alike to run jump and bend my body this way and that." - Jesse Owens. Jesse Owens wasn't pressured to run and jump, he just truly loved to practice his running. Jesse Owens ability to stick to running and practice it everyday is why he is a hero.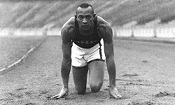 Jesse Owens was an inspiring person because of all the things he did. Whether it be redoing a race because of a starting block malfunction against a rival, waking up early every day to practice track since Jesse was a kid, or showing up Hitler at the Olympic games. Jesse Owens was truly an inspiring and a deserving hero.
Page created on 7/19/2016 12:00:00 AM
Last edited 7/19/2016 12:00:00 AM
The beliefs, viewpoints and opinions expressed in this hero submission on the website are those of the author and do not necessarily reflect the beliefs, viewpoints and opinions of The MY HERO Project and its staff.
Related Links