James Cleveland Owens was the son of a sharecropper and the grandson of a slave was born on September 12, 1913 in Oakville, Alabama His family moved to Cleveland where he attended school and his name was misunderstood due to his southern accent and he became known as Jesse Owens. Jesse Owens was an exceptional natural athlete and saw great success in the sport of Track and Field. He inspired many people with his athletic feats, determination, and by overcoming racism in the 1930's.
The success of Jesse Owens inspired people around the world. His talent was noticed when he was a young kid in school and he began training in the mornings before school (Jesse Owens Foundation). He set records in his throughout his track career. In Junior High he set world records in the high jump and long jump. Jesse Owens was an eight time NCAA national champion and one spring and at the Big Ten conference meet in 1935 Jesse Owens set three world records and tied another in a matter of only 45 minutes (Encyclopedia of world biography). During the 1936 Summer Olympics in Berlin, Germany Owens won four gold medals (Schwarts). He won gold medals in the 100 meter dash, 200 meter dash, long jump, and ran the lead leg of the winning U.S. 4 x 100 meter relay.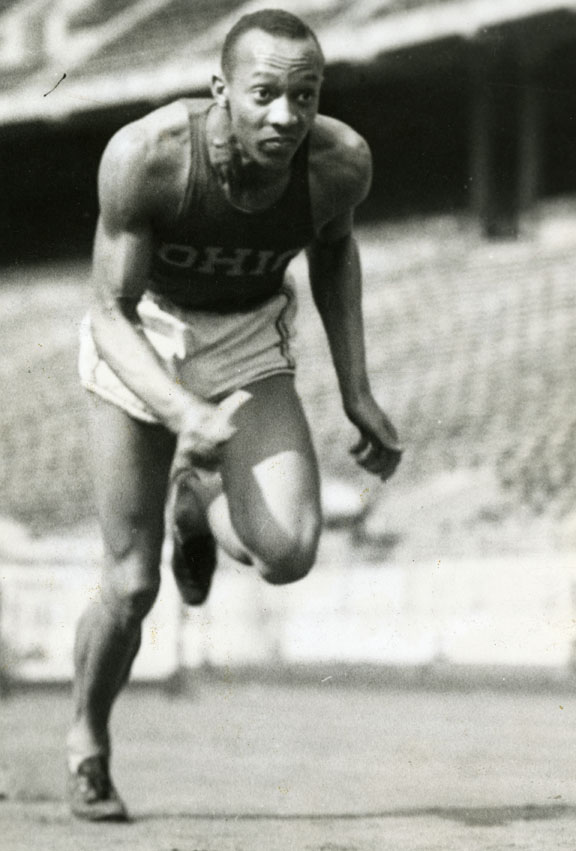 Jesse Owens was very determined and had great work ethic. While he was a child he was expected to pick 100 pound of cotton a day (Schwarts). Although Owens had many track scholarships he chose to attended Ohio State University and work three jobs to pay for his education and help support his young wife. After Jesse Owens returned from the Olympics he struggled to find steady work until he began running entertainment races (Jesse Owens Biography). Racism at home denied Owens the financial victory he deserved. He never found steady work until the 1950's when opened up a public relations fund he became a speaker for large corporations. Jesse Owens was known as a great speaker for his ability to relate to many people.
Jesse Owens is known for overcoming racism all throughout his life. At Ohio State Owens would travel with the team but he used separate bathrooms, water fountains, hotels, and restaurants even though he was one of the best athletes on the team. Jesse Owens ran in the 1936 Olympic Games where Adolf Hitler wanted to showcase Aryan supremacy (Schwartz). Even though Germany won most of the medals Owens showed by winning four gold medals that individual excellence was more important than ones race. When Jesse Owens returned to New York he was greeted with a ticker tape parade, but had to ride the freight elevator to a banquet in his honor. Jesse Owens was not surprised at all by his return to America "I was not invited to shake hands with Hitler but I was not invited to the White House to shake hands with the President either." (Jesse Owens Biography). In 1976 Owens was awarded with the Presidential Medal of Freedom by Gerald R. Ford and the Congressional Gold Medal by George H.W. Bush in 1990.
Jesse Owens died on March 31, 1980 from lung cancer, as a pack a day smoker. He has three daughters that work with the Jesse Owens foundation to carry on their father's legacy by helping young individuals with unnoticed talent. On the day Owens died President Carter stated, "Perhaps no athlete better symbolized human struggle against tyranny, poverty, and racial bigotry. His personal triumphs as a world-class athlete and record holder were the prelude to a career devoted to helping others. His work with young athletes, as am unofficial ambassador overseas, and a spokesmen or freedom are a rich legacy to his fellow Americans." Jesse Owens is American hero and an inspiration to many people.
I am Jesse Owens
I was raised in a poor family
I started running sprints in elementary school
I am a NCAA national champion
I am a world record holder
I am an Olympic champion
I battled racism all my life
I showed that individual excellence is more important than ones race
I am a symbol of triumph over racism
Page created on 9/29/2015 12:00:00 AM
Last edited 9/29/2015 12:00:00 AM