Jesse Owens
by
Isabel from Riley
Jesse Owens was an inspiring Olympic track athlete. He strived to make a difference by giving everything he had, and pushing past all the doubts and controversy with Nazi Germany. Jesse Owens was the son of a sharecropper and a grandson to a slave. Through all the hardships and doubt, Jesse Owens was gifted with the ability to run fast and jump far. He won 4 gold medals and set a long jump record that held for 25 years, at the 1936 Berlin, Germany Olympics. Jesse Owens strived and faced horrible things through his success, and was a dominating athlete, who never gave up.
Living life in hardships and overcoming the odds is exactly what Jesse Owens did. He was born on September 12, 1913, as the son of a sharecropper and a grandson to a slave. His name was actually James Cleveland but as he grew up teachers mixed "J.C." with Jesse and so it stuck for the rest of his life. His astonishing accomplishments started when he entered junior high. He broke major records in high school and went on and won three Ohio state championships. He was then recruited to Ohio State University, while being in college he worked several day and night jobs to support him and his wife. Exhausted but refusing to let up he continued to push himself on the track, and that's where everything began to change.
Jesse Owens went to compete at the Big Ten Championships, and within a span of 45 minutes he gave the world a glimpse of what was about to come to the Olympics, by setting three records. With his confidence in place he was determined to be the best at the Olympics, despite what people were saying about him and all the negativity and controversy in the world. In 1936 Owens competed at the Olympics, earning himself four gold medals, and breaking two world records. Unhappy with the success of the African-American, Hitler stormed out of the stadium and refused to congratulate Owens on his big accomplishment. Jesse captured the imagination of the crowd, which gave him ear-shattering moments, and he proved to the world that he was a man who didn't believe in segregation but believed in individual excellence and, because of his hard-work and dedication, he was rewarded with honor.
"We all have dreams, but in order to make dreams reality. It takes an awful lot of determination, dedication, self-discipline, and effort" (Owens). When he was awarded the Medal of Freedom by President Carter who said, "Jesse Owens is a young man who possibly didn't even realize the superb nature of his own capabilities and went to the Olympics and performed in a way that I don't believe has ever been equaled since this achievement, to inspire others with greatness." Owens inspired people to understand the meaning of determination and never giving up in the darkest times, to not accept defeat even when you are feeling defeated. "Jesse proved that he was a dreamer who could make the dreams of others come true, a speaker who could make the world listen and a man who held out hope to millions of young people," ("Jesse Owens").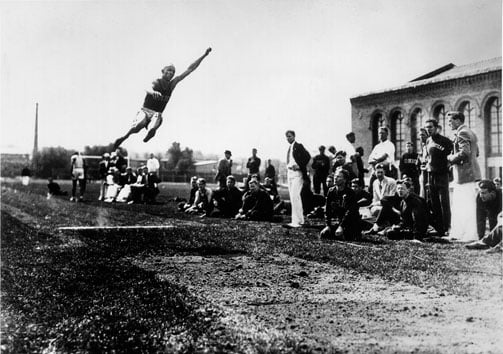 "A few seconds, perhaps a fraction of a second, can mean the difference between victory and defeat, between becoming a legend or leaving as a footnote" (Best). Jesse Owens was no footnote, but a legend, who was a graceful winner, and changed the hearts and minds of many. He showed the world that no matter what you believe or what you look like, you can accomplish anything despite the hatred in the world. Jesse Owens strived and faced horrible things through his success, and was a dominating athlete, who never gave up. That's why the dominating athlete, Jesse Owens, is a hero.
Page created on 12/16/2016 12:00:00 AM
Last edited 12/16/2016 12:00:00 AM
The beliefs, viewpoints and opinions expressed in this hero submission on the website are those of the author and do not necessarily reflect the beliefs, viewpoints and opinions of The MY HERO Project and its staff.
Related Links
Youtube
- It gives a quick clip of Jesse Owens at the Olympics