"So much expectation from the hard core fans I am not sure I will ever be able to match up to it."
In July of 1965 Joanne Kathleen Rowling was born to the parents of Peter and Anne Rowling, little did they know that their daughter was going to grow up to be what many consider the author of the generation.
After attending Chepstow, and Exeter University, JK Rowling traveled from her first real job in France back to London. On that delayed train she thought of the most marvelous idea she ever had; Harry Potter. After sitting on the train for four long hours, JK Rowling was finally able to get Harry Potter down on paper. That December, 1990, her mother died, from multiple sclerosis. Anne Rowling had been battling the illness for quite some time. After six months of writing the first book, Philosopher's Stone, Rowling's first thoughts changed completely.
The death of her mother helped Rowling connect to her character. Harry's parents also died and now Rowling could fully understand what her character would feel like. "Death became the central theme" Rowling said during an interview with Elizabeth Vargus. She also said that one of her biggest regrets was not telling her mother about Harry Potter before she died. Her mother would have loved the books and loved to know that her daughter was well off.
Desperate for a change, JK Rowling moved to Portugal and became an English teacher. There she got married and had her first child, Jessica. After leaving her husband of two years, Rowling and her daughter moved back to London. This time in Rowling's life is one of her most depressing times. She struggled with clinical depression for many months. When ask about her depression in "A Year in the Life," an Elizabeth Vargus Documentary ABC NEWS, she stated, "All color was drained out of my life." These moments in her life, gave life to the dementors in the Harry Potter series, terrible creatures that live off the misfortune of others. If you come across a dementor they will drain all of the happiness from your soul. "We were as snick as you can be, without being homeless," JK Rowling stated earlier in the interview.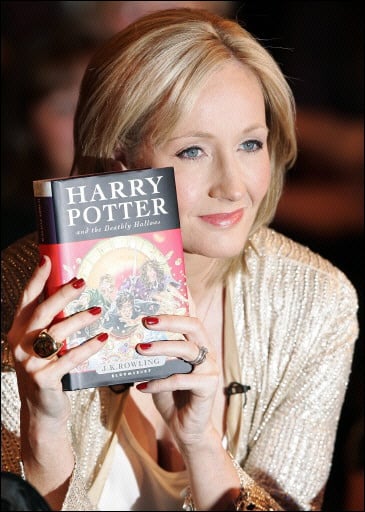 Not only was JK Rowling poor but she was trying to support her daughter, and write at the same time. Rowling would write while Jessica took naps in a small cafe. Finally after many months of writing, Rowling sent the final chapters of her first book to a small publisher in Britain. Little did she know that her life was about to change forever. "Harry turned my life around completely," Rowling said in the same interview with Elizabeth Vargus.
After Harry Potter was published in Britain JK Rowling received a call telling her that a Harry Potter bidding war was going on the United States. Scholastic bought Harry Potter and is the American publisher of the books. Harry Potter has been translated into 67 languages and on the first day the last book was on sale, books stores sold over 7,000 books per minute. Astounded, JK finished her last sentence in the last book, Harry Potter and the Deathly Hallows, and said "so much expectation from the hard core fans I am not sure I will ever be able to match up to it." She also said she was so lucky for having the idea.
Harry Potter himself could be a hero to many people; however he is a fictional character. He was the boy that lived; JK was the girl that gave him life. I have always believed that a hero needs to be someone like no other. They must be brave and strong, courageous and bold. Superman for example was what I thought every hero should be like. JK Rowling doesn't save the world from the Joker or shoot webs out of her hands but she is brave, strong, courageous and bold.
JK Rowling is my hero because through her entire life she never gave up on her ideas. She took events that happened in her life and made them part of her Harry Potter world. People always say things happen for a reason, well in JK Rowling's case things did happen for the right reason. Without her train being delayed she might have never thought of Harry Potter. If the train was not delayed then I would have had to find something to entertain me my whole childhood, much like Harry Potter did.
JK Rowling's life was far from perfect, she has lost contact with her father, she no longer has a mother, she is supporting three children and trying to give them a normal life when hers is so crazy. That is another reason for why JK Rowling is the perfect hero. She has a crazy life much like my own. Balancing school and sports and other after-school activities, sometimes I feel like I need to slow down. Harry Potter was my way to forget my own crazy life. I would get lost in the books for hours, reading until early morning. JK Rowling has the power to make people forget themselves and feel like they have no troubles in the world.
JK Rowling never gave up on Harry Potter, she wrote for her pleasure, not for what others wanted to read. Having such a hard core fan base can be very challenging. You want to keep them happy but more importantly you want to keep yourself happy and write a novel you can be proud of. JK Rowling is a primary example of how to do this. She killed favorite characters, changed locations and times, but she also made her readers happy.
This past year the final Harry Potter movie concluded, which meant Harry Potter was over. The final book was released in 2007 so there were no more movies to come. People lined the streets for hours to buy movie tickets, people waited at the premier in London for up to 8 days. No one besides JK could have thought of this wonderful book. JK imagined new words, and stretched the boundaries of writing. She never stopped doing what she loves and she turned her idea into 7 incredible books and 8 great movies. The Era that so many people loved is unfortunately ending. The books may be pushed to the back of the shelves, the movies may become less watched and the theme park may be less visited but JK Rowling's imagination will always but remembered.
Works Cited
"A Year in the Life" Interview by Elizabeth Vargus. ABC NEWS. July-Aug. 2009. Television.
Axel-Lute, Miriam. "J.K. Rowling Takes Copyright Lessons from Professor Umbridge Strollerderby." Babble.com - For a New Generation of Parents. 15 Sept. 2008. Web. 06 Jan. 2012. archive/2008/09/15/rowling-takes-copyright-lessons-from-professor-umbridge.aspx>.
"Harry Potter Theme Park Opening Pictures - Photos of the Grand Opening of the Harry Potter Theme Park." Theme Parks - Amusement Parks, Water Parks, and Roller Coasters. 2010. Web. 06 Jan. 2012. ure/ig/Harry-Potter-Park-Opening/J-K--Rowling-on-the-Carpet.htm>.
"Inside the Magical World of 'Harry Potter' Author." ABCNews.com: Daily News, Breaking News and Video Broadcasts - ABC News. June-July 2009. Web. 02 Dec. 2011.
Pahwa, Kiran. "J K Rowling | TopNews." TopNews | Only Top Stories of the Day. Nov.-Dec. 2011.
Web. 06 Jan. 2012. .
Rowling, JK. J.K.Rowling Official Site - Harry Potter and More. Warner Brothers, 2006. Web. 01 Dec. 2011. .
"World Premiere of 'Harry Potter and the Deathly Hallows: Part 2': A Gamut of Dazzling Stars [PHOTOS]." International Business News, Financial News, Market News, Politics, Forex, Commodities - International Business Times -BOB IBTimes.com. 08 July 2011. Web. 06 Jan. 2012. potter-and-the-deathly-hallows-part-2-world-premiere-daniel-radcliffe-emma-watson-j-k-rowling.htm>.
Page created on 2/5/2013 6:35:02 PM
Last edited 1/6/2017 10:52:26 PM