James Stewart
by
Calvin from Hastings
"I'm so afraid of losing that I scare myself to win."
~ James Stewart
James Stewart was born in 1985 and resides in Haines City, Florida. Winning was always one thing James was good at. James Sr., was a motocross enthusiast and introduced his son to the sport at the age of three. Stewart entered his first motocross race when he was just four years old and soon went on to enjoy much success as an amateur racer. James Stewart had a very successful amateur career winning over 11 amateur titles, including winning the biggest amateur race in the world, Loretta Lynn's, multiple times. His great success in the amateur ranks got him a factory motocross sponsorship from Kawasaki. Getting that factory ride and having his dream come true weren't as easy as they seem though.
James Stewart is African American. The sport of motocross in the USA is mostly all white Americans, so when little Stewart started racing, a lot of people had a hard time accepting him. One time James Sr. brought James to a race and the gate keeper who let people in told him, "We don't allow negroes to race. Sorry." Big James looked the guy in the eye and told him, "We ain't here to race, we're here to win." James Stewart beat the other kids by over 2 minutes that day. Even after the great success Stewart had, he still had run-ins about his race. In 2007 at a pro national motocross race in Southwich, Massachusetts, a group of spectators lined up against the fence and every time James came around they booed him and yelled racial slurs at him. James Sr. looked on in disgust and made sure his son kept his head on straight. That day James went 1st and 1st, beating the best racers in the world by over a minute in each moto.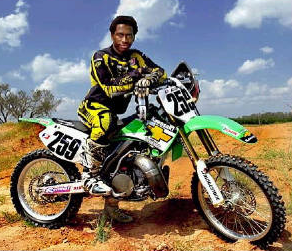 Money. If you race dirtbikes, you gotta have money because it's very expensive and takes a lot of time and energy. The Stewarts never had money, but, with their tight family connection and the parents' strong relationship, they did whatever they could to get James to the track. James Sr. had over 4 jobs while James was in the amateur ranks. He collected aluminum cans, mowed lawns, and he did everything in between to keep James riding and winning. A lot of times James Sr. would stay home on the weekends and work while little James and his mom would go to the races.
In conclusion, James Stewart and his family never let prejudice or money get in the way of making James "Bubba" Stewart's dream come true. James is the most dominant rider in history in the 125 class with winning the outdoor title twice and winning both the East and West Coast Supercross series. He is also becoming one of the most dominant riders in the 250 class after going undefeated in the 2008 Motocross Nationals. He has also won the Motocross of Nations for our country and won 3 Supercross championships.
James gives me the motivation to keep on keeping on, and it just shows that you don't need to be rich to be successful and that there will be roadblocks in your life and the way you look at them makes you who you are. I respect him a lot and his skills on a dirtbike are amazing. He is definitely my hero!
Page created on 3/15/2010 2:41:37 PM
Last edited 1/6/2017 11:49:28 PM
The beliefs, viewpoints and opinions expressed in this hero submission on the website are those of the author and do not necessarily reflect the beliefs, viewpoints and opinions of The MY HERO Project and its staff.