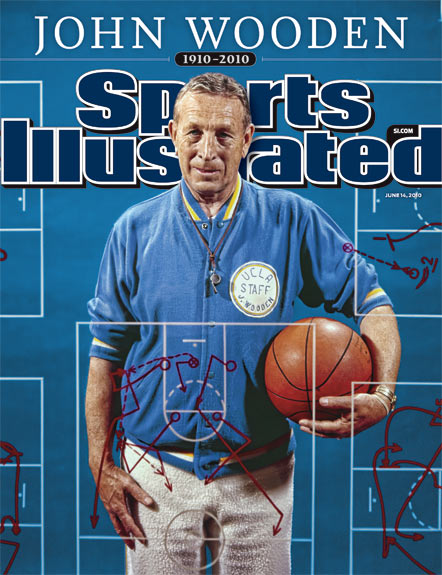 "Don't measure yourself by what you have accomplished, but by what you should have accomplished with your ability" (Wooden). This quote by John Robert Wooden shows the incredible work ethic he had, and what he was willing to lose in order to seize the opportunities made available to him. He never backed down from a challenge or failed to motivate his players and push them to their limits and succeed in their goals. John Wooden was born near Martinsville, Indiana on October 14, 1910. His family's farm had neither running water nor electricity and money was often in short supply. The only thing Wooden had going for him was his high school basketball stardom that lead him to a scholarship at Purdue University. He did exceptionally well in his studies at Purdue and in basketball he won all-American honors as a guard in 1930, 1931, and 1932. A hero must possess leadership and the ability to work hard in order to achieve goals and take advantage of prospects made obtainable. John Wooden possesses leadership skills and the ability to work hard to achieve his aspirations as a college basketball player and as a coach.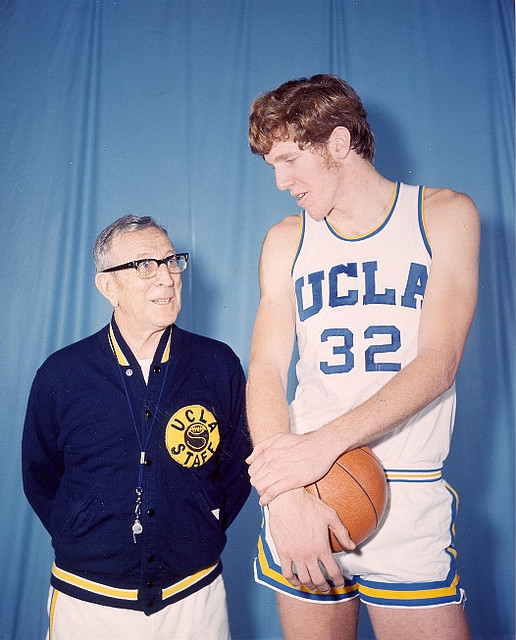 John Wooden had an astonishing gift to inspire people along with motivating the players and colleagues he was surrounded by. He always knew just the right words to motivate his players. This is true according to Bill Walton; a U.C.L.A. basketball player under Wooden. "Coach Wooden taught by example. He never asked or expected anyone to do anything that he hadn't already done himself. He gave us the ability to learn how to learn, as well as to compete. His keen knowledge and foresight to always be ready for what was next, enabled him to lead an incredibly active, constructive, positive and contributing life." (Walton, Bill). This quote of Bill Walton shows how beloved Coach Wooden was by his players. It's clear that he was more than a master motivator and basketball coach. He was a mentor, a great teacher of more than just basketball; he taught his players some very valuable aspects of life. From 1971 to 1974, the U.C.L.A. men's basketball team won 88 consecutive games, still the N.C.A.A record. John Wooden was an incredible teacher of values and life lessons, on and off the court. Even though his players didn't realize it, their coach was teaching them the fundamentals to succeed in life.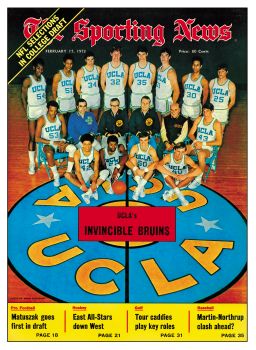 John Wooden had all the willingness in the world to take on a team like the UCLA Bruins. Wooden would leave a legacy at UCLA which would set expectations for future coaches at unattainable heights, though he never discussed winning or losing. When his Bruins took home 10 national championships in a 12-season stretch, Wooden simply considered himself a teacher of good habits. A man who is uncomfortable being thought of as a legend, Wooden never set out to do anything more than to teach young men how to be the best they could be, both at basketball as well as in life. His discipline, standards, ideas, loyalty, and self-control were all important factors that would cause him to become the leader at U.C.L.A which all future coaches would be measured against.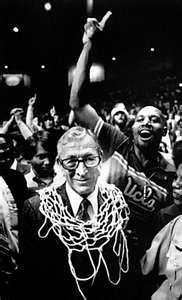 Every single one of Wooden's former players has only praise and thankfulness for all of Wooden's gifts to them. He helped form their character and work ethic; while instilling a winning and successful attitude in them. John Wooden is an unprecedented teacher and mentor. He led his U.C.L.A Bruins to 10 national championships in a 12-season stretch, and won 88 consecutive games. Most of his players made it all the way to the NBA and credit John Wooden's amazing coaching for their NBA status. I consider John Wooden to be a very influential and inspiring person who made monumental differences in those college kids' lives. He inspires me because he hadn't gone through his life unnoticed or ignored, he made differences in many people's lives and didn't give up when times got hard, and never took the easy route. "Never try to be better than someone else, Learn from others, and try to be the best you can be, success is the by-product of that preparation." (Wooden) Unlike most people who would have given up when times got tough, he persevered, kept his willingness and work ethic active, while inspiring his players and never losing hope. These traits and qualities embody the proper definition of hero.
Works Consulted "John Wooden Biography -- Academy of Achievement." Academy of Achievement Main Menu. Web. 31 Mar. 2011. <http://www.achievement.org/autodoc/page/woo0bio-1>. Litsky, Frank, and John Branch. "John Wooden, Who Built Incomparable Dynasty at U.C.L.A., Dies at 99." Web. <http://www.nytimes.com/2010/06/05/sports/ncaabasketball/05wooden.html>. Logan, Bob. "Wooden, John." "Wooden, John." World Book Advanced. Web. 24 Mar. 2011. Maxwell, John C. "Why John Wooden's Teams Won: and How to Apply His Winning Principles to Your Life"" General Reference Center Gold. Gale. Web. 28 Mar. 2011. Maxwell, John C. ""why John Wooden's Teams Won:and How to Apply His Winning Principles to Your Life"" General Reference Center Gold. Gale. Web. 28 Mar. 2011. Schrock, Cliff. "Wooden's Golf Legacy." General Reference Center Gold. Gale. Web. 30 Mar. 2011.
Page created on 7/5/2013 12:00:00 AM
Last edited 1/6/2017 11:50:52 PM