Here's a riddle: I can be many colors, from race car red to army green; I'm made out of metal; and have been rolling across desks, dining room tables, and kitchen floors for more than fifty years. Oh, and I can fit in a matchbox. What am I?
A Matchbox car, you say? You're right! But here's the next question: who invented it and why did he make such a tiny car?
The answer: Jack Odell. In 1952, Odell was a mostly self-taught engineer, working at a small die-casting company in London, sweeping floors. And he was also a father. At his daughter Anne's school, students were only allowed to bring toys if they could fit inside a matchbox. Instead of bringing toys, Anne sometimes carried spiders in her matchbox--to the fright of her peers, and to the delight of her quirky sense of humor. So the inventor-engineer got to work and created a tiny red and green steamroller, which he gave to Anne to take to school—instead of the spiders.
The next time Anne opened her matchbox at school, the students were not at all afraid. They were fascinated by the shiny toy on wheels. In no time, Anne's friends were asking for their own "matchbox" car. And Jack Odell was rushing to produce them. In addition to carefully replicating each car make in great detail, which he accomplished by visiting car manufacturers, Odell also designed and built the molds to die-cast the tiny parts, and the machines to assemble and paint the toys. These mechanical inventions made production quick and cheap, which was a good thing since the miniature cars quickly gained popularity in England, and in the United States.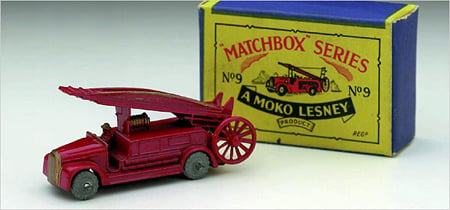 Other vehicle models, like a bus, a fire engine, and the coach that carried Queen Elizabeth II, soon followed the original steamroller. The mini models were readily found at candy shops and toy stores, and were affordable, costing about 50 cents in the U.S. at the time. This tiny toy was well on its way to becoming a classic that kids would play with for years and years to come; and Jack Odell would become the creator of more than three billion miniature vehicles--pretty good for an inventor with a very humble start in life.
John William Odell was born in London on March 19, 1920. He came from a poor family, and didn't spend a lot of time in school--he was kicked out at the age of thirteen. He found work as a van driver, a real estate seller, and as the man who ran the movie projector at the theater. He joined the Army during World War II, and trained as a mechanic. As a sergeant, Odell oversaw the repair of the Army's vehicles.
When he got out of the Army, Odell joined two of his friends in their die-casting factory. Their original plan was to make parts for cars--real, life-sized cars, that is. But they found the most success in making the parts of tiny, toy cars, and putting them together. They made a few other kinds of toys, like a metal mule marionette, modeled after "Muffin the Mule," a character from a television program in the 1950's.
The toy that endured, however, is the Matchbox car. Mattel, the new owner of Matchbox, continues to make the vehicles, even after Odell's retirement from the business. The cars are a continuing legacy of Jack Odell, who died on July 7, 2007, and will be remembered as an innovative inventor, the creator of one of the world's most favorite toys, and, as he said in a 1969 interview with The Daily Telegraph, "a damn good engineer."
Page created on 6/11/2015 8:12:30 PM
Last edited 7/21/2017 7:06:15 PM
Related Links
Matchbox
- The official website for Mattel Matchbox cars.