James Herriot (español)
by
Sarah Cowan
Muchas personas comienzas carreras para que ellos puedan recibir elogio y reconocimiento por el buen trabajo que ellos hacen por los quien estan a su alrededor. Ellos hacen el mejor trabajo que puedan para que sus jefes se paren y digan " Buen trabajo!"o "Bien hecho!" Pero hay unos pocos héroes desconocidos quiénes pasan sus vidas ayudando a los que nunca podran decir "le agradezco" por todo el buen trabajo que han hecho. Éstos son los héroes de los animales, dedicados a ayudar a todas las criaturas del mundo, grandes y pequeñas. El más famoso de este grupo es James Herriot.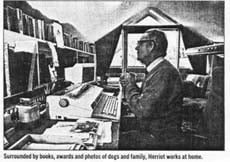 James Herriot (el nombre de la pluma de James Alfred Wight) se crió en Glasgow, una ciudad bastante grande en Escocia. Como la mayoría de los muchachos su edad, él fue a la l secundaria y entonces a la universidad. Pero en cierto punto en sus estudios, él tomó una decisión que cambiaría por siempre el curso de su vida. Él decidío que él quisiera llegar a ser un cirujano veterinario, especializándose en el tratamiento de los perros.
Bueno, las cosas no se resolvieron absolutamente tal y como previstas. El Snr. Herriot si llegó a ser Dr. Herriot, pero cuando él recibió su primera asignación veterinaria en el campo de Yorkshire, él no se encontró trabajando con los collies y los chihuahuas adorables, pero con caballos y los bueyes algo grandes y brutales, cuyas patadas podrían mandar a un hombre a volar. Usted ve, en esos días era considerado "femenino" trabajar con los perros y los gatos. Entonces, el Dr. Herriot gastó la parte temprana de su carrera estercolando alrededor de graneros y de establos, soñando de hacerles visitas de sala a los poodles cuidados en exceso y a los gatos peludos.
Eventualmente la palabra circuló que había un veterinario del campo que estaba dispuesto a ayudar un Fido o Fifi querido, y el Dr. Herriot se encontró capaz de realizar su sueño original de tratar perros y gatos. Afortunadamente para nosotros, él registró sus aventuras veterinarias en una serie chistosa de libros que comienza con el volumen famoso, Todas las Criaturas Grandes y Pequeñas. Llenós de cuentos maravillosos, divertodos y trágicos, los libros del Dr. Herriot han sido una inspiración para los que aman los animales (y para veterinarios futuros).
Page created on 8/18/2014 8:55:35 PM
Last edited 8/18/2014 8:55:35 PM
The beliefs, viewpoints and opinions expressed in this hero submission on the website are those of the author and do not necessarily reflect the beliefs, viewpoints and opinions of The MY HERO Project and its staff.
Extra Info
Para más información acerca de las aventuras del Dr. Herriot, lea el tributo en la Red a James Herriot escrito por Heather Mazzaccaro. Este cuento y las fotos fueron sometidos por Sarah Cowan de Laguna Beach, California. El texto adicional fue escrito por Jeff Trussell. Las imágenes de James Herriot son cortesía de of Heather Mazzaccaro.