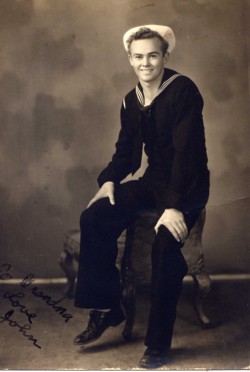 My dad's childhood was lived in Los Angeles during the Depression years. Times were hard, but my dad always kept his optimism and sense of fun. His grandmother had told him at a young age that he was "born good" and for the rest of his life he did his best to live up to her belief. Whenever anyone was being bullied at school, my dad would always hasten forward to protect them. He was never afraid to stick up for himself or for any others who were being treated unfairly. Being afraid was not in his vocabulary.

He wasn't afraid to work hard, either, although he always knew how to make it fun. He would go out of his way to be sure that he was scrupulously honest in all his work. His nickname in his community was "Honest John" and he was proud of that.

Dad always had a love for nature and a sense of adventure. His major fault would be to go off by himself to explore the sloughs and marshes nearby, when he should have been doing his chores. Later, this love for nature and adventure would be shared with his own family.
During World War II, when he was barely seventeen (and still in the 11th grade), he enlisted in the Navy. While on night watch during heavy seas, he thought it was fun to jump up whenever the ship dropped down into the trough and catch hold of a beam 15 feet above the deck. When the ship climbed up the swell again then he would drop gently back down. On one occasion, the trick ended up saving his life. As he grabbed onto the beam, a huge freak swell washed over the deck. He was sure it would have swept him overboard. He had fun teaching the other sailors this trick, too, especially after realizing how helpful it might be to them. As he, and his twin brother, and the rest of the ship's crew made their way to Japan, ready to be among those who would lead the invasion ashore, he sometimes helped in the galley and loved to cheer up the crew by making ice cream. Later, when offshore in Okinawa, he learned to skin dive. One of his favorite things to do would be to take a running leap off of the dock into the ocean. One day he ran as usual but for some reason felt uneasy and so he slowed down and looked into the water. There, right where he would always jump in, was a large squid being circled by a very large and hungry fish. He would have plunged right into the middle of it.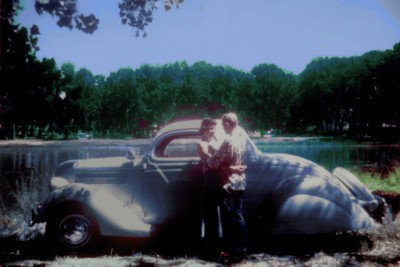 When the war ended and he left the Navy, he moved to Miles City, Montana. In the summer, he was lifeguard for the community lake. (On one occasion, he saved two young men in the middle of the lake who were yelling for help. He swam out to them and pulled both of them in without the use of a buoy.) It was here at the lake that he met his true love, Priscilla. She was a florist from a town in Michigan, near the Canadian border. He taught her how to drive his car and then sold it to her. When she drove home, she decided that he was her true love, also, and so she drove back and they married. Dad got his car back, too.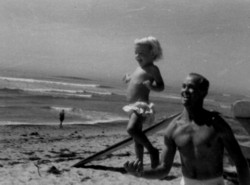 They moved to California in the early 1950's and were soon proud parents of a girl, Becky. They cruised the coast of Southern California and found their ideal little beach town in which to raise their family. Three years after their daughter, they had a son named John, and their family was complete. They bought a small house a few blocks up from the beach, in San Clemente, and settled in. Dad got a job as a mail carrier at the post office there. He did his best to make the most out of this job, too. Always curious and ever ready to try something new, he won a prize for finding a better system of sorting mail that is used to this day. His friendliness was legendary in the neighborhoods where he delivered the mail. Animal behavior interested him, too, and he took it upon himself to share with other mail carriers what tricks he had learned about the best way to handle dog attacks. One of the simplest tricks was to use your big leather mail bag as a shield. "Just give the dog something to put in his mouth and he's often happy," Dad would tell them.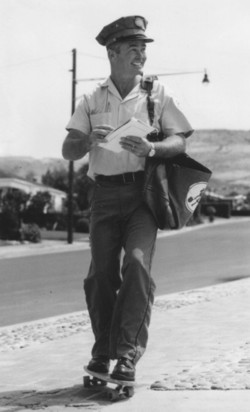 During long summer days, my Dad would come home from work at three o'clock (he had to get up at 4 AM) and would join us at the beach. He was one of the first surfers back in the 1950's. He was also a great skim board rider. He and his friends would toss their boards over the surface of the shallow water, run to catch up and then stand on their hands. There were few people on the beach in those days and there were no competitions until many years later. He and a friend also made a catamaran. During its maiden voyage, they threw their clothes on board as they waded through the surf. The boat caught the breeze and took off without them! To my dad, the hilarity of the story more than made up for any sense of disappointment over losing their hard work.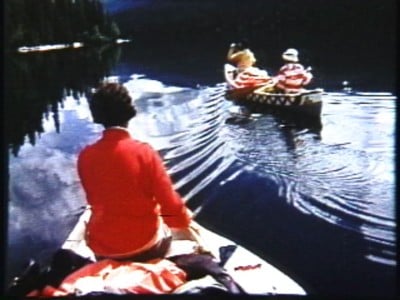 One of my Dad's favorite hobbies was photography. His work was excellent and soon he was providing photographs for the local paper, weddings, models and also to Surfer Magazine. Every summer, our family would load up the VW van and take off on a camping adventure. My dad had the idea of making films about them and so now he turned his attention to studying the art of film photography. Using 16mm film, he and my family made a couple of canoe adventure films. One was filmed in Minnesota; another was a 90 mile canoe trip into the wilderness of British Columbia, Canada. Both were shown on television travel programs.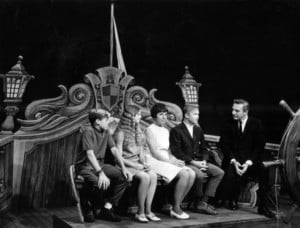 Our family on Jack Douglas' The Golden Voyage
By this time, in the late 1960's, my Dad decided to make photography his full time profession and so he quit the post office. We sold our house and moved to the Wyoming wilderness for two years. While my brother and I continued our schooling (commuting over an hour and a half to school each way through blizzards and bison), he and my mom made a wildlife film. This was my favorite adventure.
He went on the travel film lecture circuit and showed his films all over the United States (including Hawaii) and Canada. Two of his films (a Baja surf adventure and a film on individual outdoor sports called "Motion"), included my cousins this time. My dad liked nothing better than to get family and friends together in working on a fun project. In fact he loved to include others in his fun wherever he was, whether it was how to make a game out of balancing on a log or how to make a film. He was a joyful and loving presence in his family's life - a dream grandfather to his grandkids. My cousins say that, thanks to my dad, they developed a love for outdoor travel adventure that has enriched them (and now their own children) to this day.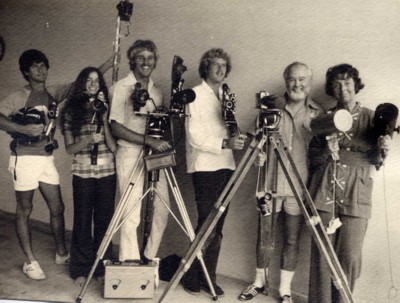 Guy, Becky, John, Gary, John and Priscilla - "Motion"
This is only a little slice of the adventures my dad has had in his life, but in it I see so many qualities that I find admirable: his optimism, cheerfulness, sense of fun and adventure, honesty, caring, helpfulness, curiosity and a childlike wonder and appreciation for life. And most of all - his love and devotion to family. I thank my dad everyday for all he's taught me. For remaining true to who he was. He was unique and a true inspiration.
Page created on 11/29/2014 11:23:10 AM
Last edited 1/5/2017 11:02:23 PM