by
Betty Bailey

from

Los Angeles, California in United States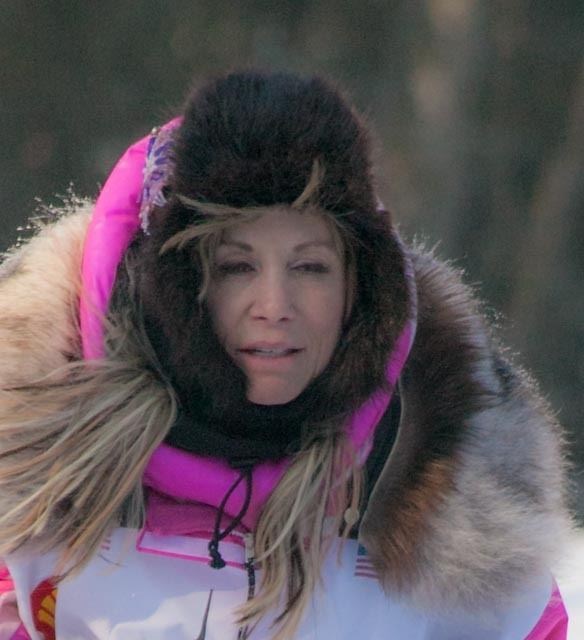 DeeDee JonroweFrank Kovalchek from USA, CC BY 2.0 via Wikimedia Commons
When veteran dog sled musher DeeDee Jonrowe crossed the finish line at the 2003 Iditarod Trail Sled Dog Race, she had more on her mind than her 18th place trophy or even the 1,150 miles she had traveled through sub-zero temperatures. "I was really excited," said Jonrowe. "It was the reclaiming of my health. Nothing is more valuable than your faith and health."
Although she had competed in the world-famous sled dog race from Anchorage to Nome 20 times, this year presented a special challenge. Jonrowe, 50, had to fight her way back from a life-threatening disease in order to race. Six months earlier, Jonrowe had been diagnosed with breast cancer, and, up until 3 weeks before the race, she had undergone chemotherapy treatments to battle the disease.
"It wouldn't have been possible without the family and support and prayers behind me," said Jonrowe. "Those things really made a difference when things were looking pretty bleak."
The Iditarod Trail Sled Dog Race is one of the most difficult and physically grueling athletic events in the world. The 30-year-old race is based on the Alaskan tradition of using dogsleds for transportation. It commemorates the historic 1925 serum run from Anchorage to Nome during a diphtheria epidemic.
That winter, the deadly disease threatened the lives of young people in the remote city of Nome, located along the Bering Sea. The nearest serum that could stop the epidemic was in Anchorage, some 1000 miles away. The Alaska Railroad carried the serum 250 miles north, to Nenana. There, 20 volunteers set up a relay course, using dogsleds, to transport the medicine nearly 700 miles to Nome. Part of the race was run in temperatures less than 50 degrees below zero. According to legend, a strong gust of wind toppled the sled of the final musher, who had to dig the serum out of the snow to finish his run. Five days and seven hours later, the serum was delivered and the townspeople were saved.
Since Alaska is the 49th state, the Iditarod is traditionally 1049 miles long. Mushers wind their way north along parts of the same trail used in the serum run. They often travel along frozen rivers as they battle bitter arctic cold, rugged mountain terrain, and even blizzards. Each year presents a different challenge. In 2003, a lack of snow in Anchorage forced the start of the race north to Fairbanks, adding another 100 miles to the trail. With warmer temperatures than usual, mushers had to worry about the frozen rivers giving way under their sleds.
This year's Iditarod was won by Norwegian musher Robert Sorlie, who completed the race in 9 days, 15 hours and 47 minutes. Jonrowe crossed the finish line after 10 days, 23 hours and 45 minutes. In her career, so far, she has finished in second place twice, finished in the top five eight times and has had eleven top ten finishes.
Training for the Iditarod is a multi-seasonal occupation. Jonrowe runs marathons and trains her dogs all year. She was born in Germany while her father was in the military; her family was transferred several times. She attended school in Virginia before the family moved to Alaska during her high school years. She later earned a B.S. degree in biological sciences at the University of Alaska, Fairbanks. She married her husband, Mike Jonrowe, in 1977.
Jonrowe's mother was the first in the family to become interested in the Iditarod, and her enthusiasm quickly spread to her daughter. "She's always interested in new stuff," said Jonrowe, who started mushing in 1979. "My mom was interested in the race and she tried to get us interested. Before I knew it, I took 5 dogs back to Bethel."
Jonrowee's other hero is world-class cyclist and two-time Olympian Lance Armstrong, who overcame advanced testicular cancer and went on to win 5 consecutive Tour de France victories. "He never gave up," said Jonrowe.
Jonrowe, herself, is a hero to many. To honor her passion and courage, Chevron presented her with the 2003 award of "Most Inspirational Musher." Jonrowe, who appeared very touched by the award said, "If what I'm doing doesn't make a difference in someone else's life, it's a waste of time."
Page created on 6/10/2004 12:04:42 PM
Last edited 12/30/2020 5:59:37 AM
Related Links
Mush with P.R.I.D.E. site
- Mush with P.R.I.D.E. was created by mushers who love their dogs and feel strongly about promoting responsible and humane sled dog care
Mush with P.R.I.D.E. site
- Mush with P.R.I.D.E. was created by mushers who love their dogs and feel strongly about promoting responsible and humane sled dog care