Joseph
by
Laura Bitterman from The United States of America
"It was a normal, lovely day when I heard people coming at me. They rushed behind me and seemed to kidnap me. They took my coat. I tried to flee, but I couldn't get their grip off of me. They looked familiar, but I didn't get a good enough glance at them. They tossed me down into a dark area, and I finally recognized them, but I was all by myself."
My hero is Joseph. He was born in 1897B.C. He lived in Canaan most of his life. When he was 17, his father gave him a multi-colored coat. His brothers were so jealous, they plotted an evil scheme. One day, they took Joseph to the field and threw him down a well. They grabbed his coat and put lamb's blood on it. A caravan came by and Joseph's brothers sold him into slavery. Meanwhile, the brothers lied to their father, Jacob, and said a wild animal killed him. Jacob was very sad about what he had heard.
The Ishmaelite travelers sold Joseph to a man named Potifar. The Lord was with Joseph, and he gave him success in everything he did. Potifar's wife never liked Joseph. She lied to her husband and said he assaulted her. Potifar was so mad that he threw Joseph into prison. When he was in prison, he interpreted two people's dreams. The Lord God told him what they had meant. Pharaoh had seen what he did and asked him to interpret his own dream. Joseph told him that there would be 7 good years of plenty and 7 years of famine. Joseph was right, so Pharaoh put him in charge of the gathering process.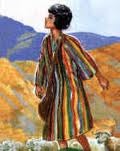 When the 7 bad years came, Egypt was the only one with enough food. Many other countries came and bought food from them. Canaan was run dry, too, so Jacob sent his brothers, all except the youngest Benjamin, to Egypt to buy grain. Joseph noticed them, but the brothers didn't notice Joseph right away. Joseph put the money that his brothers bought the grain with back in a bag. To prove to the governor that they were not spies, they left one son in Egypt and they had to bring the last son, Benjamin, to Joseph. They did and Joseph invited them to lunch that day.
Joseph tested his brothers again. This time, he put his silver cup into one of the sacks. They found it in Benjamin's sack. He called all of them into a room and sent his guards out. He revealed his identity. "I am Joseph!" All of his brothers were stunned. Joseph invited his whole family to live in Egypt. Joseph died in 1804 B.C.
I mainly chose Joseph as my hero because of his faith in God. He never doubted him and always looked on the bright side. When I was younger, I always loved hearing this story. I try to follow his example the best that I can. He didn't even take credit for interpreting dreams. He seemed like a random guy God picked to do his wonders. He didn't lie about believing in another God and he never disobeyed God's command. He never worshiped Pharaoh.
Joseph wasn't mad at his brothers. He saved all of Egypt and a lot of other surrounding countries. God had a plan for Joseph even when things were rough for him. I now know to follow Joseph's example and to trust God even when I think everything is going to fall apart. I am so glad that God has a plan for our lives. Jeremiah 29:11 is a great verse that goes well with this amazing story.
Page created on 5/15/2012 12:00:00 AM
Last edited 1/9/2017 4:40:24 PM
The beliefs, viewpoints and opinions expressed in this hero submission on the website are those of the author and do not necessarily reflect the beliefs, viewpoints and opinions of The MY HERO Project and its staff.