Julia
by
Hailey from Glenbrook
"Age is foolish and forgetful when it underestimates youth." - J.K. Rowling
Heroes come in many different forms, ages, and sizes, and my hero is a young girl named Julia. Sometimes heroes are born unexpectedly and bring joy to people and maybe even save lives. Heroes can also be created by tragedies. It all happened on Thanksgiving Day when Julia was in first grade. No one suspected a thing would happen when my little cousin Julia asked to go to the bathroom. All the kids were upstairs playing games and having fun, and the adults were at the table having coffee and talking. After a few minutes, Julia's mom (my aunt Susan) went to go check on her. We heard her scream, for my cousin Julia had leaned over a scented candle, and her whole left side had caught fire.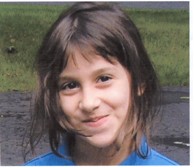 She was taken to Shriners Hospital in Boston, which specializes in burn care. My little cousin had to undergo surgeries, skin graphs and physical therapy. Shriners has treated more than 45,000 children throughout the country since its opening in the 1960s. Not only has it doubled the survival of burn patients, it doesn't charge them any money. More than 60 progress studies are going on to help further the care and treatment for burns.
Shriners not only treated Julia with care, but also her family that was by her side everyday. She had to undergo many different surgeries and procedures over the next year, and although she only has to go to Shriners for checkups now, she is left with a permanent scar on the left side of her body.
You may be wondering by now why this unfortunate incident made this girl my hero. There is a good reason. She has gone through so much in her life; people usually would expect her to be withdrawn and quiet, but to the contrary, she is loud and spirited and up to any challenge. She is also accomplished at dancing, and although she is self-conscious sometimes about her scars, she will do any active games and activities that cross her path.
My younger cousin Julia is my hero because although she has gone through more than most adults will ever go through, she doesn't dwell on the past, she keeps propelling herself forward. Her parents are worried about her, and because of that, Julia is not allowed to be near any candles of fireplaces, but my cousin does not let anything hold her back from what she wants to do, and she has courage and ability to overcome even the toughest of obstacles. And this is why she is my hero.
"Shriner's Hospital for Children." Shriner's Hospital for Children. Shriner's Hospital. Copyright Shriners of North America & Shriners Hospital for Children. 7 March 2008
Page created on 7/29/2014 3:38:41 PM
Last edited 1/6/2017 8:09:10 PM
The beliefs, viewpoints and opinions expressed in this hero submission on the website are those of the author and do not necessarily reflect the beliefs, viewpoints and opinions of The MY HERO Project and its staff.