Ksenia Alfyorova was born in Sofia, Bulgaria in 1974. She is a Russian actress of the theatre and the cinema. Also she is a TV presenter. From 2000 to 2001 she was the host of the program "Bingo Show", and since December 26, 2014 she became a presenter of the program "Wait for me".


     Initially, the aspiring actress chose another career: in 1992 she entered the Moscow State Law Academy. However, later she graduated from the school-Studio of MKHAT. 
  
     Since 2001, the actress was actively involved in cinema. She got the main part in the film by American Director John Daly "St. Petersburg-Cannes Express", where she played in English.
     In 2012 she announced the creation of her own charity organization "I am". She helps children with autism, cerebral palsy and Down syndrome.
 
     The objectives of the Foundation:
           - to Show that children with disabilities can be successfully integrated into society 
           - to Coordinate, to bring together those who need help and those who are willing to provide
           - to Help to large families - who saves the demographic situation in the country, having often neither strength nor the means, nor the support 
           - to Establish the lost in our country, "communication of generations".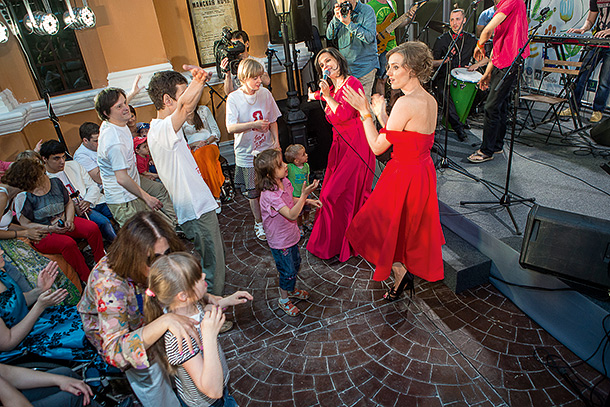 I never cease to be amazed how fast and how hard went those roots! After all, it was not a business project, which is once calculated, and inspiration - we simply could not do the other way,- says Ksenia Alfyorova. Our Foundation focuses on helping children with cerebral palsy, down syndrome, autism, that is, every day we are confronted with a world in which a lot of problems, pain, misunderstanding. And you try to touch the world and see for yourself. It is necessary to overcome stereotypes, owning people's minds. The word "retarded" they connect with something stupid, bad, ugly. A look into the world inside - it's surprisingly light, joyful. With the mind they have everything in order, but rationality is not in the measure in which we have, but we have it in excess! We head all the controls, and it blocks access to here (puts hand on chest) - soul in the heart. And they have this is the dominant life. This is a deeply, sensitive people.
 (http://ru.hellomagazine.com/zvezdy/intervyu-i-video/3687-kseniya-alferova-o-seme-i-blagotvoritelnom-fonde-ya-est.html)
     I admire her because she is very kind. She loves to help children.
Page created on 3/11/2017 12:00:00 AM
Last edited 3/11/2017 12:00:00 AM