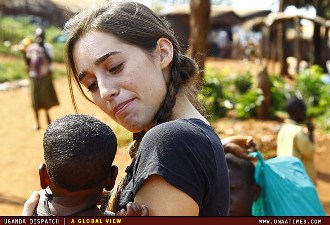 "We can let fear of something that really is small compared to the greatness of God to cripple us. Or we can take a risk, do something to help someone else, make a person smile, change someone's world. Life to the fullest exists. It's available. All we have to do is decide to get up and embrace it" (Davis 101). Katie Davis chose to embrace this life, by showing true love and happiness to others, and defying the factors that made it difficult. Katie Davis was born in Tennessee and had a regular life of any teenager: had the boyfriend, the car, was homecoming queen, and top of her class. During her senior year of high school, Katie Davis embarked on a journey to a place that would change her life forever: Uganda. Katie was called to this life of service at a very young age, at 17 when she first stepped into Uganda and was an astonishing 19 years old when she founded her first non profit organization, Amazima Ministries. Uganda was in the process of ending their long ongoing civil war when Katie first visited. The true joy of life without material pleasures is what made her feel complete, compelling her to do what she could to help this community know love, comfort, and importance. After her trip to Uganda, Katie knew she wanted to go back, which meant leaving college for a year. That year away led to many more and she is still in Uganda today; expanding her ministry, and raising 14 adopted girls, many of whom are orphans due to AIDS and war (Katie Davis). In her twenties, she is continuing her efforts in Uganda with supporters helping along the way, inspired by her story and wanting to make a change themselves. When someone cannot possibly ignore that every life matters, the idea of changing the world doesn't seem so insane. Davis possesses special qualities that allow her to make such changes that she has. Katie Davis is recognized as a hero and an inspiration to many due to her selfless nature, zeal for a difference, and the influence she makes on many lives.
Davis's zeal for a transformation in Uganda, is what drove others around her and what is slowly making her dream a reality. After her second trip to Uganda, seeing the immense need excited her, "I could not stop thinking about my life and the lives of many of my friends in the States - and being appalled by our luxuries when people on our same planet were living in such poverty and need. I had to do more to help the people around me. There were so many needs to be filled, so many issues to be addressed... Though many of my friends and much of my family did not understand my desire to be so far away for so long, no one could dampen my enthusiasm"( Davis, Katie, and Beth Clark). In the midst of such a dangerous place surrounded by terrible things, Katie is faithful in her work and is still determined by the people in need around her. Although it is a big sacrifice, Katie can not bear to move on from what she sees around her. The drive she has to help these people is more than her superficial wants. Although trying to repair a damaged country has its difficulties, Katie Davis does it with a happy heart, knowing that every day she will try with the best of her ability to make someone feel worthy of love. When in Uganda, Katie Davis's experiences created a devotion inside of her that she has for the struggling people, "Three years ago, Davis took in three young girls after their house collapsed. Their father had died, and the girls were on their own. Now Davis is the girls' legal guardian and is in the process of adopting them. Ugandan law says that can't happen till Davis turns 25. She also has taken in 10 other orphans. Mike Mayernick, chairman of the board for Amazima, said that Davis' mix of faith and moxie has made the organization successful. She saw that orphans needed help, he said, and decided that she needed to do something to help them. That inspires people to support her work"(Smietana, Bob).After seeing an issue in her new community her hopefulness for her vision for Uganda was seen a reality because of her drive. She opened her heart and her home to orphans that had never been loved.This drive sparked a calling to others to be passionate, caring, and positive for a betterment in Uganda. Davis's eagerness for more fulfilled lives the people in Uganda is what led her to accomplish all that she has in her life so far.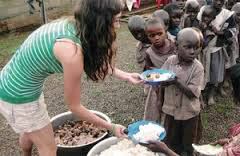 Katie Davis's great character ultimately was the cause of her huge impact on people around her, as well as readers of her story all over. After witnessing horrific events Katie was changed and would now do anything to meet those needs,"I was forever ruined for comfort, convenience, and luxury, preferring instead challenge, sacrifice, and risking everything to do something I believed in. I realized it as I bathed babies and changed diapers in the babies home, as I met older children and threw stones into the river with them, and as I did everything I could do to meet the basic human needs so evident around me"( Davis, Katie, and Beth Clark). Davis touched many lives with her empathetic heart which inspired her ministry that saves precious lives everyday. She is an example that anyone can make a big change even at a young age. Anything she may have wanted before did not matter now that she sees how people are living. Katie realizes that the tragedy that she is in the midst of is something that she can do something about. As a result of her new found mission in life, Katie astonishingly develops many programs including: "Education Sponsorship Outreach matching orphaned and vulnerable children who are unable to afford schooling with sponsors anywhere in the world. A annual gift of $300 enables one child to go to Christian school and provides the necessary school supplies, 3 hot meals each day, spiritual discipleship, and medical care. Originally intending to have only a handful of children in the sponsorship program, Katie had 150 signed up by the end of 2008. Today the program sponsors over 700 children. Later that year, in 2008, Katie established a 501(c)3 non-profit organization called Amazima Ministries International. The word "Amazima" means "truth" in the native Luganda language. The organization seeks to meet the physical, emotional, and spiritual needs of the people of Uganda who need it most. Living in poverty, and losing their children to malnutrition and starvation at an astounding rate, she noticed their desperate need for nutritious food. She started what is now the Masese Feeding Outreach, which provides meals to 1,200 children Monday through Friday. She initiated a self-sustaining vocational program to empower these women to generate needed income by making unique Ugandan magazine bead necklaces"(Katie's Story). All of Katie Davis's amazing programs meet many basic needs for Ugandans as well as provide work for women to support their families. As her programs flourish so many people are being blessed by Katie's amazing work. These humble acts of attending to their basic needs is giving a glimpse of hope for these Ugandan people. This should also spark the desire in us to test the difference that can be made with our own two hands. Katie Davis transforms so much in Uganda, with her influential work ethic as she is also evoking an interest in service within others.
Davis's selflessness allowed her to be successful in changing many lives. After leaving her fortunate life in America at 17, Katie was lost of many regular comforts, and could not bare to go back to reality, "But after that year, which I spent in Uganda, returning to "normal" wasn't possible. I had seen what life was about and I could not pretend I didn't know. So I quit my life again, and for good this time. I quit college; I quit designer clothes and my little yellow convertible; I quit my boyfriend. I no longer have all the things the world says are important. I do not have a retirement fund; I do not even have electricity some days. But I have everything I know is important. I have a joy and a peace that are unimaginable and can come only from a place better than this Earth. I cannot fathom being happier" (Davis, Katie, and Beth Clark). The immense need changed Katie as she sacrificed everything she had loved to serve Uganda. Her compassion for all of the lives she didn't know drove her to accomplish great things and find true happiness. She cares so much about everyone that her own desires become less important. Ignoring the need of others is not an option for her. She is determined to do what she was called for, defying the needs for superficial things the world says we need to be happy. When Katie Davis should have been going to college and developing her own life, she made the choice to do something more that would ultimately change the Ugandan community for the better, "At such a young age - she made a choice to give up what we would call the American dream," he said. "She felt a call to do something more with her life..Davis said her work is hard but rewarding. She tries to focus on the small things, like doing a good job raising her children. If she sees someone in need, she tries to help, and she says she lets God take care of the rest, which often means starting a new program" (Smietana, Bob). Katie Davis is the epitome of sacrificing for others, even though she was comfortable with her life, she selflessly gave it all to the poor. The transition for Katie wasn't easy, she left her family, her boyfriend, her friends, and her college plans as she joined an outreach that would mean so much more. Her ability to find joy in helping others without any personal gain, and her loving unselfish way of life is what makes Katie Davis a role model.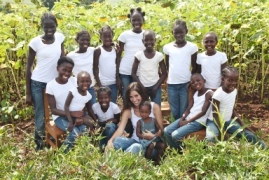 Her humanitarian efforts, diligence for a change, and positive effect on so many, are all qualities that make Katie Davis a hero. Katie Davis's fanaticism for working to help these people had a huge impact. Katie's infatuation with the betterment of Ugandans resulted in her ministry with a $700,000 budget and brings meals to about 2,000 kids as well as sponsoring 500 students for school (Smietana, Bob). Her gracious and accepting heart took in many abandoned girls when there was nowhere else to go, which of whom are now her daughters. Katie looks at life with arms wide open, ready to take in and do whatever she can. "It may take place in a foreign land or it may take place in your backyard, but I believe that we were each created to change the world for someone. To serve someone. This is the dream, and it is possible" ( Davis, Katie, and Beth Clark). Katie Davis inspires people to open our hearts to others and to live in service like she does. We are called to have an increased sensitivity in the well being of our neighbors, which requires us to look with loving eyes to see what must be done. Katie's courage to start an organization at such a young age inspires people that amazing things can be done with a devoted heart and hard working attitude. A little faith goes a long way, this is a message everyone can take something from. Davis inspires others to be open to assist when help is needed in all aspects. The humbling reality of poverty in the world should strike us all sensitively, that simple efforts can make a big change. With arms wide open Katie accepts anyone needing to be cherished. I am inspired by Katie's way of mind that we should all love our neighbors as we love ourselves, and we wouldn't want ourselves to be hungry, homeless, or unsettled. After hearing Katie's story and learning from the love she shares, I have looked for ways to be at service to others and do projects around my area; on a grander scale I would love to go to Uganda myself someday to do what I can for the people there. We can give fear and doubt the power to destroy us and hold us back from the good we are all meant to do, or we can accept the uncertainty and share love and do something great for others.
Works Sited
Allen, Bonnie. "In Uganda, American Becomes Foster Mom To 13 Girls." NPR. NPR, 09 July
Davis, Katie, and Beth Clark. Kisses from Katie: A Story of Relentless Love and Redemption. New York: Howard, 2011. Print.2011. Web. 04 May 2015.
"Katie Davis Wins 'Women of the Year' Award." Christian Retailing. Christian Retailing, 12 Dec. 2012. Web. 04 May 2015.
"Katie J. Davis." Contemporary Authors Online. Detroit: Gale, 2013. Biography in Context. Web. 1 May 2015.
"Katie's Story." Katie's Story. Amazima Ministries, n.d. Web. 07 May 2015.
Smietana, Bob. "At 22, Tennessee Woman Is Mom to 13 Ugandan Children." USATODAY.COM. USA Today News, 11 Oct. 2011. Web. 06 May 2015.