Kati Lepisto
by
Henning van der Hoeven
What do you know about LOCKED-IN SYNDROME? LIS for short is a condition where the patient is fully aware of everything but cannot make their muscles move. They are completely paralyzed and they cannot even communicate (speak). Imagine yourself on the moon, an echo of silence surrounds you as the cold bitterly embraces you, everything begins to ache, you become stiff from the cold and can no longer move. You are trapped under a pitch - black sky, you try to scream and nothing comes out, any sound at all, no one is there to understand you or your pain. Trapped! How will YOU handle this situation. 90% of those with this condition die within the first 4 months. This story is about 1 of those that belongs to the 10%.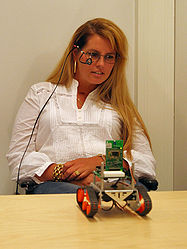 Kati Lepisto was an upcoming Finnish model living and LA. While visiting her family for Christmas and New Year in the year 1994/95 she got a stroke which its consequences would change the life of 20 years old model forever. Kati is medically 95% paralyzed. She cannot move her limbs and she needs assistant for every single things, even the most personal things. Kati had to learn a new way to communicate, she even had to learn how to eat. Even though she cannot move a finger, Kati still managed to make the best of her life and even got married last year.
You could say that Kati was always meant to be a model, But God wanted her to be more to be a simple model and He used her potential to make her an inspirational model. Kati has an internet site where you can read more about her, watch some pictures and some video clips. She also has a blog where she shares her life and experiences. http://katilepisto.fi/en
Now imagine how many people are at this moment going through the darkest times of their lives. And as much as they need a helping hand, they also need some inspiring words, an inspiring story, an inspiring role model that can help them find the strength in themselves to get through whatever circumstances day are facing. Thank you! Henning van der Hoeven, Kati's husband
Page created on 11/9/2014 12:14:05 PM
Last edited 11/9/2014 12:14:05 PM
The beliefs, viewpoints and opinions expressed in this hero submission on the website are those of the author and do not necessarily reflect the beliefs, viewpoints and opinions of The MY HERO Project and its staff.
Related Links
Kati Lepisto
- My hero celebrates perseverance and will to live
The Unlock Project
- is a multi-university initiative (involving researchers from Boston University, Northeastern University, Massachusetts Institute of Technology, and the University of Kansas) whose purpose is to provide brain-machine interface (BMI) technology to individua
Brain Foundation
- Locked-in Syndrome (LiS)
Visiting Kati (COGAIN)
- Communication By Gaze Interaction